City of Tulsa Storm Update – June 26, 5:15 p.m.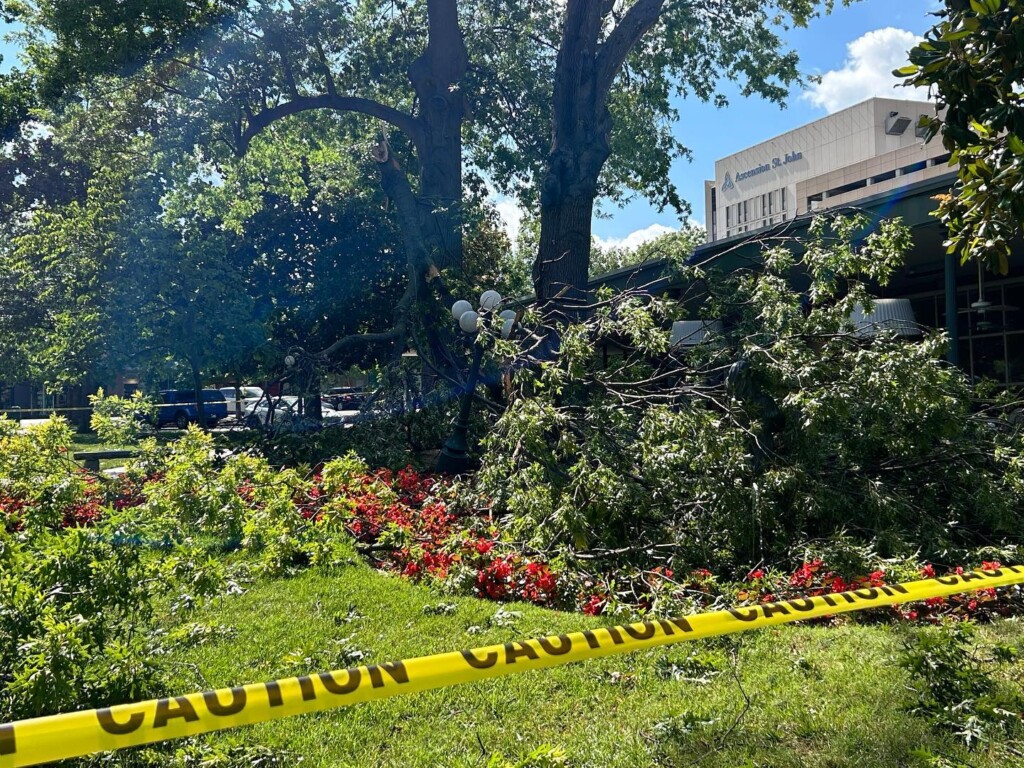 As the City of Tulsa shifts into the disaster recovery phase from the June 18 storm, several topics still remain top of mind ahead of storms that could move into the metro tomorrow night, as well as extreme temperatures expected this week. 
Tuesday Night Severe Weather Forecast
Currently, the National Weather Service has forecast storms with the potential for high winds to move into Tulsa Tuesday night into Wednesday morning. Tulsans should stay weather aware and be sure to stay away from any trees with loose branches.
Extreme Heat
With temperatures forecast to be above 100 degrees starting Wednesday, the City is asking its staff and all Tulsans to be alert for signs of heat illness, and to be sure to take plenty of breaks, stay hydrated, and find shaded places to cool down if you have to be outside.
Cooling stations and shelters continue to remain open across the Tulsa metro. A list can be found online at www.cityoftulsa.org.
Storm Debris, Greenwaste, Yard Clipping Bags, & Extra Trash Bags
Storm Debris
Consists of things like fences, shingles, siding, yard decorations and patio furniture, etc. Essentially, storm debris is considered construction debris and is not picked up in the City's gray trash carts or extra trash bags with orange stickers, nor will it be picked up during the residential greenwaste curbside clean up.
There are two options for storm debris disposal:
Take it to a landfill or call a company to haul it away 
Schedule a bulky waste pickup (pickups resume after July 17) online at www.cityoftulsa.org/bulkywaste
Temporary Mulch Site 

Individuals who would like to remove their greenwaste now can deliver it to the temporary mulch site at E. Latimer St. & N. 89th East Ave,  7 a.m. – 7 p.m. daily. When transporting, it's important to secure your load properly and place smaller limbs on the bottom of your load so they don't fly into the street. Please make sure to separate any of your extra trash bags from your greenwaste. No bagged greenwaste will be accepted.

Citywide Residential Curbside Clean Up

The City of Tulsa will be making a single sweep through Tulsa to pick up storm greenwaste from the curb. A schedule will be released once it is available:

Residents need to have all greenwaste stacked at the curb in lengths no longer than 5 feet long.
Do not place greenwaste in the street, around your mailbox, buildings, or on top of utility lids or boxes.
Please make sure you are stacking your limbs and brush in a way that does not create sight restrictions for drivers. This is especially important for stop signs and corners that might cause blind spots.
Do not bag your greenwaste.
Yard Clippings
Contain leaves and grass clippings that are a regular part of your lawncare routine. Yard clipping bags are picked up on your regular trash day and should be placed outside of your gray trash cart in CLEAR bags. Up to 15 yard clipping bags can be disposed of per week WITHOUT orange tags.
Extra Trash Bags
Contain additional trash that will not fit into your gray trash cart. Extra trash bags can contain regular household trash, but not include spoiled food (which should be placed inside bags in your gray trash cart to avoid animal disturbances). All extra regular household trash should be placed in plastic bags with orange tags alongside the gray cart. These tags can be picked up at City Hall or at any local QT.
Recycling
Recycling is still being picked up. It's important that only acceptable recyclable items can go in the blue recycling cart. For those with questions about what is acceptable, please visit www.tulsarecycles.com.
Greenwaste
Consists of downed limbs and trees from the storm.
Residents have a few options to dispose of their greenwaste:
Weatherhead Permit Costs Waived
PSO is responsible for maintaining the service cable from the utility pole to the weatherhead, but not the weatherhead itself. Service cannot be restored until a licensed electrician makes repairs. The City of Tulsa is working to expedite weatherhead permit approvals so when power is restored, homes are able to accept power. The City has also waived weatherhead permit fees and teams are available this weekend. Contractors can call or email Bob Kolibas, rkolibas@cityoftulsa.org, or (918) 261-9123 if there are questions about permitting over the weekend.
Volunteer Disaster Assistance and Volunteer Opportunities
The Tulsa Area Emergency Management Agency (TAEMA) continues to collaborate with volunteer organizations to aid residents experiencing food and medication insecurity, costly home repairs, or cannot manage fallen trees and limbs in their yards. This program is intended for those physically or financially incapable of performing these tasks. If you want to apply for assistance from volunteer organizations, visit www.cityoftulsa.org/weather.
It is important for groups not to self-deploy for restoration efforts at personal homes and green spaces. Individuals or volunteer groups that want to assist in volunteer efforts in Tulsa can fill out the interest form at www.cityoftulsa.org/weather
Tulsa Parks Update
More than 100 of our 135 city parks have extensive damage. Crews continue to clean up debris and loose limbs across the Tulsa Parks system. Falling limbs and large debris left after the storm are a big concern, especially in our parks with large trees.
"This is a moving target, but right now, we are focusing on removing anything dangerous from parks and regaining building access at our closed facilities," Anna America, Parks Director, said. "If you see caution tape or barricades, avoid those areas. You may not recognize the damage or possible dangers inside a barricade. We ask people to use common sense, not climb on large piles of debris or limbs. It's just not safe."    
Whiteside Community Center reopened today, and all City rec centers will be operating normally starting tomorrow, June 27.
The following parks remain closed, or partially closed, as of Monday, June 26:
Henthorne
Howard
Hunter
McClure
Mohawk
Oxley Nature Center
Tulsa Garden Center
Woodward
Splash Pads and Pools – Splash pads have been coming back on across the City as power is restored. Park maintenance crews are working to inspect them all to ensure they are operating properly, but unless they are in a closed park, there are no known safety issues.
Pools – Reed and Lacy Pool will remain open throughout the week. Crews hope to re-open Whiteside and McClure pools this week. The water quality at Whiteside Pool was impacted by the eight-day power outage, and it is taking time to get it properly balanced. McClure Pool is in good condition, but there are still dangerous tree conditions close to the pool area.
Illegal Dumping  – Tulsans are asked to avoid dumping green waste in parks, on the sides of the roads, and in school parking lots. Illegal dumping carries a fine of up to $500 and up to 30 days in jail. If you suspect illegal dumping, call 311 to report it.
Updated Information
Follow the City of Tulsa on Facebook, @CityofTulsa and on Twitter, @cityoftulsagov for updates.
Translation Assistance
The City's website, www.cityoftulsa.org, has a tool to help with translation assistance for any page. Website visitors can click the drop-down menu on any page that says, "Select Language," and choose from one of more than 100 different languages.