Chateau on the Lake Resort: The Natural Side of Branson, Missouri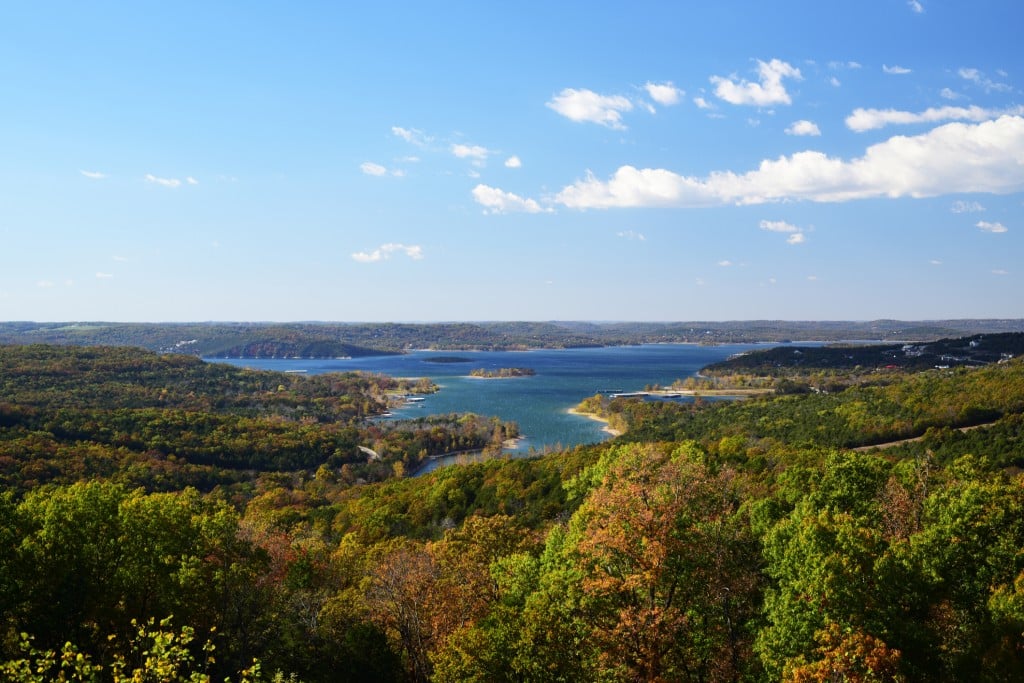 More than likely, a typical vacation in Branson calls to mind visions of an Osmond Brothers' performance or a roller coaster ride at Silver Dollar City. And, crowds and traffic are factors that simply come with the territory. Do you realize, though, that there's a section of Branson that is tucked away from the hullabaloo where Mother Nature sets the stage and live shows are conducted by you? At Chateau on the Lake Resort & Spa, your family can experience Branson's natural beauty. The hotel, perched high atop rocky bluffs along the unspoiled shoreline of crystal blue Table Rock Lake, in part, resembles a legendary castle, yet has all the makings for intimacy with the great outdoors.
Abundant Access to Nature
Mid-June was a spectacular time for my family's outdoor adventure. Crossing the Table Rock Lake Dam and making our uphill climb toward the resort, we quickly settled into the peacefulness of our surroundings. The lush gardens, trickling waterfalls and surrounding vistas were a warm welcome to Branson's only AAA Four Diamond Award-winning resort.
That night, we roamed the grounds and listened to a pair of croaking frogs serenade one another. The evening sky was brilliantly lit, punctuated by a crescent moon, and the stars' and moon's light reflected off the shimmering lake. What a way to enjoy a late evening dip in the outdoor pool!
Come morning, our 8th story balcony seats provided the perfect view of the surrounding Ozark Mountains and calm lake. Sipping coffee and juice, we watched the dense fog roll past and began to map out our day.
First, we'd enjoy a gourmet buffet breakfast in the dining room, which overlooks the outdoor pool and lake below. Then, we would take our rented Chaparral ski boat out for hours of cruising, tubing and soaking in the sun. In the evening, we'd experience the Wine Spectator award-winning Chateau Grille, with first-rate, gourmet dishes, an impressive wine list and, of course, the "piece de resistance"— picturesque views of the lake.
An Impressive Blend
Chateau on the Lake strategically combines luxury lodging with abundant outdoor activities. The on-site marina is the gateway to 850 miles of shoreline, with many alcoves and secluded spots to enjoy fishing and boating. Complimentary access to kayaks, rowboats and canoes are available and reasonably priced jet skis, ski boats and pontoon boats are accessible (reservations are recommended).
Other on-site, outdoor attractions include a 2.5K nature trail, an inviting pool/hot tub, tennis and basketball courts (racquets and balls are provided). There's also a lovely playground for smaller folk. And, for bird lovers, Blue Marlin birdhouses are scattered about, and hawks, eagles and other birds of prey often visit the grounds.

During most of our waking hours, we were "one with the lake." Water temperatures and clarity invited us in. In addition to our boating expedition, we checked out the public beach, which is down the road from the resort, and took a parasail ride at a nearby state park marina.
If it rains, there's an indoor atrium with lavish greenery, waterfalls, a meandering stream filled with coy fish and caged parrots. There's also an indoor pool, a gym, an impressive kids' club and even a darling movie theater, featuring family-friendly films. And, while the kids are being entertained, you can read in a leather chair next to the stone fireplace in the Library Lounge, equipped with a full-service bar to help you relax.
Gracious Accommodations
Our oversized guest room was beautifully appointed with cherry wood furniture and a stone-tiled bath. Our traditional king room came with a pull-out sofa, which comfortably accommodated our family of four.
When bedtime rolled around, we enjoyed the turn-down service, where our down comforters and pillows were fluffed and miniature chocolates were waiting.
Time and Again
Compared to many regional lakes, Table Rock Lake is less crowded due to its minimal shoreline development. And, since it is only a 3 ½ hour drive from Tulsa, our family has committed to make this an annual visit.

We found the hotel's service to be superior overall; although, we did have to make some corrections to our final bill. We also found all four of the on-site eateries to be rather expensive. So, occasionally, a 5-minute drive to a sandwich shop or pizzeria on the outskirts of town kept our budget in check.
This fact will not deter us from heading back. And, for that matter, the fall foliage season when the mountains are exploding with shades of gold, bronzes and reds may be just the reason to make the trip sooner than later.
Chateau on the Lake Resort & Spa is owned and managed by Springfield, Missouri-based John Q. Hammond's Hotels & Resorts. For more information or reservations, call 1-888-333-5253 or (417) 334-1161, or visit www.ChateauOnTheLake.com.
The Table Rock Lake
Region: The Grande Dame of Branson
Table Rock Lake and Dam were created by the U.S. Army Corps of Engineers primarily to control flooding and provide hydroelectric power and water to the surrounding region. But, given its beauty, the lake became a huge draw for outdoor lovers.
From Branson, Missouri to Eureka Springs, Arkansas, Table Rock Lake sits gracefully ringed by the Ozark Mountains. It is highly acclaimed for being the best bass fishing spot anywhere. Anglers, boaters, and scuba divers come to Table Rock Lake from all over the country to enjoy the warm water temperatures and the lake's unique blue color and clarity.
There are over 20 marinas dotting the lakeshore and over 100 resorts to choose from when visiting Table Rock Lake. In addition, campgrounds are plentiful. Area hiking is outstanding for both beginners and adventurous nature enthusiasts alike. For more advanced treks, hikers can head out to the Mark Twain National Forest, with its abundance of winding streams, steep rocky inclines and wooded hillsides.
For more information, call (800) 214-3661 or check out www.explorebranson.com. You can also visit the Branson/Lakes Area Chamber of Commerce & Convention & Visitors Bureau at www.bransonchamber.com.