Building Bonds Through Family Stories: Tips to Get the Story Started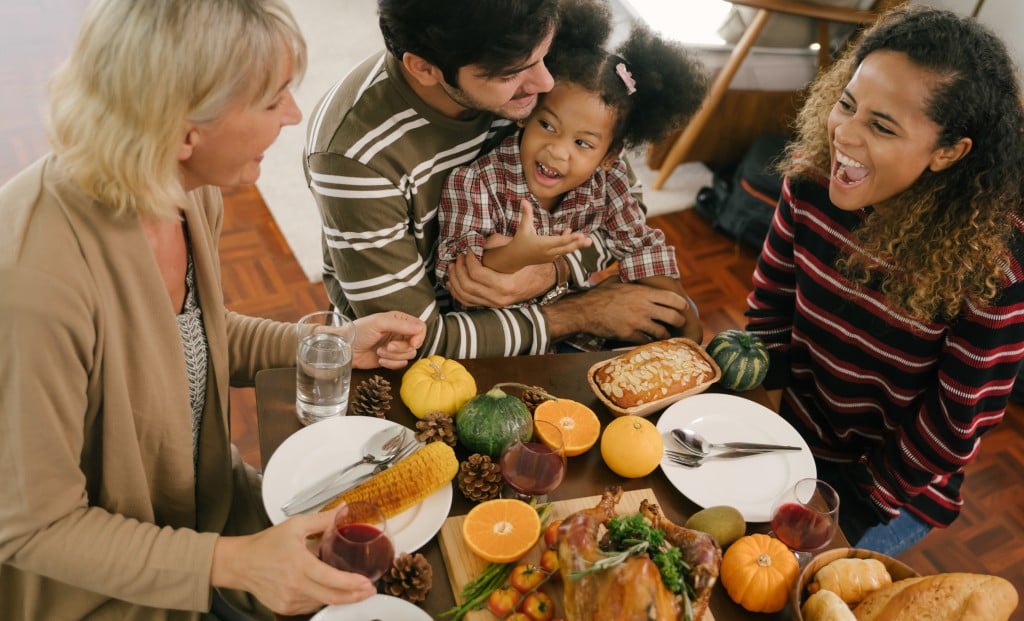 So many of us go to great lengths to spend time with family during the holidays.
We fly across the country and pack the car for a long drive. Or even with family locally, we make a point to bring the kids to grandma and grandpa's house or a great aunt whom they may only see a couple of times a year.
Though some people may visit family entirely out of obligation, for many it's important to stay connected and worth the effort to gather around the table with the ones who knew us when we were babies, the ones who share in our family stories.
Making the most of our time with family requires some intentionality. Both families who rarely see each other and those who are tight knit can build even more memories and tighten their bond by sharing each other's stories.
The American Psychological Association notes that holiday stress is very much a real thing, and one of the causes is family dynamics. Talking about good family times and sharing stories about loved ones who have passed is more pleasant than talking politics with a family member who doesn't share your views, for instance.
So, let's talk about ways families can bond through story telling this holiday season.
Modern storytelling
The art of storytelling is ancient, with oral traditions having been around as long as humans themselves. But we do have the capability to tell our stories differently today. Modern storytelling, with the use of video, podcasts and social media has become a big part of how families share.
In fact, George Quraishi and Ross Chanin built a business around it. Their company, Artifact, tells the life stories of everyday people. With Artifact, journalists do the interviews, then editors create a compelling podcast-like story with videos of the subject.
"The insight we stumbled into is the interview format is very powerful. But it's typically reserved for the rich and famous. Bringing that to our moms and dads and grandmas and grandpas – it's an amazing way to get someone's thoughts and feelings down to preserve for future generations," Quraishi said.
Capturing family stories and memories is something we often have good intentions to do, but also something we put off until it's too late. Maybe it's never digitizing the cassette tapes of family interviews you did for a school project when you were young. Or, maybe you've always intended to do a family scrapbook with photos and passed-down stories, but you just can't find the time.
This medium of turning a life story into a product is something more people are interested in.
Quraishi notes that children only know the older version of their grandparents and great-grandparents. For them, they may not know their grandfather was once a marathon runner or that their grandmother was an anti-war activist in college.
"We're able to tell the whole story. Not just the version of the Grandpa Harry you see sitting at the Thanksgiving table, but the sharpest, tightest version of Grandpa Harry," Quraishi said.
Gather round
It may seem forced, but you'll see a big payoff in simply pulling out old family photos. Set them on a table, or if you've digitized them, show them on your television. Looking at old photos sparks memories and storytelling like nothing else.
Children love looking at photos of their parents when they were young. And those photos often bring up stories the kids have never heard.
Another fun use of pictures is to place an old photo of each family member – baby pictures are perfect for this if you have them – as a place card. This is a great way to get everyone talking.
Photographs help family history come alive, and whether it's their own baby pictures or photos of great-great ancestors, children can turn the idea of family history from a notion into something much more tangible with family photos.
Everyone has a story
One way to get the entire family involved in storytelling is with story prompts. Even if it feels forced and you might get some groans from the teenagers, ultimately, it's worth encouraging everyone to share.
One TulsaKids reader told us she remembered her grandfather used to hold court at family gatherings, telling stories about his parents and grandparents and about growing up on a soybean farm in western Oklahoma. She loved his stories, but says she now wishes her grandmother and others in the family had told their stories, too.
With a story prompt, everyone gets a chance to share. After Thanksgiving dinner, serve dessert in the living room and give everyone the same prompt. It could be, "What is the best Christmas present you ever received?" "What's your earliest memory?" or "What would our ancestors think of our family today?" Let everyone – even the youngest in the room – share their story.
Written history
Oral storytelling is wonderful, but you're going to want to preserve those stories. Here's one way to do so: When everyone is telling those stories around the living room, set up your phone to record it.
Creating a family heirloom book is another idea that you will long treasure. It may take a little work to create it, but for each holiday, ask each family member to bring with them a written answer to a prompt you've given them a few weeks in advance. Combine those stories into a book that the family can read – or even read aloud.
Companies like Storyworth make a family's written history easier, with story prompts and questions that are then combined into a beautifully bound book. Storyworth has questions appropriate for the youngest to the oldest members of the family, and it doesn't sugarcoat the stories. Families can share the good and bad to give a full picture of what life was like growing up and beyond.
Make it fun
Sharing anecdotes and funny or poignant family stories may end up being the best part of your Thanksgiving holiday.
If sharing in a group isn't natural to your family, start with something simple like the classic, "What are you thankful for this year?"
The National Children's Book and Literacy Alliance suggests using specific language to pull the story out of children and others in the family. For instance, ask the question, "What is your favorite holiday memory?" Have them talk about what they saw and smelled that day, what they ate, what they sang, where they went and what the weather was like. Sometimes it's in those details that the best parts of the story are revealed.
Conversation Starters
Some families are naturals at storytelling. But if you need a nudge, here are some good conversation starters to keep the dinner table conversation meaningful and memorable.
When you were a kid, what did you want to be when you grew up? For kids, what do you want to be?
Who was/is your favorite teacher, and why?
What would you do with the money if you won $1 million?
If you could travel anywhere in the world, where would you go?
If our family played Survivor, who would win?
What was your first job?
Natalie Mikles is a mom of three. She writes about food, sharing recipes for busy families and picky eaters.
---