Bring On the Christmas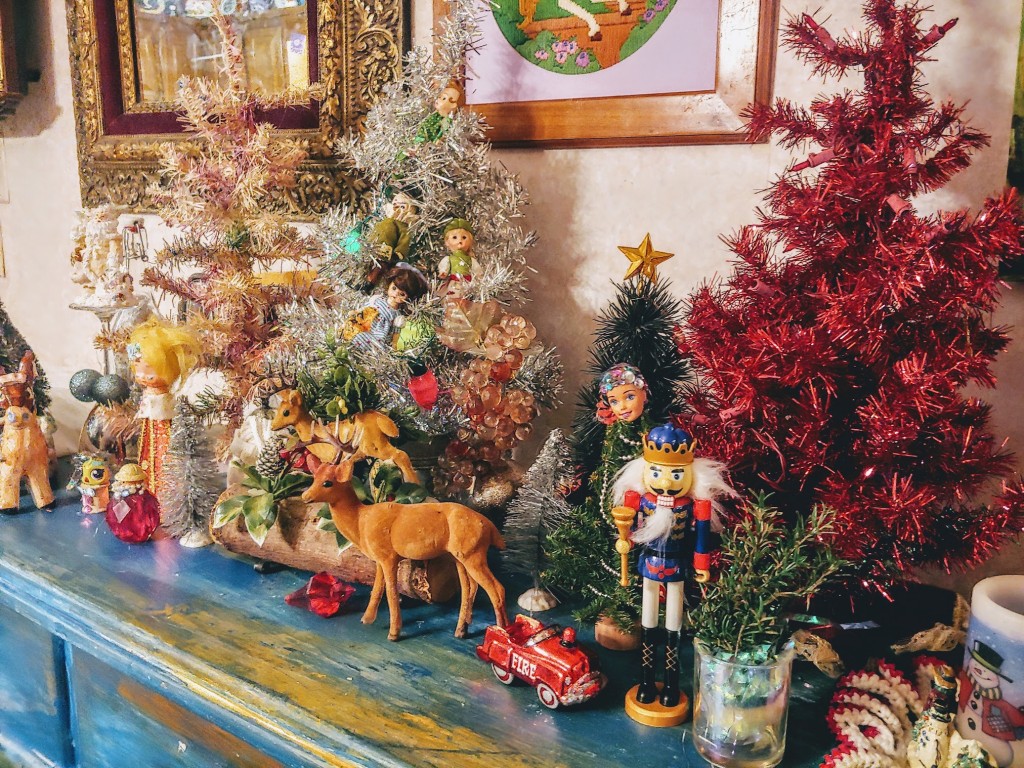 While Halloween is obviously the best holiday of the year on account of all the awesome fall leaves, spooky vibes, and gothy fashions, Spooky Month is only the beginning of the three-month party times season that culminates in New Year's Eve, or as it's known at Nebula House, "Fireworks or Guns? Winter Edition."
If you're like us, you go straight from Halloween decorations to dragging out the Christmas tree and slinging tinsel all over the place. Come mid-November, I'm literally pulling out the holiday paraphernalia boxes and cramming the Halloween storage tubs back in their place.
Then it's time for the semi-annual Rearrangement of the Furniture Ceremony, wherein I pop on something Christmasy like Dateline on the Roku on autoplay and subject my family to several hours of rigorous living room cleaning followed by an intense game of three-dimensional furniture Tetris to make room for our massive Christmas tree. Spoiler alert: there are no winners in Furniture Tetris.
The Dance of the Sugar Plum Seating generally ends with us moving everything back into the exact same spot it was in to begin with after remembering yet again that no amount of geometric wizardry will make our living room big enough for The Holly Jolly Green Giant we picked up on our local Buy Nothing Group.
See, our family is pretty great at reading and writing-related academics, but when it comes to numbers, we're not so hot, which is why, when someone offered me a 9-foot-tall Christmas tree, I was only thinking about its height and not the circumference of the tree base. And I may have also overlooked the fact that our ceiling is vaulted and that the only place in the living room with ample room to accommodate such a massive tree is the location where our TV and entertainment center are.
And so alas, after layering a light hoarder's lot of kitschy Christmas tchotchkes atop every available surface in our living room, we cram our massive tree into one side and then climb the ladder, not to place an angel or star on top, but to gingerly fold down the crown of the tree since that's the only way it will actually fit in our house.
I'll gather the family, and together, we'll begin placing each ornament on the tree lovingly for about 7 to 10 minutes, at which time, the kids will start arguing over who elbowed whom until I decide they're best used in an advisory capacity and banish them to the sofa.
And yet, for all of the weirdness and holiday decorating chaos, once it's finished, our tree tells a story. And that story is that about halfway through decorating it, the back pain and Irish Cream really affected the quality of the workmanship until I basically started cramming multiple ornaments onto the same sagging branches.
Once the hard part is finished, we'll finally light the tree and wait for the finishing touch to arrive, climbing up into the branches and poking his pointy ears and whiskers between the synthetic evergreen spikes. We sit back and drink in all of that holiday magic. It's just too bad that after all that work, we'll only get to enjoy that sight for a couple of months, three at the outside.
After the halls have been sufficiently decked, we'll ask the kids for their Santa wish lists. Just kidding! They already sent us a lengthy one weeks ago on Facebook Messenger, complete with URLs. Eventually, we'll get a hyperlinked Google doc from each kid to make sure we get the memo, not because they're particularly spoiled or materialistic kids, but just because "Mom, you can't read a manga out of order."
If you could use a jump start kicking off the holiday magic, here's a little checklist of holiday things I put together with my legit Canva skills. Be sure to give it a download and then leave me a comment to let me know what you'll be up to in your jolly little nebula this holiday season.
---