Breathe Birth and Wellness:
Birthing center offers a new take on bringing home baby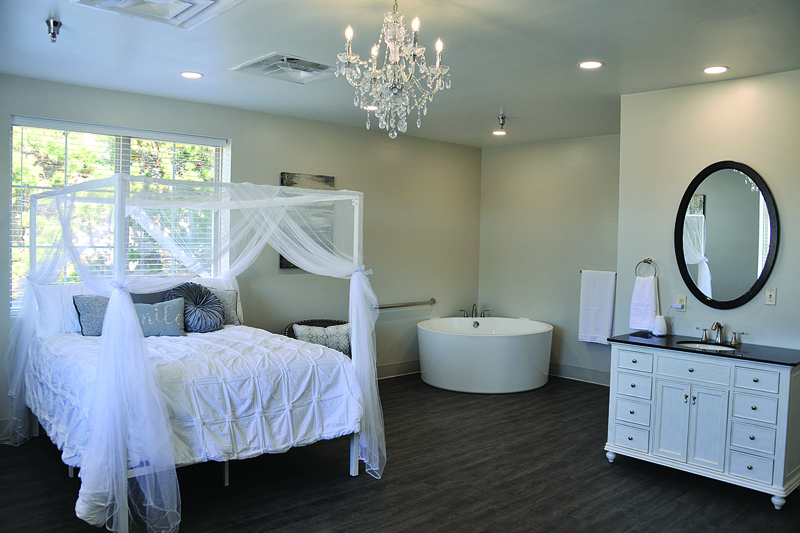 Whether you already have a new little bundle on the way or are thinking of adding to your household soon, growing your family is an exciting time. It's also a busy time with a lot of decisions to make. Perhaps one of the biggest of those is exactly how you'll bring this precious new little life into the world. Tulsa families have options when it comes to delivery. Of course there's the traditional route of OBGYN's and hospital delivery, but there's also home birthing plans with a certified doula or midwife. And for those who don't want the clinical atmosphere of a hospital but also aren't interested in delivering at home, a birthing center like Breathe Birth and Wellness may be the perfect middle ground.
"A birth center experience is very different than that of a hospital birth," says Giselle Chebny, registered nurse, doula, childbirth educator and co-owner and administrator of Breathe Birth and Wellness in Broken Arrow. "From the beginning, patients are given a lot of one-on-one time and flexibility."
Giselle says at birthing centers like Breathe moms often have the freedom to move around during labor, wear whatever they want, use birthing tubs, eat and drink normally and have as many people as they want in the room with them.
"We do intermittent monitoring with auscultation throughout the labor process to ensure the safety of the baby, but they are not strapped down with monitors at all during the process," Giselle says. "They are also allowed to eat and drink as they want. Sometimes labors can extend for long periods of time and fuel for their body is very important."
Another plus for many is that birthing centers like Breathe are typically designed to offer a very cozy and homelike atmosphere. At Breathe, moms have the option of three different birth suites. Each offers a private room with queen-size bed, private bathroom and their own standalone birth tub. Breathe has an in-house massage therapist to complete its holistic vision of wellness for patients.
"Our vision for Breathe was to really create a safe environment that allowed women to regain control over the birthing process," Giselle says. "To fill them with knowledge and empower them so that they feel confident in their choice to birth the way they want to birth."
That individualized care doesn't stop at birth. After the babies are born, Giselle says babies are assessed and monitored with mom usually holding them and any intervention that needs to be done is done alongside mom in the bed. Newborns still receive the same care they get in the hospital such as measurements, eye drops and a vitamin K shot, but moms are also allowed to decide if they want them to receive them or not.
"After delivery, moms usually stay with us for up to six to eight hours," Giselle said. "Then if mom is stable and baby is healthy, they go home soon after. We provide a home visit 24-48 hours after delivery to check on mom and baby and make sure both are doing well after the delivery process. This is where we conduct the hearing screen, metabolic test on baby and other exams that ensure the health and safety of mom and newborn. Moms then see us in the office at one week, two weeks, four weeks and six or eight weeks."
It's important to note that not all birthing centers are created equal. Breathe, for instance, is staffed with registered nurses, certified doulas and a certified nurse midwife doctor of nursing practice. It's because of these advanced qualifications Breathe can offer prenatal care as a replacement for a regular OBGYN, administer IV fluids, deliver babies, perform repairs as needed and can take care of newborns until they are 28 days old. They can even prescribe medication (no narcotics), perform well women exams and place birth control devices after pregnancy.
Birthing centers can't give epidurals, give blood or perform C-sections, so Giselle says it's very important that patients be screened thoroughly when considering a birthing center delivery over a hospital delivery.
"On average, anywhere from 12 to 16 percent of patients will risk out of our care," Giselle says. "This usually occurs from things such as high blood pressure, gestational diabetes or a genetic issue with the fetus that will require immediate care after birth. Only one to two percent of transfers from a birth center are truly emergent and for that one percent we have several safety protocols in place."
Giselle explains that in the event a patient needs emergency medical treatment, Breathe has transfer agreements in place with several major hospitals systems, one that is only two blocks away. These established working relationships mean that communication channels are already in place to make sure patients can get the level of care they need in a timely fashion.
"In the rare event a true emergency takes place at Breathe, we are prepared," Giselle says. "All of our employees have a registered nurse degree or higher, are certified in neonatal resuscitation, adult CPR and have experience in labor and delivery. We also have a crash cart on premise if needed."
Birthing centers like Breathe Birth and Wellness are becoming more and more prevalent. Many insurance providers are now offering coverage for delivery at birthing centers, and the overall price of delivery at a birthing center is about half that of a uncomplicated vaginal delivery in the hospital. But Giselle says for her and her co-owner, it's about so much more.
"We both worked in the hospital as labor and delivery nurses, both value medicine and due to our experience recognize that there is a time and a place for medical intervention," Giselle explains. "However, in most cases, birth is a natural event and not a medical emergency! We want to be the middle ground for women who want more choices and freedom than the hospital setting but want to feel that they are in an environment that is safe and equipped to handle problems if they should arise."
---