Birthing Facility at Oklahoma State University Medical Center in Tulsa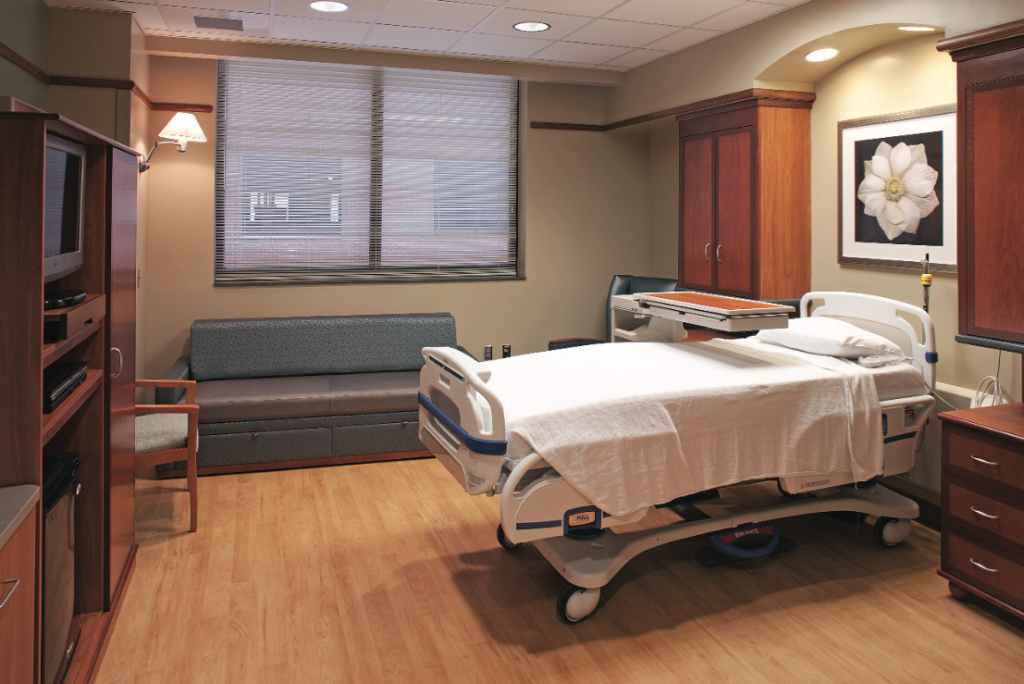 Oklahoma State University Medical Center in Tulsa unveiled a new Maternal Child Health (MCH) floor in the spring of 2015. The facility is built with patient-centered care in mind. Hospital equipment is discretely tucked behind sliding doors, cabinets or panels to enhance the quiet atmosphere of the private rooms. The MCH's comprehensive services include Labor and Delivery, High-Risk Pregnancy Care, Post-Partum, Nursery, Pediatrics and a Level III Neonatal Intensive Care Unit.
The large birth and recovery rooms allow mom, baby and family to be together in a comfortable environment where moms labor, deliver, recover and care for their babies all in the same room. "We bring the equipment to the mom," said Dr. Lance Frye, M.D., FACOG OB/GYN. "There is also an isolation room for laboring moms who are ill, and private assessment rooms to triage moms."
Often, a hospital may have a large, open triage room with curtains separating the patients, allowing for little privacy as hospital personnel interact with the patient.
A centralized nursing station supports better communication between nurses and patients as well as among the nurses themselves, explained Carolyn Owens, MS-HCA, BSN, RNC.
Childbirth classes and other educational presentations for expectant parents, new parents, grandparents and siblings are held in a large education room flooded with natural light from a ring of windows around the exterior wall.
"The clinic and residency provides 99 percent of our patients," Dr. Frye said, "so we do a lot to provide continuity of care with residents. They develop a strong doctor/patient relationship. And, as a teaching hospital, we have comprehensive care with the latest and greatest of everything. I'm excited about the lights [in the rooms]. They're hidden in the ceiling and you can move them where you need to see with a wand [in your hand]!"
The facility recently acquired two new ultrasound machines, and the medical school has state-of-the-art simulators, including a laproscopic simulator and a "sim mom" so that residents and medical students can learn procedures before actually working on "live" patients.
"We also have a hydrotherapy, or labor tub, for laboring moms," Owens said.
The philosophy of the team of medical health professionals at OSU MCH is to provide a patient- and family-centered experience when a woman is giving birth. Babies are immediately placed on their mothers' bare skin for skin-to-skin contact, and families are welcome in the room throughout labor and delivery, including having a place for a partner to sleep.
The staff also provides a continuity of care by assigning one nurse to both the mother and her baby. "It offers complete care," Owens said. "The nurse knows what's going on with mom and baby both."
In addition, the baby has a "baby advocate," or a single nurse who takes the baby from birth to life, rather than having one nurse at birth and another once the baby is born.
Dr. Frye pointed out that the staff does its best to follow the mother's birth plan.
The clinic also participates in Strong Start, an optional opportunity offered to women at the clinic intake appointments. Strong Start provides an educational component each time a woman has a prenatal appointment. For example, an expecting mom might learn about bathing a baby or infant sleep.
"It [Strong Start] will help so much," Owens said. "The nursing staff can review it with their patients."
"Another grant program of the Oklahoma Healthcare Authority is Healthy Start," Dr. Frye said. "A healthcare coordinator is assigned to people in the program and follows them the first two years of the child's life. They help provide whatever the child needs."
Both Dr. Frye and Owen look forward to practicing in the new OSU Medical School facility. "The LDRP (Labor, Delivery, Recovery, Postpartum) is patient-focused and family-centered," Owen said.
"The best thing about working here," Dr. Frye said, "is that patients get personal care. I see a swing back toward patient-centered care. Having a baby should be one of the most special times in people's lives."
Contact Information
OSU Physicians – OB/GYN; 717 S. Houston Suite 200, Tulsa, OK 74127. For more information about the Maternal Child Health facility or a tour, call 918.599.5355.