Beyond the Basics: Questions You Should Ask When Choosing a School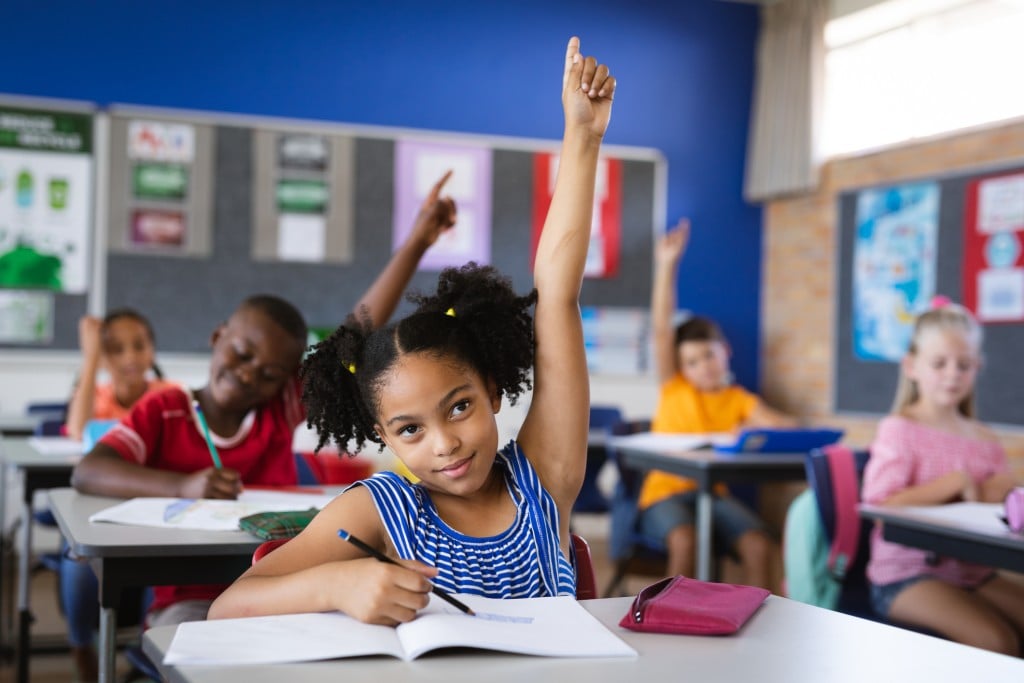 One Tulsa mom said she moved her child from a popular, highly academic private school to a public school. Her child was "just not fitting in" to the super-structured environment at the private school, yet flourished at the public school. Another family switched their son from an "excellent public school," where he was struggling socially, to a private school that provided individualized attention with smaller classes and more structure.
Another child was bitterly unhappy at a private school where her brothers had flourished. After struggling with the decision, her parents had her undergo some testing and found that their daughter had a learning disability that could be handled better by homeschooling.
The reasons for choosing one school over another are as varied as the families making the decision. Often, even within the same family, what is a good school choice for one child can be a disaster for another.
Many parents base their decisions on standardized test scores or what other parents say about the school. While test scores are important and other parents can be wonderful resources, parents are better off starting with their child in order to find a good educational fit.
Sally Kemp, Ph.D., a pediatric neuropsychologist, says that the groundwork for educational success is laid before a child ever enters a school building. Parents who read to their children and interact with them, limit television and screen time, care for the health and nutritional needs of their children, and give them opportunities for exploring their environment are preparing their children for a positive school experience. As they begin to think about formal educational choices, parents should consider their child's developmental level and his or her needs, both social and academic.
"The child's needs are very important," says Dr. Kemp. "For example, if you have a child who is easily distracted, he may need more one-on-one time than other children. Or if a child is very creative, that can be crushed early on by an environment that is too restrictive – but creative kids also need structure. Parents have to find a balance."

Narrow Your Choices
Your neighborhood public school will probably be the most economical and efficient choice. With strong academic, social and extracurricular opportunities, it may be the best choice for your child, so don't rule it out. If you are considering private schools, charter schools or alternative programs such as magnet schools, weigh factors such as cost and transportation.
Private schools usually require admissions tests or, at the very least, an application. Sometimes these have a fee attached. Find out about testing and application deadlines, getting transfers, as well as costs and scholarship information.
Charter schools, magnet schools and public alternative programs do not require tuition, but they will have an application procedure and deadlines. For Tulsa Public Schools, you can go to tulsaschools.org to find out about the different programs and deadlines. Private schools usually have information on websites, or you may call for a brochure in order to get some basic information such as:
tuition
class size
student/teacher ratio
application and testing deadlines
religious or secular
location/transportation
racial/cultural mix
special programs such as language immersion, IB, Schools Attuned or programs for special needs
Once you have gathered some basic information, you may be able to eliminate certain schools based on your initial research.

Observe Your Child
Dr. Kemp suggests that parents start with their children – focusing on developmental age, interests, learning style, talents and temperament. "Often it's very hard for parents to be realistic about their children, especially if it's their first child because they have no basis of comparison," she says. "Sometimes a child can be developmentally behind, and it has nothing to do with their intelligence. They may need to wait a year to start kindergarten."
If parents are unsure about where their children are developmentally, Kemp says that asking teachers is a good start. "The research shows that preschool and early elementary teachers are very good at making determinations about a child's developmental level," she says. "If you feel that there might be a problem, you can have developmental or readiness testing done. Some schools do developmental or readiness testing, or you can have a psychologist do it."
Dr. Kemp says that having a basic knowledge of the different stages of child development will help parents understand what their children should be doing and learning physically, socially and academically.
Parents can also observe their children to see what interests them and to give them clues about how their children learn.
Dr. Kemp says to find out how your children work with other children. Do they interact well? Are they self-starters? Are they able to attend and focus? Do they like being in groups, or do they prefer being alone or with one other child? Use this information as you visit schools.

School Visits
Parents can learn a lot by visiting a school. Call first to arrange a visit, then carefully observe everything about the school environment. "The teacher is the key," says Kemp. "You can have beautiful facilities, but the teacher is the most important component. Observe the interactions with students and ask questions about the curriculum."
Dr. Kemp says that sometimes parents have misunderstandings or misconceptions about schools which a visit can help them clarify. "For example, some people think Montessori is very much a 'do your own thing' curriculum, but it's not. It's very individualized and structured, designed for the child to internalize learning."
Besides observing the physical environment such as the library, available technology, appearance of the building and playground, Kemp says to look beyond those things to the less obvious social interactions of the students and staff. Watch how the children treat each other as they pass in the halls. Are they respectful? Do teachers interact with the students in positive ways or do they stand and talk with each other? Is the school environment one of compassionate understanding or is it too authoritarian?
Dr. Kemp also suggests that parents of children at all levels ask how disputes between children are handled. "Ask if they are teaching negotiating skills," she says. "Are there counselors who handle discipline and social problems. How is bullying or teasing handled?"
Even children at the elementary school level can be involved in learning how to negotiate, says Kemp. "Discipline should be calm and consistent, and kids should be involved in the process."
At all levels, preschool through high school, parents should look for student work and students' projects on display. Ask if there are opportunities for volunteer work. "I like to see kids have the opportunity to do something for others," says Kemp. "And sometimes, children who would never volunteer with a group will have to do it and may find that they like it."

A Word About Middle School
Dr. Kemp says that middle school is "the hardest change for children and parents. It's usually not the school, but it's kids that age."
Middle school can be a very difficult transition for children, particularly if they have learning problems or other difficulties. Because of this, Kemp encourages parents to help their children find an activity that is not school-related. That way, if a child does have trouble at school, he or she will have a group outside of school from which to garner peer support.
"They need extra support from parents as well," says Kemp. "At this age they want to try everything and parents want to let them." She urges parents to resist over-involvement. "They're dealing with a lot of emotional ups and downs. They need sleep. They need rest and time to relax. Don't over-schedule kids."
Dr. Kemp also acknowledges that it may be difficult for parents to tell if a middle school age child is having problems. "If a child is resisting school and is angry all the time, and they're just not making that adjustment to school, then talk to teachers.
There may be an advisory system to give them extra support. If their behavior deteriorates to weeping all the time, being very tired or very agitated, then you may need to find help. Good treatment involves the parents and the child together. The therapist can help you with adjustments and dealing with the child."
One of the questions that parents should ask when choosing a middle school is whether there is a system in place for dealing with children who are having problems. In addition, parents should ask how the children are given this information. Do they know what kind of support is available and how to seek it out?
As with all schools, including elementary and high school, parents should observe the behavior of students in the cafeteria and in the hallways. What is the code of behavior and the consequences for infractions? What activities does the school foster about caring for other people? Ask how the school communicates with parents. How do parents communicate with one another? Are there opportunities for parents to share concerns with administration or staff?

A Word About High School
"At the high school level," says Kemp, "you want the opportunity for students to stretch the mind."
Besides a good grounding in the basics, schools should be giving students chances to question in a respectful way and to discuss ideas. "That's where the real learning takes place," says Kemp. "Students need to feel that their opinions are respected and listened to. How many times are you going to have a job where you're just spouting facts? A good high school curriculum will invite discovery learning, and expand academic learning to make it fun and challenging."
Kemp also emphasizes the importance of writing at every level, but especially in high school where students should be learning to do research. Students also should have the opportunity to make oral presentations.
Regarding technology, Kemp encourages parents to do more than find out what technology is available to students. Parents need to ask about how the school teaches Internet safety, and how to find appropriate sources. Students should be learning to use technology in appropriate and ethical ways.
Another important aspect of a good high school environment, according to Kemp, is the availability of teachers to mentor students. Does the faculty have positive and respectful give and take with the students? Do the students have the opportunity to get to know teachers in a different way, perhaps by faculty participating in skits or talent shows? Are teachers available as resources for the students?

Great Options and Last Word
"We're lucky in that we have some very good private and public schools in Tulsa," says Kemp. "And the public half-day preschool programs are wonderful. Oklahoma really took the lead in early childhood education."
Above all, Kemp encourages parents to look at their children honestly and to find a fit that is good for them. "Know and understand the different stages of child development," she says, "especially if it's a first child. It's the most important job we do and no one ever teaches us how to do it."
Sally Kemp, Ph.D. was in full-time practice for 18 years with Tulsa Developmental Pediatrics and Center for Family Psychology in Tulsa. She is an author, and was an adjunct Associate Professor of Pediatrics at the University of Tulsa and the University of Oklahoma Medical College, Tulsa. Dr. Kemp continues her research at the University of Missouri, Columbia.
Resources to Learn More About Child Development & School Success:
Questions to Ask When Choosing a School
Preschool
What is the educational level and training of the staff?
Is it licensed?
How long has the staff been at the school?
What is a typical day like?
Teacher/child ratio?
Is the facility maintained (inside and out)?
How is discipline handled?
Elementary, Middle and High School
Does the school support your child's interests and talents?
How will the school build up your child's weak areas?
Does the school offer strong academics and also athletics and arts?
How much writing do students do? What kind of writing is expected of them?
What is the school philosophy? Is it accredited? By whom?
How is discipline handled?
Are there opportunities for students to learn negotiation and conflict resolution skills?
What support systems are there for students having problems?
What opportunities are there for helping others?
How are learning differences and different learning styles handled?
Are there opportunities for group work?
Are most assignments individual or group?
What kinds of hands-on assignments do students do?
How does the school address social and emotional issues?
What is the homework policy?
How are teachers available to students?
Does the school have a diverse student body?
What are the school's biggest assets? Greatest challenges?
How does the school communicate with parents?
How are parents involved in the school?
Are there opportunities for parents to communicate with one another?
What do most students do after graduating high school?
Ask yourself if you can see your child succeeding in this school.