Attending the Inaugural AAA Route 66 Road Fest!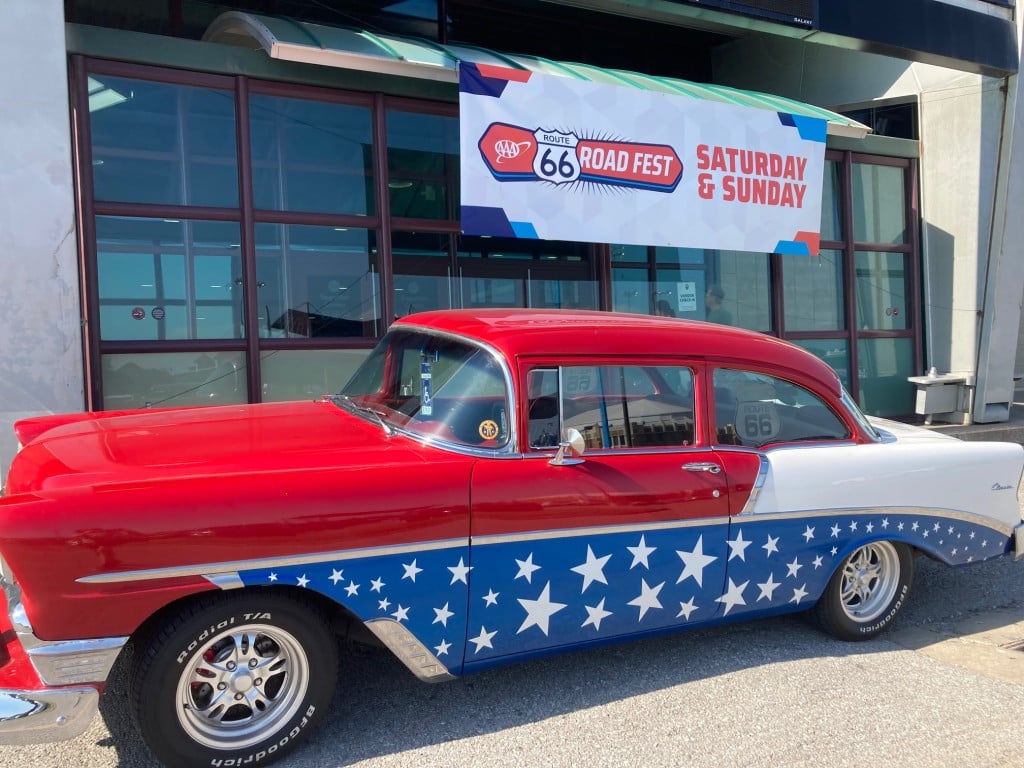 Well, Joss and I finally left the house on Saturday, after eight full days at home. We found out Sunday that we'd kind of overdone it, because I slept in till close to 10 and still didn't want to wake up! Oh, well. But there was a lot going on last weekend. In particular, we didn't want to miss the inaugural AAA Route 66 Road Fest!
The Rout3 66 Road Fest was June 25-26 at Expo Square. If you missed it this year, it is expected to return annually at least through the Mother Road's centennial in 2026. Learn more at tulsakids.com/route-66-celebrates-100-years-with-inaugural-festival.
We showed up early, about 30-45 minutes after it opened. This seemed to be a good plan, as we didn't have to wait in line for any activities, even the VR stations. 🙂 But here are some of the fun things you can expect if you go to a future Road Fest.
The Route 66 Journey
The Route 66 Journey is kind of the focal point of the whole event. And it did not disappoint! Starting in the 1920s, you could explore Route 66 history, decade by decade. Each decade had its own special room, complete with classic cars, historical info and artifacts along the wall, and other interactive elements.
Joss's favorite part of The Journey was definitely the 1940s, where you could sit down in a diner! Sadly, the milkshakes were fake, but you could play in the diner and touch everything.
Each room also had actors in period clothing, who were happy to talk to you about what you were seeing. The most interesting part was in the 1950s, when I commented on the safety signs on display. The actor explained that this was the first time cars were really, truly everywhere. And there had to be a big safety campaign to educate kids about automobile safety. Not running out into the street, etc. Sounded like a stressful time to be a parent! Not that today isn't…
Mini-Golf
Joss bee-lined for the mini-golf as soon as he saw it. It cost $2 per person, so fairly reasonable. Although we did get in free with media passes, so I may have felt differently if I'd payed the $20 adult ticket plus Joss's $5 ticket.
There were a few ticketed activities, the most expensive of which was just $5, for a guided painting class. I was definitely trying to talk Joss into doing this, but he was too distracted by all the other things to do! He couldn't envision sitting down to paint. Other ticketed activities included VR games ($2) and a coloring book ($1).
Anyway, the Route 66-themed golf course was lots of fun! We clearly need to work on our golfing skills, how to hold the putter, etc. But Joss just made up his own rules so didn't get frustrated or anything, ha.
Vintage RV Park
Probably my favorite part was exploring the Vintage RV Park. Joss left the Route 66 Road Fest desperately wanting a VR set-up. I wouldn't mind having a cute vintage RV to spruce up! Not going to happen, but one can dream…
Self-Driving Shuttles
Navya was there with their self-driving shuttles. We enjoyed taking a spin around the parking lot in one of these! They're developed for denser areas, I'd say, so downtown Tulsa could see some in the future! They don't go above 25 miles per hour (if I remember correctly), and don't get above the size seen. They have all kinds of sensors so as to avoid accidents. Route 66 Road Fest had a whole display section called "Transportation of the Future," so this was an important element of that.
Pinewood Derby
Joss was thrilled to race in his first Pinewood Derby! The Boy Scouts were there doing both official races and races that anyone could join, using pre-made cars. Joss picked out a car with a battery-powered fan. Of course, he assumed this would give him an edge….but the poor guy lost every race. A plastic fan cannot replace a solid design!
Still, he enjoyed the excitement of the races, and it was fun to learn how a Pinewood Derby works!
Other Fun
As mentioned, Joss's favorite activity was playing a VR game. His first time! The day after AAA Road Fest, in between begging for a VR set, he decided to make his own out of paper. So that was a fun project we're still in the middle of 🙂
Also on the technology side of things, Tulsa Air and Space Museum was there with virtual flight simulators and their hot air balloon simulator. And Jenks Planetarium was set up nearby with a mobile planetarium. Plus, there was a group there doing robot programming and drone flying, which Joss LOVED. Again, there wasn't a line for any of these activities, which made for a pretty satisfying morning.
Additionally, representatives from OKC, Travel OK, Claremore, and other Oklahoma cities had booths. So we came home with a bag full of travel information, stickers, etc.
Local vendors were there as well, including some Tulsa Route 66 favorites like Buck Atom's Cosmic Curios, Decopolis, etc. TulsaKids editor Betty Casey was there selling her wonderful books later on in the day, but sadly we missed her.
There was also a Classic Car show, live music….and I'm sure several other activities I am forgetting about!
In summary – plenty of fun to be had at the Route 66 Road Fest! Go if you get a chance next year! Adult tickets were $20, but I think they ended up doing a buy-one-get-one-half-price special or something. Kids tickets are less, and there are senior discounts available as well.
Did you attend the 2022 Route 66 Road Fest? What activities did your kids enjoy the most?
---