Apollo 11 Anniversary Movie Night:
3 Space-themed Movies for Kids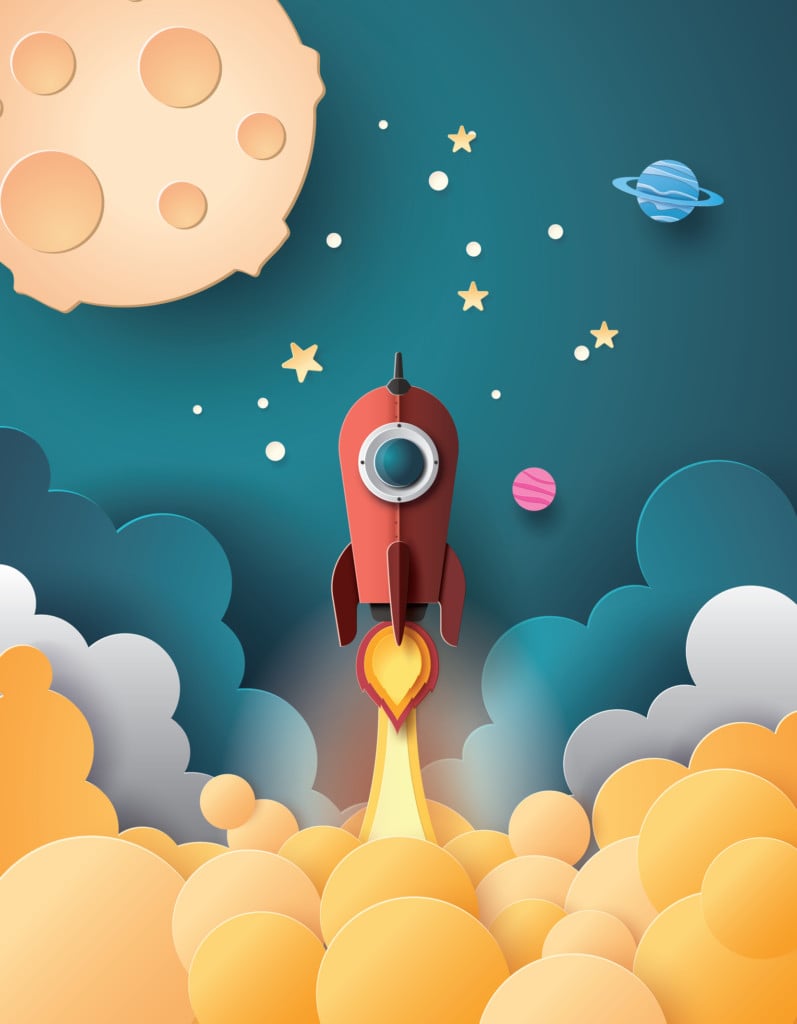 Over lunch, TulsaKids editor Betty Casey was telling us about an Apollo 8 documentary she watched recently. Apollo 8 was the first manned mission to the moon, although of course its astronauts did not step foot on the moon. That would have to wait until Apollo 11, whose lunar landing we are still celebrating, 50 years later, on July 20.
The Apollo 8 documentary focused on some of the technology innovations that had to take place in order to get man to the moon, including how to make sure the astronauts were able to communicate with computers on earth. I don't spend a lot of time thinking about space travel–"Go to the Moon" is decidedly NOT on my bucket list–but I read the first book of Mary Robinette Kowall's "Lady Astronaut" series recently (Plot summary: An asteroid hits earth in 1952, 16 years prior to the Apollo 8 mission, necessitating the rapid advancement of space travel), in which the "computers" were actual women. Here's an article about some of the real-life women who worked as human computers for NASA around this time.
I can't even imagine.
Our conversation also reminded me of how many recent space-themed movies I've missed: "Hidden Figures," "The Martian," "Interstellar"–and, of course, "First Man," which covers the life of Neil Armstrong. From my understanding, all of these are supposed to be excellent films, but something about the emptiness of space scares me off. Although I would like to watch "Hidden Figures," at least.
Coming to the end of my rabbit trail thought process, I thought it'd be fun to put together of a list of space-themed movies for kids, as another option for celebrating the momentous Apollo 11 anniversary this weekend. For a list of local Apollo 11-themed events–and a paper rocket ship craft–check out Betty Casey's latest Editor's Blog post.
3 Space-Themed Movies
These are all movies I've seen–I've already confessed that there are plenty of space movies I haven't seen, so feel free to add to this list in the comments!
1. "The Iron Giant"
Joss loves "The Iron Giant," a 1999 film about a lost alien robot who falls to Earth, eventually befriending a young boy named Hogarth. It stars Jennifer Anniston as Hogarth's long-suffering mother; Harry Connick Jr. as Dean, a scrap metal dealer/artist who reluctantly provides the Iron Giant with food/shelter; Eli Marienthal as Hogarth; Christopher McDonald as a suspicious governmental official ("Hey-a, Sport. I'm Kent Mansley. I work for the Government"); and let's not forget, Vin Diesel as The Iron Giant.
99.5% of "The Iron Giant" takes place on Earth, but what I love about it is how it portrays different approaches to things we don't understand–in this case, mysterious beings from outer space. Do we give in to fear and try to destroy them? (Kent Mansley nearly kills everyone in Hogarth's town by giving orders to release a bomb in his quest to destroy the Giant.) Or do we seek understanding?
The Iron Giant also is faced with a choice: His programming dictates that he react, when threatened, with destructive force. But he wants to be more than a gun–he wants to be a hero.
The film is laugh-out-loud funny in places, while also providing some food for thought that could lead to good discussions at home.
2. "Wall-E"
Who could forget "Wall-E," a bittersweet film about a small, lonely robot who has been organizing Earth's garbage for 700 years–ever since humanity was sent to live aboard a spacecraft, due to the inhospitable conditions created by waste, etc.
For the people of "Wall-E," living in space is the norm. They've never even set foot on Earth, and live so dependently on technology that they never even have face-to-face conversations–they talk solely through screens. The ending of the film reminds us of how miraculous Earth is and how valuable interpersonal connections are. It reminds us to care about how we are treating the planet and to spend time caring for one another as well.
3. "Galaxy Quest"
"Galaxy Quest" also came out in 1999, and was a favorite when I was younger. I could probably still do my impression of alien leader Malthesar–and of course, Alan Rickman as grumpy actor Alexander Dane, is delightful.
"Galaxy Quest" is a spoof on the Star Trek fandom and, if you need a refresher is about a group of aging actors who once performed on a popular space-themed TV show, who are mistaken by an alien race as genuine space heroes and subsequently kidnapped in hopes that the actors can save the aliens from a group of malicious aliens.
Even if you don't get all the references to Star Trek, fandom, etc., it's a hilarious but heartwarming film, where the actors learn to embrace the roles they've played rather than apologize for and resent them, and to appreciate the fans to whom their characters mean so much.
Other space-themed movies for a younger audience that come to mind off the top of my head:
"Star Wars" (Obviously!)
"Guardians of the Galaxy" (and other Marvel movies; PG-13)
"The Last Starfighter"
"Star Trek" movies
And of course, space-themed TV shows such as "Star Trek" in all (most?) of its iterations are always worth a watch. We started watching through "Star Trek: Voyager" shortly after Joss was born, and although he was too young to actually watch the show, we do have an adorable film of him "helping" his father build a bike wheel while dancing to the "Voyager" theme song 🙂
Will you learn anything about actual space travel from these films? Maybe not, but there are still good lessons to be gained from them, and you can always talk with your kids about the significance of the Apollo 11 anniversary before hitting "Play."
If you'd rather forgo movie night in favor of reading night, you could introduce your kids to "Ender's Game," (also a movie), "The Magic School Bus: Lost in the Solar System" or any of the 27 books on this list, most of which I haven't read, but they all look intriguing. Several of them are about the Apollo 11 landing, making them a little more relevant!
What are your favorite space movies or books for kids? Let me know because apparently I have some catching up to do!
---