Andrea Taylor is Motivated to Make a Difference
Taylor founded A Twist of Fate-ATS, which works to bring awareness and funding to eradicate arterial tortuosity syndrome.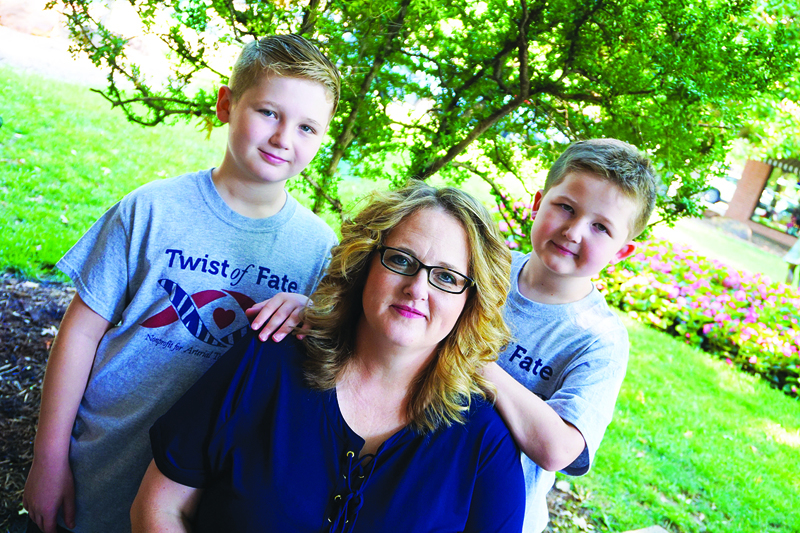 Andrea Taylor is a mother of two who combines love and compassion with her strong desire and unwavering support to help find a cure for her son's rare disease known as arterial tortuosity syndrome (ATS). In addition to spending countless unpaid hours researching his condition, she founded a nonprofit, A Twist of Fate – ATS, which works to bring awareness and funding to eradicate this disease. In fact, through Taylor's efforts, A Twist of Fate-ATS was recently awarded the 2017 Impact Award from the National Organization for Rare Disorders.
TK: Tell us about your children.
Andrea: I have two boys. Aaron is 10 years old, going into fifth grade, and Aiden is 9 years old, going into fourth grade. They both like to play video games, swim and hang out with friends. We also have a pony named "Thunder" that the boys take care of.
TK: What is the rare disease that your child has?
Andrea: Aiden has arterial tortuosity syndrome (ATS), which is a rare genetic disorder characterized by the lengthening and twisting of arteries throughout the body that can cause severe complications during infancy, early childhood and beyond.
TK: How was his condition detected?
Andrea: We are originally from central Arkansas, and when he was 2 years old, he had two phenomena episodes a few weeks apart. At the time, a CT scan of his chest was performed, and Dr. Fontenot, the cardiologist working at the time, happened to be looking at the charts and grabbed Aiden's. It was like nothing he had ever seen before. He saw extreme tortuosity (twisting of his organs) resulting in extreme pressure to his heart causing it to enlarge. In an effort to relieve the pressure, Dr. Fontenot performed a surgery to insert a catheter into his heart, but due to Aiden's condition, he wasn't able to. At the time, the doctor didn't know what Aiden had, but through research, he ran across information about ATS.
TK: What resources are available for your child?
Andrea: After we finally had a name attached to it, I immediately began searching for more information on the Internet, only to find that there was not much available. In my research, I would follow links and use them to send email to those people who had posted the information, and that's how I started talking to doctors around the world. At the time, Johns Hopkins [Hospital in Baltimore, Maryland] only had one patient they had seen in their clinic.
TK: How did you decide to form a nonprofit?
Andrea: This came about from contacting the few families who have the same disease and deciding there needed to be one place for all the information and also a way to connect people. In reality, I had no idea how to start a non-profit, but I did. In August 2014, I formed A Twist of Fate – ATS, a 501(c)(3). After forming it, I applied for a grant and received $54,000. That money allowed us to fly in patients to Little Rock from all over the world, including families from England and Bermuda to work with the specialty doctors.
TK: What is the purpose of A Twist of Fate-ATS?
Andrea: Our goal as a patient group is to link families with researchers and physicians to learn more about this ultra-rare disorder, to promote awareness and education about ATS, support families with ATS, as well as to help fund research for ATS.
TK: How has forming the non-profit helped to raise awareness of ATS?
Andrea: In 2016, we partnered with Arkansas Children's Hospital in Little Rock, where we started the first multidisciplinary clinic, which allows patients to see all the doctors they need in one place in one day instead of spreading it out over days or weeks. We have also been able to petition the Center for Disease Control and have gotten an ICD-10 code Q87.82. This allows it to be recognized by insurance as well as have the ability to be tracked.
TK: What recognition has A Twist of Fate – ATS received?
Andrea: We were nominated for the 2017 NORD (National Organization for Rare Diseases) Rare Impact Awards and, needless to say, we were the one organization out of 260 that was chosen for this award. I had no idea what I was doing would lead to this.
TK: How has all of this changed your life?
Andrea: I am confident and comfortable with the team of doctors who are working to take care of and treat Aiden. Personally, I know how hard I work, without pay, to help advance the treatment and cure for my son as well as so many others. Over this process, I have dedicated my time to research and education.
TK: What are your thoughts regarding all you have accomplished?
Andrea: It doesn't matter what your background or education is, if it's something you're passionate about and if you put your mind to it, you can achieve it.
For more information on ATS or A Twist of Fate-ATS, visit www.atwistoffate-ats.com.
Nancy A. Moore is a Public Relations Coordinator at Montreau, Adjunct Professor at Tulsa Community College, and has been writing for TulsaKids for almost 20 years.