Not Kidding Around
An Interview with Travis Kidd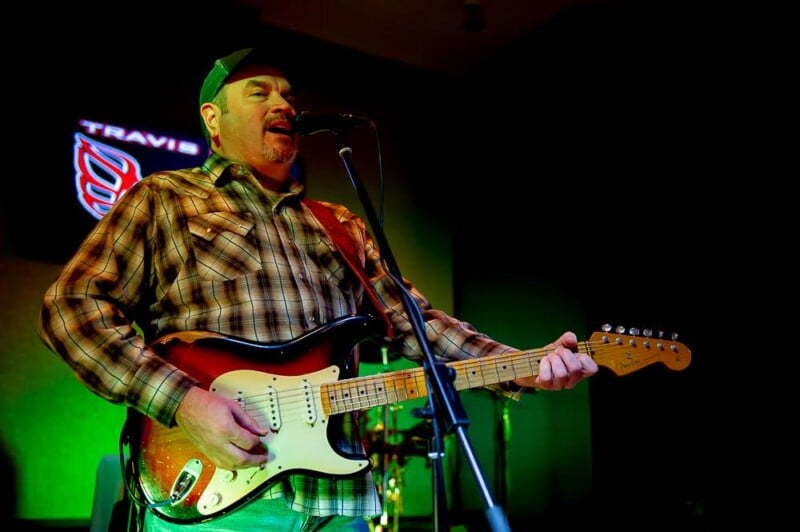 In honor of Tulsa Music Month, here is another Tulsa Rock Star Dad talking about being a musician in Tulsa and also being a dad to his kids. Travis Kidd has been playing his guitar and entertaining audiences in Tulsa for many years.
Here is his story:
First, Travis, please tell us about you and your family.
Born in Pryor, Oklahoma, at a very young age in 1974. Married my wife Becki in 2005 and had our daughter Kameryn in 2007 and our twin boys, Keller and Griffin. [We] have been residing in Bixby, OK, since 2005, where my wife is a 5th grade school teacher at Bixby North Intermediate.
What is your history with the Tulsa Music scene?
I was born and raised in Pryor, OK, and began playing music during or right before my teen years. After HS, I moved away from Oklahoma, venturing all over the U.S., including 2 separate Nashville stints, but found myself back in Tulsa in 2002. Reacquainted with old friends from my youth, I began playing solo acoustic gigs around Tulsa ( Full Moon, Grey Snail, Fishbonz, Barkleys, etc.) until piecing together a 3-piece band, performing all across the state and into Texas, Arkansas and Colorado, ultimately recording the album Midamerica in 2008.
Not long after that, the casino world began booming in Oklahoma, so I began gravitating toward those type of gigs. Being a new dad and husband…the bigger paychecks were enticing,
However, the trade off from chasing the dream of being an original artist gave way to only playing a handful of original songs every night peppered in between bar room standards that everyone knows and loves (or hates, haha!). Able to finally find a bit of balance between the two worlds, I recorded my 3rd album, East of the Rockies in 2019 and am currently finishing a "Best of" album, recorded at The Church Studio (Tulsa).
How has the Tulsa music scene changed over the years?
Well, I think I probably changed as a musician more as much as the local scene and almost fell out of the "original" music circle due to concentrating on casino or corporate events. The division is quite deep between the original music scene and the ones (like me) who are out there playing covers and original music for a full-time living. It wasn't like that when I moved back here in 2002.
On a positive note, Tulsa and the metro area seem to have more places to play these days than before. With the casinos, restaurants/bars and regional festivals, it's more than possible to make a decent living playing music. A big "THANK YOU" to all of the venues around Tulsa that continuously support live music!!
How have you managed to pursue your musical passion while also being a dad?
I have a small studio set up at my house ( Apple/Logic – Universal Audio rig) and love to get lost in my headphones after the family goes to bed, creating anything from thrash metal to electronica grooves to acoustic singer-songwriter style music. Getting up and helping getting the kids off to school every morning is HARD after coming in at 2 a.m. from a gig – [it] was always challenging to say the least, but I did it!
At one time, I had all three kids at home with me every day from when they were born to when they started pre-K, and that means, for a short time, three kids in diapers! (Yes, It was a "trying" time of being a first-time dad, haha! )
What impact has being a dad had on you being a musician?
Before having kids, I literally lived like a small-time rockstar (don't laugh!). My house on Riverside in Tulsa was known to have been "party central" more than once or twice a week, and yes, it was fun but also not great on the heart and souls (and health!).
When "dad life" kicked in a few years later, I felt so blessed to have finally found the true meaning of life and the real happiness of having a beautiful family. These are 100% the best years of my life, and I thank God and the universe many times every day!
How do you find the balance between your music career and spending quality time with your children?
Luckily, being based out of the Tulsa area, there is enough music work that I can be home almost every night after a show, and be there the next morning to help with the daily routine. I usually try to keep my Sundays, Mondays and sometimes Tuesdays open to stay home and then play music Wednesday through Saturday usually every week (for the last 20 years basically). Sometimes I have to miss some important events, like sports that the boys are involved in, or dinners with friends on a weekend or concerts or any number of "regular" things that people do on the weekends.
Along with my wife and her career, we are able to comfortably support the family, but there are times when I wish I could be home more, like a traditional father figure. I pretty much live an opposite lifestyle than most everyone else I know (who aren't in the music scene or service industry).
It's definitely a trade-off and sometimes not worth the trade, so I will need to cancel or move some bookings if I have to, to accommodate plans with my family.
Have your children shown any interest in music, and if so, how do you nurture their interests without pushing them too hard?
Yes, they all have at one time been into music. I have a ton of music equipment laying around the house, so if inspiration hits, a guitar or drum set or microphone isn't far away! I've taught them a few things, but I'm letting them find their own way to music in hopes it comes naturally like it did for me…
At the moment, video games and sports have taken a front seat, but I'm pretty sure the musical seed has been planted, and it will sprout back to life someday! My daughter has been playing drums lately and is very, very good. She is also a living encyclopedia of knowledge on alt-rock and heavy metal from the 1990s to today's music. It's impressive, haha!
My son Keller said he's done with with rock music and is all about rap at the moment (sad, lol). I'm not crazy about it, but I know he's got rock n roll in his blood and is a great singer and a very good drummer also!
Griffin is a born entertainer and has the charisma of a superstar, so if he ever decides to pick up a microphone, I could see him being a lead singer and fronting a band someday. He's got a cool, raspy voice already and knows how to connect and communicate with people.
What are some specific challenges you've faced as a musician who is also a dad, and how have you overcome them?
Mainly with scheduling conflicts. If there is a booking that becomes available on the same day or same time that I might have a "dad thing" to do, I've got to really consider both sides of the decision and if it's worth missing and vice-versa.
Luckily and thankfully, my wife, Becki, has always gone above and beyond when it comes to covering all the bases as a parent when I have to be gone for a gig or event.
How do you involve your children in your musical endeavors, such as gigs, recording sessions, or songwriting?
When Kameryn was younger, I would always ask her to come up and sing with me, and she usually would! Now that she's 16, those days are long gone, but I think she might eventually get the urge to sing again!
My boys always loved hanging out with me at the all-ages shows when they were younger also. I have great memories from playing in Colorado when they were toddlers and them hopping up on stage with me, pushing buttons and making noise! It was totally fun having them around at shows, but the older they got, the less interested they were with hanging out with their dad at "work"!
Can you share some heartwarming or funny anecdotes about your experiences as a musician dad?
Just a few months ago, I was trying out my new Marshall JCM800 guitar amp in my studio/office (which is near the front of my house), and yes, the volume was nearing the face-melting level. Kameryn and a few of her friends happened to walk in the house unannounced to the sound of a guitar amp on 10…Kameryn was fairly used to hearing me play at home, but the friends seemed to be quite impressed with the Pantera and Metallica riffs I was jamming on… haha! (It was a cool feeling getting some compliments from a group of teens who, I figured, would usually think parents were lame!)
Do you have any advice for other musician dads who may struggle with finding a good work-life balance?
Let nature take its course and listen to your "inner dad voice" on balancing music life with family life. If music is part of your genetics and it's what you were born to do, it will always be there for you! Same with being a dad, however, the family life is more fragile than the music life, it's breakable if not careful.
What does the future of Travis Kidd the musician and dad look like?
I think about the future everyday, especially now that I'm nearing 50 years old! I've been doing music as a full-time occupation since 2001, and I plan on keeping it going as long as I can! After my kids are out of college and on their own, my wife and I will probably slip off to some beach town somewhere and fade into the sunset together.