An Interview with Tony Moore
Moore has been Gathering Place's Park Director since July 2016.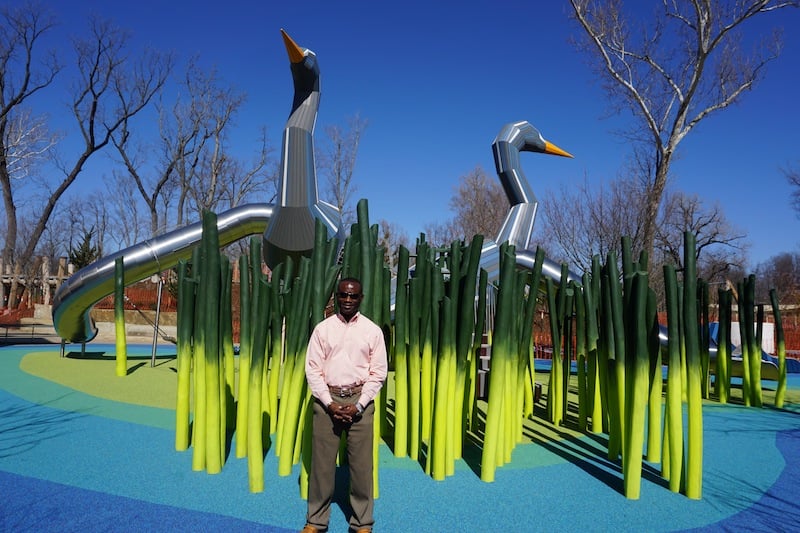 An interview with Tony Moore, Director of Gathering Place
TK: When did you move to Tulsa, and what has your family most enjoyed about the city?
TM: I moved to Tulsa to join the Gathering Place in July of 2016. I was absolutely amazed with the depth and range of the Park and the magnitude of the project.
Equally impressive was the civic and social mission of the Park and what this space would ultimately mean for the city. I was also very impressed, yet jealous of the philanthropic community of Tulsa and their civic commitment. Prior to this, my experience in civic development was primarily focused on private enterprise, so needless to say, I was blown away by the efforts of the George Kaiser Family Foundation. Likewise, I discovered a city that, in my interpretation, was on the cuff of a major transformation. The Gathering Place construction site at the time of my arrival was a very largely a pile of dirt, but it was easy for me to see how this space and project was going to impact the city.
In terms of my family's acclimation to the city, well, I knew Tulsa was where I wanted to be, but I had to make sure that my family felt the same way, and fortunately they did. Tulsa for them immediately felt like home. We love the city's friendly nature and its convenient size. Tulsa for us felt like a medium-sized city with a small-town hospitality. While it was difficult pulling my kids away from a world-class destination in Orlando, they remained hopeful in what Gathering Place would ultimately deliver. So selfishly for my sake of my household, I knew I had to deliver.
TK: What experiences in life best prepared you to take on this role?
TM: Well, we are all products of our environment and our life history, and to that end, I have been blessed with a lot of relevant work experience that seemed to perfectly align with the Park Director Job. But it is important that one never blissfully assume that historical experience will always have a proportional impact in all like environments. Tulsa is a unique mid-west city with a unique DNA of its own. I had to take my time in appropriately understanding the awesome attributes of the city, its love for art, its affinity for the outdoors, its passion for football and its friendly and embracing residence. Likewise, I also had to [develop an] understanding its past and some of its residual challenges of 100 years ago. It's with this understanding that I truly saw an opportunity to be a part of something special, to be a part of a project that could impact change. While most of my professional experiences have been associated with revenue-driven establishments, the focus and mission of Gathering Place provided the perfect scenario for me to foster over 30-plus years of park experience towards one unifying mission.
TK: How does it feel to know that Gathering Place is finally opening to the public?
TM: It is an unbelievable, exciting feeling. Tremendous relief after years of building and planning. Yet there is also this self-imposed burden, a personal responsibility to ensure that the park continues to deliver to Tulsa what was initially promised. Gathering Place has to consistently be a world-class park with excellent experiences in the quality of our facilities, the service of our employees and the repeatability of the product. It's one thing to build a park, but it's a whole different engagement when families and kids get to interact with your product and services. As the saying goes… "Quality experiences only come from quality ingredients."  So to that end, I am confident that Tulsans will experience for themselves a world-class park, but not without substance. Our confidence rests in the excellence of our product, the diversity of our content and the experience of our staff.
TK: How will your role/day-to-day schedule change once Gathering Place opens?
TM: Once the Park opens, everything becomes more hands-on and more tangible. My role will certainly involve more time out in the Park. The same will be true of the entire team. We will also have a lot to learn in the manner in which our guests engage with the Park. Regardless of the veteran experience of our team, there will still be a lot of unknown variables from an operational logistics perspective. Human behavior, although generally predictable, can also be regionally and culturally unique. It will require a constant process of evaluating our guest experiences to ensure that we live up to expectations. We will also have to figure out our capacity ceilings and thresholds. But this is what we have all been looking forward to – engaging with guests who come from all corners of Tulsa as well as from neighboring cities and states. We will work to ensure their experience is the best it can be.
TK: How do you see the Tulsa community changing as a result of Gathering Place?
TM: Our goal, although aspirational, really is for Gathering Place to be an inclusive place of unity for our community. A place where all Tulsans will feel welcome, celebrated and embraced regardless of race, culture, zip code, or socio-economics. We hope that the Park will help to make our city more vibrant and more attractive for families, both for attracting new families as well as in retaining [families already here]. We want our high school and college grads (our brightest minds) to live, work and play in Tulsa instead of running off to other cities. Our goal is for all our diverse communities of Tulsa to find value and relevance in this Park and to share an authentic cultural experience with some of our programming. Our goal is to play a small role in contributing to the health of our local economy with the employment of over 200 ladies and gentlemen from the Tulsa work force. In time we also hope that visitors from nearby cities such as OKC, Dallas, Kansas City, and Memphis—anyone within a day's drive—visit us and spend some money in our local economy with overnight stays. While they come to visit Gathering Place, they will also visit our world-class attractions such as the Tulsa Zoo, the Oklahoma Aquarium, Philbrook and Gilcrease Museum.
TK: What is your favorite part of the park so far?
TM: When it comes to me declaring my favorite area of the Park, I must admit to being quite unstable and double minded. You see, my selections seem to change with the wind and with each unveiling of a new area of the Park. First it was the magnificent land bridges with its European-inspired tunnels. What a sense of arrival these tunnels will present. Then it quickly became Peggy's Pond with its dynamic topography of inclines and valleys, not to mention the sandy beachfront area. I personally love both Swing Hill and the Sky Garden, with their breathtaking views of the Arkansas River and the skyline of downtown Tulsa. But my new favorite is the exotic rock work of the Four Seasons Garden. But not to worry, I am sure this will all change in short order. So, to appropriately answer this question, I would be ambiguously clear in saying it depends on the day.
TK: How many kids do you have and how old are they? What do they love most about the park?
TM: I have a lovely and most patient wife of seventeen years name Gillian. Any woman who stays married to a park executive has to have a double portion of patience and selflessness. We park guys are most busy during holidays and weekends at times when most families traditionally get together, but that's what we signed up for. I have two kids: Kai, my 7-year-old daughter and Casilo, my 3-year-old son. Both are anxiously awaiting the opening of the Park. As you can imagine the Chapman Adventure Playground, with its adventurous towers, accelerating zip line and numerous slides, is their favorite area of the Park. At home I am constantly harassed about my opening timeline.
TK: What have some of the most fun aspects of the job been?
TM: I am truly blessed to have had this opportunity to be a part of such a significant project. It's been a lot of fun planning and getting ready for this Park opening, and it will be a different kind of fun once the Park opens. I still enjoy meeting with the community members and hearing firsthand how proud and delighted everyone is about this project. Hence, I am honored to deliver to Tulsa their world-class park. I am also very excited about the quality programming that we will be able to offer starting with our 100 Days of Opening celebration. It's been a lot of fun planning and securing some of these tier-one talent and entertainment. I truly enjoy the team that we have assembled to lead this charge. We have a lot of fun personalities and people absolutely passionate about working at Gathering Place. We have individuals totally excited about the growth of Tulsa and anxious to see how they can play a role in delivering this Park. I think we have developed for ourselves a pretty cool work culture where we enjoy what we do and genuinely like working with each other. We work hard and we play hard.