Amy Siegfried: Consistently Curious about Sports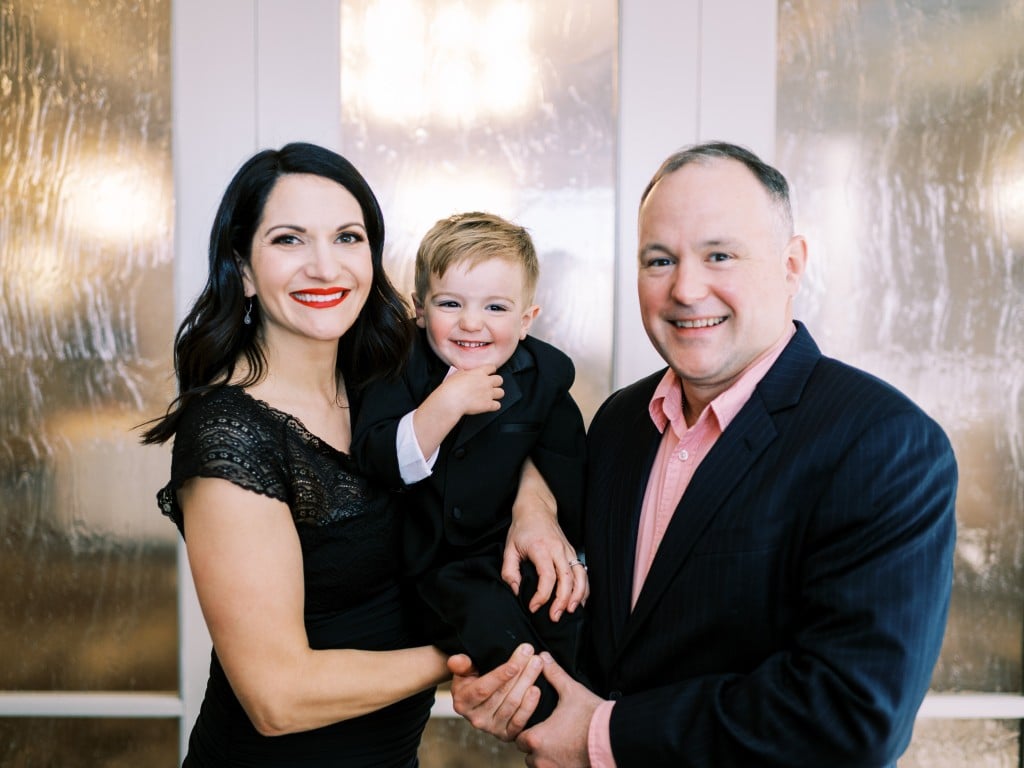 Sports and pop culture go hand-in-hand, and Amy Siegfried, co-founder of Last Night's Game, is eager to connect you with both. She has made it her business to watch from the sideline, so others don't always have to. Her goal is to educate people about the wide world of sports by connecting them with trending topics to maximize conversations that people engage in throughout the day, including those around the water cooler.
Through this endeavor, she is working to help level the playing field for those who don't have the time or interest in following athletics by providing a quick dose of content on trending topics through her podcast, Sports Curious.
In addition to this, she and her husband, Raegen, have a son whom Amy lovingly refers to as the "Tiny Human" on her social media. In this visit, you'll learn a little more about how she defines success, her interest in helping others and what her family likes to do around Tulsa.
TK: You've found a way to easily connect sports with pop culture in your podcast, Sports Curious. What do you hope people will learn from listening?
Amy: In this weekly podcast, I want to teach people enough about sports to be able to visit with others and sound somewhat knowledgeable about current topics and also share how it relates to pop culture. Each episode is only about five minutes and packs a lot of information about current events that they can discuss with friends, family or business acquaintances.
TK: As a master of small talk, what tip or tips would you give to someone who isn't?
Amy: Now that we're out socially following Covid, remembering a few tips helps me in everyday situations. I recommend contributing what you know to a conversation. You can steer the topic of sports or any subject, for that matter, into a different conversation – one that you're more knowledgeable or comfortable with, like food, music or travel.
TK: How do you define success?
Amy: Everybody has their definition on this one. I think it's important to find fulfillment in doing something great, but more importantly, when I go to bed at night, I try to consider the good things I've done that day and how I've contributed to making a positive impact.
TK: Is there something that you are focusing on right now?
Amy: I'm focusing on helping the younger generation. For me, that's key. I love celebrating others' success and growth. Collaboration is key. We're all in this together, and we can go further together.
TK: What drives you in your work?
Amy: I love to create, and that's something I didn't know I had when I was working in the corporate world. I enjoy the creative aspect of writing and owning a business. I also love hearing from people and what they want (about Last Night's Game). I always saw myself becoming an entrepreneur. For me, the flexibility in my work schedule has been helpful. I work more than I ever did in the corporate world, but the flexibility has been vital in raising my family and taking on more, like going back to get my MBA out of state. I still struggle with shutting down at night, knowing how much I still have to get done.
TK: Shutting down can be difficult. What do you do to unplug?
Amy: When I was in graduate school, I was getting four hours of sleep a night, which wasn't enough. I'm trying to shut down my laptop by 9 p.m. I also try to do some sort of workout daily to keep my sanity. It doesn't always happen, but I'm trying to prioritize myself that way.
TK: You have admitted that you don't sweat the small stuff. How do you accomplish that?
Amy: Living overseas, my husband and I used the phrase, "It is what it is." You can't get over-stroked about things you cannot change. I try to focus on what I can impact, like prioritizing time as a family. Sometimes that's only 15 minutes at the end of the day. Having a child makes that phrase a little more challenging, as the mom guilt is real, but at the end of the day, I try to let go of what I can't control and remember that we're all doing the best we can.
TK: Tell me about your "Water Me Wednesday" concept and one thing you've learned from it.
Amy: It started as a way I reminded myself to water my plants on our Instagram since I have a knack at killing all things green. Long story short, that turned into a weekly interview series where our audience has a chance to learn and grow from our guests. Our guests are creators, movers and shakers from all across the country who share insights and success stories with our audience. Some of my favorites are the ones where I am super curious. One was about brain mapping; another was about the importance of nutrition for children.
TK: As a parent – what tips can you share that maximize your productivity?
Amy: I strive to be present, but that's hard in today's interconnected world. Now that I work from home, when I'm working, I don't touch the dishes or do laundry; I focus on work. The same goes for my time with my family. At work, I set a timer for 20 minutes and focus on one project until the timer goes off instead of multitasking. That is monumental when I'm working on a writing or design project because you can get so much done when you focus, even for 20 minutes.
TK: What are some of your family's favorite things to do around Tulsa?
Amy: We love to spend time outside, including heading out for neighborhood walks, to our pecan farm outside of town or visiting the Gathering Place. The Tiny Human loves the Discovery Lab. My husband and I enjoy trying out new, locally-owned restaurants, so please share any good ones we need to try. And of course, we love to watch sports, from football to Formula One Racing to hockey (go Golden Knights).
TK: You've literally traveled the world, were a TEDx speaker and recently earned an MBA. What's next for you?
Amy: I strive to keep growing, learning and improving. I once saw a quote that said, "Evolve or die," which really resonated with me. I went back to get my MBA because, as a journalism major, I wasn't as well versed with finance, legal or technology as I'd like to be – I never had to be when working in the corporate world. There was a department for that. The beauty of starting a business is you're in charge of everything, so you have no choice but to figure it out. I feel like I'm learning every day, and I love that. I'm not sure what's next for me at this moment, but it'll definitely fit into that learning and evolving category.
TK: What are you passionate about right now?
Amy: Growing others into the best version of themselves. That's what I do every day with Last Night's Game and what I strive to do to support those whom I mentor, my family and friends to do the same. Through my work with IrishAngels, in our community and mentoring startups across the country, I want to help cultivate the next generation of leaders and global citizens.
To learn more about Amy or Last Night's Game, visit: lastnightsgame.com or on Instagram: @lastnightsgame.
You can listen to this visit with Amy on the Sharing Passion and Purpose Podcast: sharingpassionandpurpose.com.
Nancy A. Moore is a Public Relations Coordinator at Montreau, Adjunct Professor at Tulsa Community College, and has been writing for TulsaKids for almost 20 years.
---