Part 2: Alternative Education: One Family's Story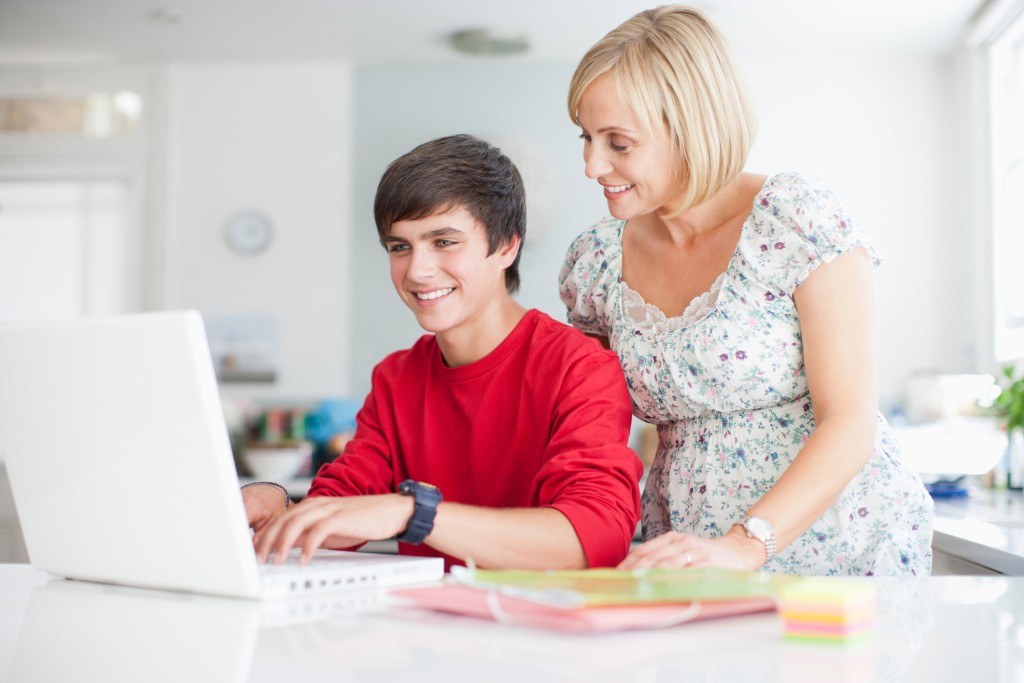 They say a mother is only as happy as her least happy child. To survive as parents, we have to put at least a little emotional distance between our children's hurts and our own hearts. But, when a child is truly unhappy in school, healthy detachment becomes difficult. Last month we discussed actions parents can take if their child is unhappy in school such as reducing stress at home, providing enriching activities, parental involvement at school and outside counseling. However, if after trying those interventions your child is still really miserable, or your child's behavior or addiction issues make traditional school impossible, it may be time to consider alternative education.
Online Learning
Benjamin Blankenship hated 6th grade. "He was a good student," said Benjamin's mom, Becky. "He made As and Bs and even got Student of the Month." But the middle school culture was profoundly different from his grade school. "What bothered him was the language and the rough stories," Becky said.
Becky and her husband Bryan, executive director of Counseling and Recovery Services of Oklahoma, hoped Benjamin would adjust, but the year grew more difficult. Though Becky doesn't think he was regularly bullied, he did come home one day devastated: someone had put a "kick me" sign on his back. Becky said he lived in constant fear.
Finally, Benjamin's anxiety level signaled to the couple that Benjamin had had enough.
"He was not normally an anxious kid," Becky said. "The level of anxiety he was showing was too much."
Though they made him stick out sixth grade, Benjamin is now a student at Oklahoma Virtual Charter Academy—an online school.
"They don't call it homeschooling," Becky said. "They call it 'schooling at home.' I am his learning coach and he has teachers. The teacher can actually call on students to read aloud and answer questions. It's really remarkable technology."
And, since it is a public charter school, there is no cost to the Blankenships.
The Blankenships are no strangers to alternative education. With eight children, all with different educational needs, they have learned to be creative and flexible.
Homeschooling
"We homeschooled our first three children from kindergarten to third grade," Becky said. "We were moving quite a bit with my husband's job and didn't want them to have move in and out of schools. It worked great. When we were ready, they plugged right in to public school."
However, when their son Noah developed disruptive tics with Tourette's Syndrome, homeschooling was again the answer. By 9th grade Noah was back in public school, but was soon having additional problems.
"He was doing horribly at school," Becky said. "Though he was doing well socially and a hard worker, he was making Fs in all of his classes except PE. We had him tested and discovered he had auditory processing problems. We were sure he was going to drop out of school."
The family investigated Street School, a Tulsa school dedicated to drop out prevention and geared to students wanting to resolve substance abuse problems, and behavioral issues, but didn't feel it was right for Noah.
"We needed a school for kids who are not behavior problems, but need an alternate way of learning."
Private school was out of the question due to the cost.
Boarding School
Desperate for an answer, Becky searched the Internet and found Eagle Rock School, a full-scholarship, boarding school in Estes Park, Colorado. Geared to students not experiencing success in traditional school, it emphasized proficiency of material instead of grades, and experiential learning instead of rote.
"Noah built a sailboat for his geometry class!" Becky said.
It was tough for Brian and Becky to send their child to another state for school, but Noah was excited about the opportunity. Though initially homesick, Noah soon adjusted and began thriving in the unique setting.
"He graduated this past spring with flying colors!" Becky said.
Assess Before You Jump
Parents consider alternative schools for many reasons such as behavior problems, drug or alcohol problems, learning issues or social problems. Bob Hudson, M.D., clinical professor of pediatrics at the University of Oklahoma, believes that parents should consider educational testing before jumping to homeschooling or online schooling. He often sees something called "working memory" as the cause of both learning issues and behavior issues.
"Kids who have problems with working memory really start to struggle around middle school age," Dr. Hudson said. "They want to escape the struggle, so they often turn to drugs or alcohol. Behavior also becomes a problem."
No matter what the problem, he encourages parents to get help for their kids, the earlier the better.  "Assess it, don't ignore it," Dr. Hudson said. "Parents often say, 'My kid is not motivated. He's lazy.' No! Your kid is struggling! It all starts with understanding how your child is wired. Once you understand, a whole new vista opens up on how to help."
Is Schooling at Home Right For Your Family?
Once you get to the bottom of your child's unique problem and start the search for alternatives, tread carefully if considering homeschooling or online learning.
"Homeschooling takes a special family," cautioned Ann Greenwood Ph.D. psychologist with Tulsa Family Developmental Center. "You must be able to provide structure and create interesting lesson plans and schedule outside activities. The parent/child relationship also must be very good," she said, adding, "It can be very positive. Unfortunately, it can also be a disaster."
Greenwood relayed the story of a father who pulled his unhappy son out of public school and enrolled him in an online school. The boy was supposed to "attend" the online school while the father was at work. But with no supervision, the work never got done.
For the Blankenships, homeschooling, online schooling and even boarding school have been the right answers.
"I was elated seeing Noah graduate," Becky said. "It was just so meaningful! I was desperately trying not to cry because I knew if I started, I'd never stop. My husband was just sobbing!"
Though homeschooling, virtual schooling and boarding school are three alternatives to traditional education, they are far from the only ones. Within Tulsa Public Schools alone there are seven "alternate" schools to meet individual student's needs from grade school through high school. Additionally, most of the surrounding school districts offer alternative education at least at the high school level.
Alternate Methods of Education in the Tulsa Area
A public charter school. Uses the K12 curriculum to offer virtual distance learning for Oklahoma students in grades K-12.
Cost: Free.
Contact: (Toll-Free): 866.467.0848
Street School is contracted with Tulsa Public Schools. All students are considered TPS students. Provides high school education as well as therapeutic counseling and drug and alcohol treatment.
Who should consider it: Students grade 9-12 who are committed to their education, but also need to resolve substance-abuse problems and/or behavioral problems.
Cost: Free
Location: 1135 S. Yale, Tulsa.
Contact: 918-833-9800 or www.streetschool.org.
Residential treatment for boys with mental health, behavioral and substance abuse issues.
Who Should Consider It: Families of boys ages 13-17 who require a more intensive structure, supervision and treatment than traditional school. Includes an on-campus school with small class sizes that focus on reading and math. Teachers are certified with the State of Oklahoma and provided by the Sand Springs School District.
Cost: Sliding fee based on income.
Location: 2727 S. 137th W. Ave., Sand Springs, OK
Contact: 918-245-0231 or www.tulsaboyshome.org.
Homeschooling/Other:
A fusion of several methods of education, Element's students can attend either full-time or part-time and work at their own level and own pace. Can be used as a supplement to home-schooling or as the primary educational method.
Who Should Consider It: Students, grades 6-12, who don't thrive in traditional classroom setting due to boredom, learning differences, social issues (kids who have been bullied and/or are very shy and find traditional schools overwhelming.)
Cost: Based on enrollment. Full-time students: $5,000 per year; part-time students: pay by days attended ($750 for one day a week, etc.); Consulting membership: $500 per semester
Location: 3903 1/2 South Harvard Ave
Contact: 918-671-8235
Homeschool Resources:
Alternative Public Schools:
Tulsa Public Schools:
Uses an advisory system that pairs one teacher (advisor) to a group of approximately 17 students throughout middle school.
Students engage in rigorous curriculum, which focuses on personalization, project-based instruction, real world learning and post-secondary planning. Students explore careers and career paths through shadowing professionals in the community who hold jobs aligned to the students' career of interest. Preferable entrance into the program at the beginning or end of a 9-week quarter.
Cost: Free
6201 E Virgin St (Bryant Bldg.)
Contact: 918-746-9300
Uses an advisory system that pairs one teacher (advisor) to a group of approximately 17 students throughout high school.
Students engage in rigorous curriculum which focuses on personalization, project-based instruction, real world learning and post-secondary planning. Students will identify a career interest and secure an internship in the community that is aligned to that interest. Student and Advisor identify a professional in the community to be a mentor throughout the students' time. Preferable entrance into the program at the beginning or end of a 9-week quarter.
Cost: Free
Contact: 918-746-9303
Location: 6201 E Virgin St. (Bryant Bldg.)
Positive behavior and academic instruction provided through an individual learning and behavior plan for each student. Additional components include emphasis on students' interests and strengths, leadership skills, as well as individual goal setting. Students stay for a minimum of 9 weeks.
New Vision program for substance abuse is housed at Lindsey building with interventions infused into classes based upon individual student's level of need through a collaborative partnership with Palmer drug and alcohol.
Who Should Consider It: Students grades 6-12 with behavioral and/or substance abuse issues.
Cost: Free
Contact: 918-925-1360
Location: 2740 E 41st St. North (Lindsey Bldg.)
In partnership with the Tulsa Juvenile Bureau, Phoenix Rising uses an advisory system that pairs one teacher (advisor) to a group of approximately 15 students. The focus is on behavioral and academic needs.
Who Should Consider It: middle and high school students who are, or have been in the juvenile justice system.
Cost: Free
Contact: 918-833-8665
Location: 1205 W. Newton St. (Lombard Bldg.)
Uses an advisory system that pairs one teacher (advisor) to a group of no more than 10 students. Unique learning environment for students who are struggling to succeed in a traditional elementary school due to behaviors such as aggression, lack of respect, and deceitfulness. Components include an intense focus on positive behavior and academic instruction provided through an individualized learning and behavior plan for each student.
Cost: Free
Location: 1205 W. Newton St. (Lombard Bldg.)
Contact: 918-833-8650
Jenks Public Schools:
The mission of the Jenks Alternative Center (JAC) is to identify at-risk students, grades 9-12, who are not succeeding in traditional school. The goal is to maximize each student's chances of completing high school.
Cost: Free
Location: 205 E. B St., Jenks (Sooner Bldg.)
Contact: 918-299-4415 x2420
Bixby Public Schools:
Designed to provide instruction for the non-traditional student in grades 6-12. Bixby's alternative program is non-punitive with the flexibility of direct classroom and computerized instruction to assist students who are at-risk of dropping out of school or in need of significant credit recovery.
Cost: Free
Contact: 918-366-2353
Location: 109 N. Armstrong, Bixby
Broken Arrow Public Schools:
Geared for students grades 9-12 who are behind in credits. Provides educational opportunities to high challenge students through the use of alternative teaching methods and technology. Offers small class sizes and remediation.
Cost: Free
Contact: 918-259-4600
Location: 637 E. College St., Broken Arrow
Owasso Public Schools:
The Owasso Ram Academy's mission is to provide at-risk youth, grades 9-12, with a strong support system, close working relationships, encouragement, and the improvement of academic skills and self-esteem so that they can become successful and productive members of the global community.
Cost: Free
Contact: 918-272-8040
Location: 202 E. Broadway, Owasso
Boarding Schools:
A Catholic boarding and day school for young men in grades 7-12. Founded in 1887 by Benedictine monks. The primary objective of Subiaco Academy is to foster a system of education, guidance, and community fellowship that develops both the mind and body.
Cost: $22,540.00
Location: 405 N. Subiaco Ave., Subiaco, Arkansas
Contact: 479-934-1000 or www.subiacoacademy.us.
For students who have not experienced success in traditional academic programs, do not expect to graduate from high school, are passionate about changing their lives, graduate when they can demonstrate mastery of Eagle Rock's requirements.
Cost: Full scholarship for all students
Location: 2750 Notaiah Rd., Estes Park, Colorado
Contact: 970-586-0600 or www.eaglerockschool.org
Educational/Behavioral Support & Testing:
For children and adolescents ages 4-18 with significant emotional and behavioral health challenges. Care team available 24 hours a day, seven days a week. Care coordinators "wrap" the community's services around the family to meet the family's unique needs. Includes education assistance. Contact: 918-492-2554 or info@crsok.org. Info: http://crsok.org/wraparound-tulsa/.