Ali Hanson: Good to the Bone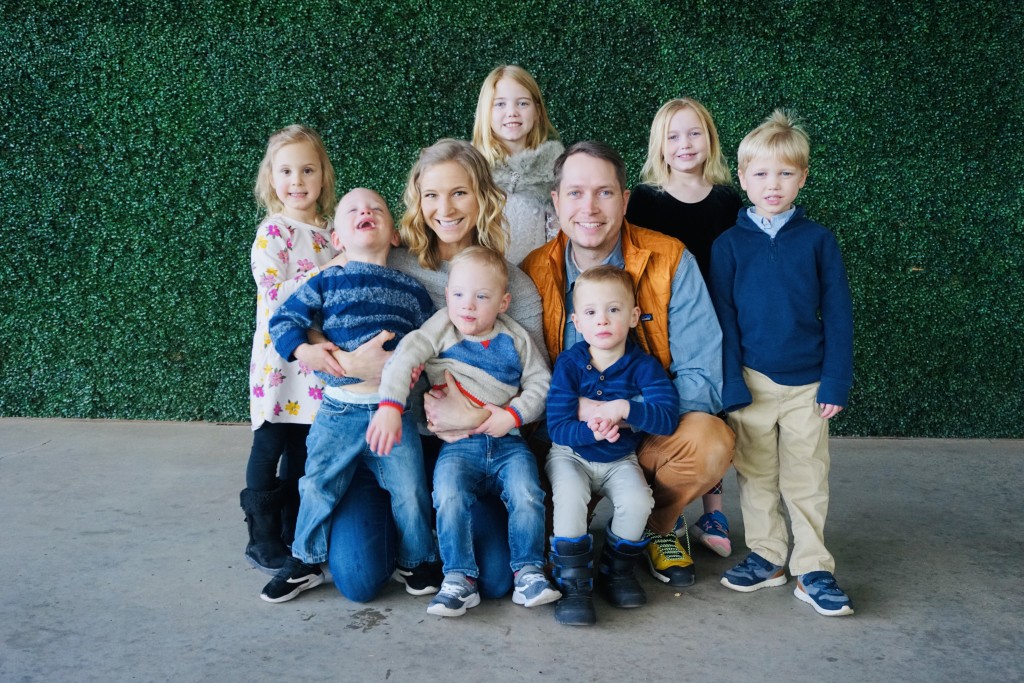 Ali Hanson is a busy mom of seven children under the age of eight. She has four children of her own – including a set of triplets – and only three months ago, she remarried and inherited three more kids!
In her fast-paced life, Ali still makes time to run a business and get healthy meals on the table every night. What's her secret? Ali shares some helpful tips with us, including one great kitchen hack to make meal prep easier. As you will learn, she is on a mission to inspire others to take an active role in their health to not just survive but thrive!
TK: Tell us a little about yourself:
Ali: I am the mother of four kids: a 5-year-old daughter and triplet boys who are 2 ½. My recent marriage has also blessed me with three bonus children (ages 8, 7 and 5).
TK: Can you share a little about your personal health journey?
Ali: After years of debilitating health issues that many doctors couldn't figure out, I started doing my own research and learned about using food as medicine. I worked on healing myself from the inside out. It took a lot of work, guidance from many health specialists, and a lot of trial-and-error, but it was so worth it! Not only are my symptoms gone, but I felt better than I ever have in my life! I started an Instagram account with recipes and ideas on how to prepare simple, inexpensive, nutrient-rich, healthy meals, in hopes to help others on their health journeys, too.
TK: As a busy mom, why did you decide to start your own business?
Ali: The catalyst food in my health transformation was bone broth. It completely changed everything for me, both physically and mentally, because at a time that I was afraid of all food, I learned that this food could actually help me. I was overwhelmed by the number of people asking me about it on social media, and the light bulb moment came on that there's a need for local, good tasting bone broth, so I started the first bone broth business in the state! I had no idea what would come from this business – I just knew I had been given a gift that I had to share.
TK: Explain your company's mission statement: Helping Busy People Thrive.
Ali: True health is not just the absence of disease, but thriving and having the energy to do anything you want to do in life. I didn't realize that until I found it. My prayer prior to finding my health was asking God to give me the energy that I was faking. This business was created to offer people a first step on the road to a healthy life – in bone broth. Each person is different with what they have going on, but investing in your health is so important. Everyone should be drinking bone broth, but if you don't have the time to make your own, mine is the next best thing to homemade because it is locally-sourced, preservative-free, and ridiculously good-tasting. I also offer easy recipes on my website and social media platforms.
TK: What advice would you give to parents who feel overwhelmed with trying to get their kids to eat healthfully?
Ali: I try to make healthful living less stressful. Instead of focusing on eliminating things, I tell parents to add one healthy thing into your (or your kids') diet every day. So, add in an extra serving of fruit one day, and the next day, add an extra serving of vegetables. It doesn't have to be difficult.
TK: What do you tell parents who tell you that their kids are "picky" eaters?
Ali: I can relate! I read that it can take up to 20 times of reintroducing a particular food to entice kids to become interested in it. I want to encourage parents to make healthy choices for their kids, introduce healthy meals and snacks. Chances are, if you're eating it, they will too, even if it takes awhile! And it's important to keep the experience of the meal positive.
TK: Can you share your top three tips for getting things done?
Ali: 1. Make a to-do list. I write it down because I like to check things off once they are complete. It also helps me to visualize the tasks I have completed, and what I still need to accomplish. 2. Everything is a learning opportunity – there is no failure. Just take that first step and learn as you go. 3. Learn how to let go of control and delegate. Sometimes we get stuck thinking we have to do it all – which just isn't feasible. I've realized others love to contribute just like I do. Recognizing other people's strengths can create a great team, and I believe we thrive when we are helping each other. I am so grateful for all the advice, support and help people have shared with me.
TK: Do you have one kitchen hack you can share?
Ali: If you don't already have one, invest in a timer for your crockpot! It has been a lifesaver for me – and something that I use several times a week. It's easy to throw dinner in, set the timer to start at a specific time and dinner is ready when you get home. It is a game-changer. I'll also share that I often make the same basic meal but change one or two ingredients, like veggies or spices, to make it totally different! Different spices can change the whole meal.
TK: What else would you like to share?
Ali: The body is an amazing healing machine. My life changed because I changed the foods I ate. Food can be our greatest medicine! It's never too early to start your kids eating healthy, and it's never too late to start your own health journey!
To check out Ali's personal health journey, recipes and family life on Instagram and Facebook @AliMadeFood. If you'd like to try her bone broth products, use discount code: TULSAKIDS10
Listen to the FULL interview on the Sharing Passion and Purpose Podcast by Nancy Moore.
Available on iTunes, Spotify, Apple Podcast, and Amazon Music or visit sharingpassionandpurpose.com.
Nancy A. Moore is a Public Relations Coordinator at Montreau, Adjunct Professor at Tulsa Community College, and has been writing for TulsaKids for almost 20 years.
---