Alacia Parker: A Pure and Simple Life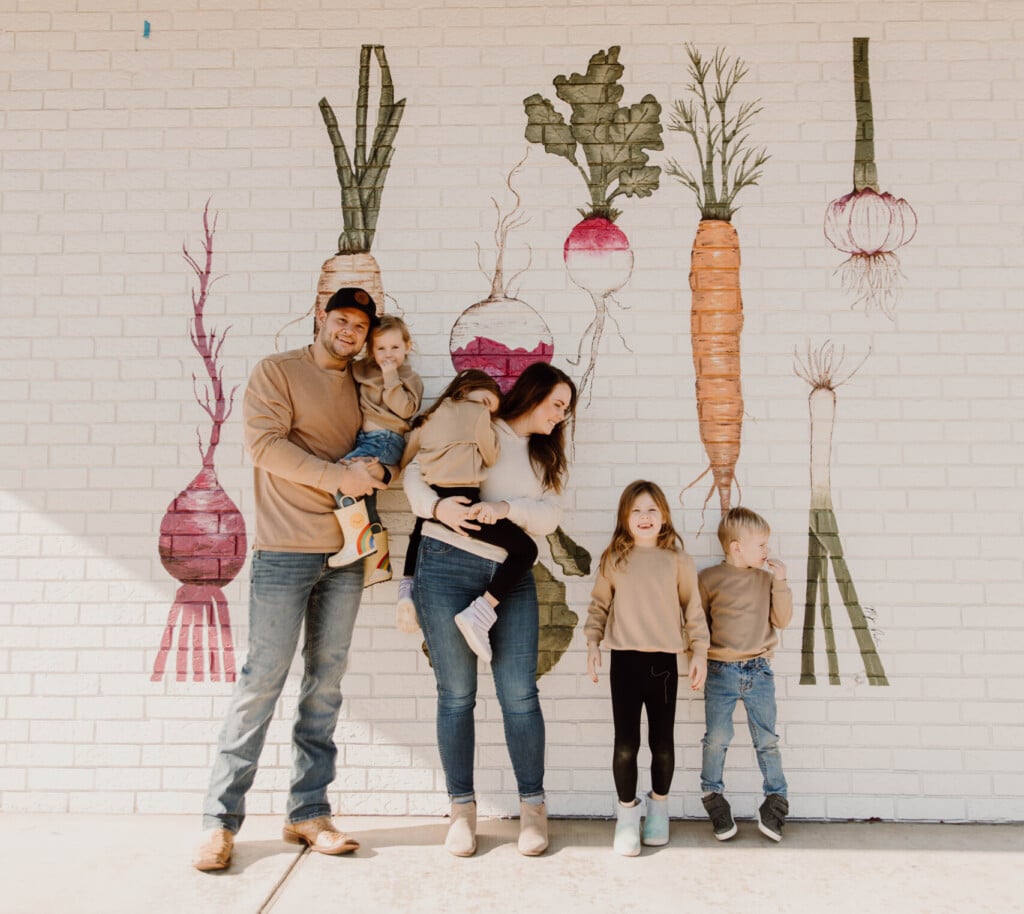 What do you get when you roll popular adages together like: Eat Healthy, Support Local, Farm to Table and Kid-Friendly? The answer is Pure and Simple…Market, that is! Alacia Parker and her husband, Aleks, recently established Pure and Simple Market, a kid-friendly grocery store in downtown Coweta. Why? They saw a need in their community and decided to jump on the chance to create a one-stop-shop market that simplifies the grocery-shopping experience while working to connect families with farmers and food producers who are close to home. And of course, creating a kid-friendly space was especially important because they have four young kids themselves.
TK: Can you share a little about yourself and your family?
Alacia: I grew up in the Broken Arrow/Tulsa area most of my life, and my husband has lived in the Claremore/BA area for a large chunk of his life. We've been married for seven years and have a 6-, 5-, 4- and 2-year-old. Our biggest gap between kids is 16 months, and the shortest gap is 11 months. We've had a home inspection company since 2017 and decided it was time to start another business.
TK: How did you come up with the idea to start Pure and Simple Market?
Alacia: In 2020 our eyes were opened to how quickly we can be affected by the current food system. There are farmers and food makers in close proximity, and so many people don't know where to find them. I wanted to create a space that closes the gap between direct farmer/food makers while offering the convenience of a grocery store.
TK: What are the benefits of being closely connected to food sources?
Alacia: You are able to have more nutritious food. Preservatives and fillers don't have to be put in our food because we are close to the source.
TK: What does the market offer customers?
Alacia: One of the goals of Pure and Simple Market is to create a space that reduces decision fatigue. Modern life has become so busy, I want this space to house a comprehensive collection of products with a wide enough selection that someone can complete their grocery shopping all in one place while offering only one or two options per category of item.
For example, we currently have one gluten-free and one regular brand of tortillas. In the future, we will expand a little but will keep it simple. We strive to keep the environment calm through the sound of the music, the smell of essential oils and our product spacing.
TK: When you told people about your idea to start a market, how did they react?
Alacia: We are always a little bit crazy. For example, having four kids in four years, juggling multiple businesses/investments! It wasn't a surprise for them that we were starting something new. They thought it was a great idea and were excited for us.
TK: You are busy with four little ones. What made you decide that the timing was right for you to start this endeavor?
Alacia: Our inspection business is running smoothly, and I was able to step out of that about a year ago, ready to do something new. God put the idea in my mind and provided the timing for us to act, so we did!
TK: How do you and your husband juggle your duties?
Alacia: We both have the same personality and split everything about 50/50. It ebbs and flows with our increased work in each business. With the market opening, Aleks has been with the kids more and done more around the house so I can focus on getting work done through this month. Soon, we will be hiring, and then I will be with the kids more. We flow with what is needed for the week or month.
This year has shown us what our glass balls and rubber balls are when it comes to our duties. Those rubber balls can drop, and that's OK. We've been very intentional about our priorities and keeping it that way. God, our marriage and our family always come first.
TK: Tell us about the products that you have sourced for the market?
Alacia: About half the store is local and half is non-local. Local products include beef, chicken, pork, milk, eggs, baked goods, kombucha and some produce. The non-local items are organic or simple-ingredient items. They include items that fill the gap in completing your grocery list such as rice, flour, snacks and more. We also have really great quality brands that you can't find locally, like Just Ingredients, Earthley, and Branch Basics.
TK: What do you offer for kids visiting the market?
Alacia: As a mom of four, I prioritized creating a space where adults can see their kids playing in a designated kid space and be able to browse in a calm environment at the same time. Our designated play space for kids has a play kitchen, barn, vegetable garden, play food, market stand, shopping cart and a chalkboard. We recently offered a free sensory play event using gluten-free oats, and it was a huge success. We'll be planning more kid-friendly events soon.
TK: What have you discovered about yourself throughout this process?
Alacia: I wouldn't say that I've discovered anything new; it's more about what I have been able to practice during this process. I used to be a perfectionist with very black and white thinking. Throughout this process, I have been able to establish a daily practice incorporating all the skills I've been learning in counseling over the last few years.
For example, I've been able to practice proving to myself that running a business with four small kids is possible. It has definitely been challenging, but that's OK! I've also been practicing integrating parts of my life. This new adventure has shown me that although it is much harder, it is possible, messy and OK not to be perfect. I've been able to practice really zeroing in on our priorities and keeping them straight. We don't have time to waste, so our priorities direct what we do each day.
TK: What advice would you give to someone thinking about pursuing their dream?
Alacia: My advice is to be consistent. If you are going to start something, decide to do it and be consistent with it. When you don't feel like doing it or don't see immediate return, keep doing it. In this business, I've wanted to quit many, many times. In the beginning, there were about eight months of constant work with little return. I didn't know what to expect when we opened, but it is very clear that the eight months of consistency – of what I thought was no return – was building up to this moment.
You don't have to be smart, know everything and have it all perfectly planned out – but you do have to be consistent and do the things you don't feel like doing. You will eventually see the benefits!
Pure and Simple Market is located in Coweta, OK at 29220 E. 151st Street S. You can find them on online at: puremkt.co and social media (Instagram) @pure_simple_market and (Facebook) Pure and Simple Market.
Want to hear more? Hear Alacia's advice to Moms of Littles along with how she is living purposefully in 2023 on the audio version of this interview on the Sharing Passion and Purpose Podcast. You can access it on favorite podcasting platform or directly at SharingPassionandPurpose.com.
Nancy A. Moore is a Public Relations Coordinator at Montreau and Adjunct Professor at Tulsa Community College. She has been writing for TulsaKids for almost 20 years.
---