A Weekend at Marval Resort
With a quick visit to Greenleaf State Park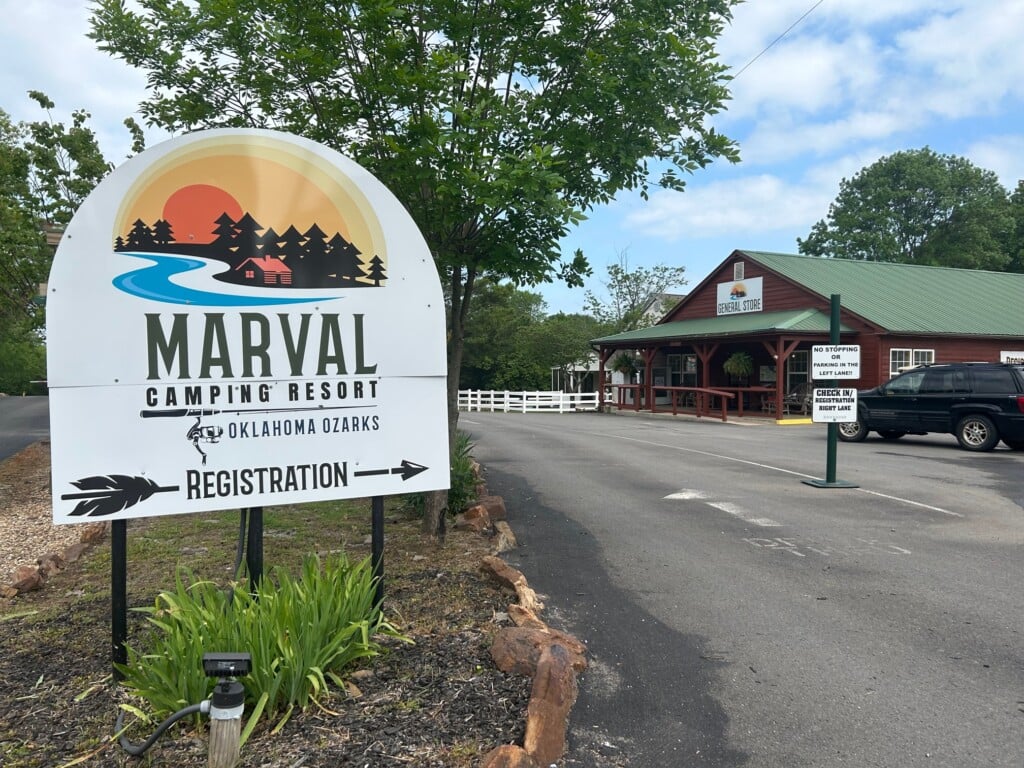 This past weekend, Joss and I went cabin camping (my favorite kind of camping) at Marval Resort in Gore, OK! So grateful for this opportunity. I'd heard good things about Marval but didn't know exactly what to expect. Below, I'll share some information about the Resort, to help you plan your own visit! But the short version is, it's a great place to go camping as a family. There are so many fun activities for kids to do on-site, like swimming, fishing, crafts, a playground and our favorite – throwing rocks in the river.
Accomodations at Marval Resort
We stayed in the Executive Suite cabin, which was fantastic. There were two rooms with a king-sized bed each, and a room with six bunk beds. Joss was sooo excited to sleep in a bunk bed for the first time! It also had two bathrooms, a comfy living room and a large kitchen. The Executive cabin was up on top of a hill next to the resort gift shop/check-in center. The majority of the cabins and RV/tent sites are down a short hill closer to the river.
If you don't have a large group that needs to share a cabin, there are multiple other options. These include smaller cabins as well as RV + tent sites. According to their website, the cabins range from one-room cabanas to deluxe options.
Regardless of where you stay, there is wi-fi, laundry and restroom facilities, picnic tables, fire pits, and of course all the fun amenities.
I was so impressed by the available activities. It was instantly clear why this is a favorite family destination. The kids couldn't wait to hit the pool (yes, it was early May and very cold!). But they were happily distracted the first night by the giant jumping pillow.
Other activities include mini golf, a craft room, outdoor movie theater, bike rental. You can fish in both the kids fishing pond (located at the top of the hill next to our cabin), and in the river. There's so much to do, we didn't even make it to the playground, but it looked very fun from a distance. Oh, and there was a Saturday afternoon foam party next to a water balloon fight structure as well.
To make things even more fun, Marval hosts themed weekends with additional associated activities. Our weekend was Mermaids & Pirates. There was a treasure hunt, themed crafts, etc. We were too busy having other kinds of fun to participate, but it did sound fun!
If you want to go fishing and forget your fishing pole, bait, etc., the gift shop at the top of the hill has all that and more, including kid-sized fishing poles.
The River
We spent most of our free time down by the river. Some friends had an RV set-up, so we borrowed their fire pit for hot dog and marshmallow roasting. After dinner (and earlier in the afternoon), the kids had a great time looking for rocks, trying to skip rocks, etc. The water was cold and there was a fast-moving current towards the center. However, it was calm enough near the shore for the kids to do a little wading. And it's just beautiful!
If you do fish, there's a fish-cleaning station next to the river as well.
We'd passed a sign to Greenleaf State Park on the way to Marval. They are about 15 minutes away from each other. Hiking trails are the one thing Marval Resort didn't really seem to have much of, so we wanted to check out some of the shorter Greenleaf trails on Saturday morning. (While waiting for the sun to heat up the pool water just a bit!)
Google maps directed us to a spot on the highway just a little bit south of the park entrance. We were slightly afraid of getting lost for about a minute, but we stayed on the road and soon saw the entrance sign.
We drove up to the check-in lodge and gift shop, which was really nice! To the left of the gift shop was a very short trail (about .25 miles) and wildlife blind. To the right was a large pool/splash pad. It's $10 for a parking day pass, by the way.
We took the short trail, which was well marked with historical markers. It was a good way to get a feel for the history of the park, which was largely built by the Works Progress Administration.
After our (short) hike, the kids were hungry. We headed down the road hoping to explore the Discovery Center, which was closed, unfortunately. However, across a small, grassy field was another gift shop full of grocery-type items for campers. Everyone got a snack.
The whole area was really beautiful, situated next to a large lake – complete with riverside restaurant and plenty of dock space.
Since the kids were ready for lunch – and swimming – we left without exploring some of the longer trails. But it was a good visit to get a feel of the park and realize that this would be another great place to go someday, particularly if we want to try some tent camping in the future. (Although there are also cabins on-site.) I liked that it seemed very relaxed and home-like, and that if you forgot anything major, the store probably had it in stock.
In Conclusion…
What a great weekend! I'd definitely recommend Marval Resort or Greenleaf for your next camping experience. Have you been to either? What advice do you have for future visitors?
---