A Subscription Box for Adventurous Kids Who Love to Cook
A review of eat2explore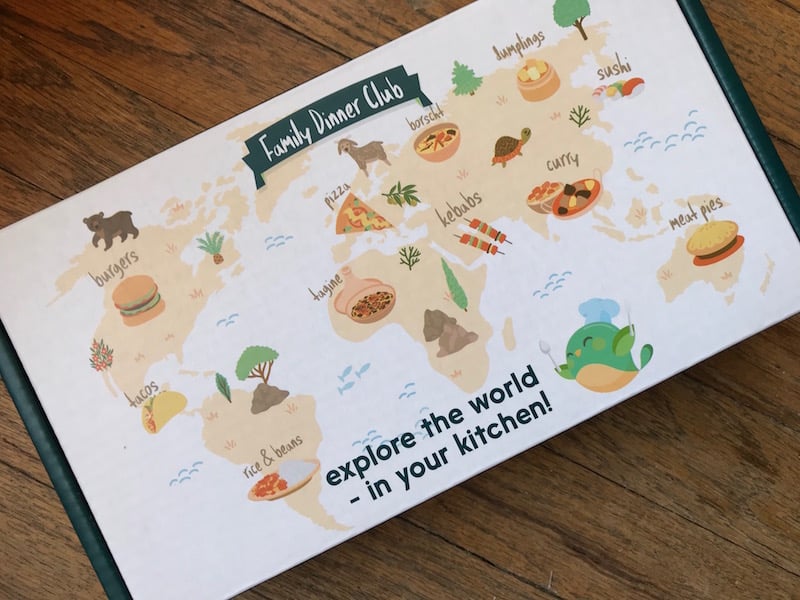 I may have mentioned before that on my "blogging backburner" is a post about the way I meal plan. In short, it typically involves going to one of three blogs and taking screenshots of whatever most recent recipes I think look good/simple. The plus side of this is that I'm usually trying out new recipes…and the downside is that…I'm usually trying out new recipes, as opposed to building up a repertoire of favorites that I can mix in to our meal routine regularly.
That said, it can be fun to switch up the routine—and I love anything that encourages cooking with Joss—so when offered the chance to review an eat2explore subscription box, I said, "Send one my way!"
According to the website, eat2explore was founded by Rowena Scherer, who wanted to complement her kids' love of travel and cuisine with actually teaching them some cooking skills of their own! Each eat2explore box focuses on a different country, providing 3 recipes, spice packets, information about that country, a passport with sticker, a flag pin and an activity sheet.
The box we got was all about Brazil! Joss's immediate favorite things in the box were: the Brazilian flag pin, the pastry mold and the bottle of "Balsamy Vinny" mix (aka balsamic vinegar and honey).
The three recipes the box challenged us to make were: Shrimp moqueca with bell pepper, spinach and rice; Pastéis (savory meat pastries) with tomato and watermelon salad; and Feijoada with rice and collard greens.
Something that stood out about them all? MEAT! One recipe used three types of meat, another made ground beef pastries, and the third was a shrimp dish. Which meant that my grocery bill for this trip was a lot higher than I'm used to! We're not vegetarians, but I don't go out of my way to make meat-heavy dishes. I will also admit, as a baking enthusiast (and owner of a fairly demanding sweet tooth), I was disappointed that there wasn't a dessert recipe…or at least a packet of Brazilian candy?! But on the other hand, we got recipes for three substantial meals, so as a cooking box (as opposed to a baking box), it delivered on its promise.
I ended up making the first couple recipes on Tulsa Tough Saturday, sandwiched in between a morning at Moms Demand Action's Wear Orange Day and an afternoon watching bike races. So this was a little stressful, but I'd already thawed the meat, forgetting what a busy weekend we'd be having. Add to this the fact that our can opener quit working, meaning that I barely got the black beans into the feijoada and made an executive decision to forget about the collard green side dish, since I'd opted to buy a large can of collard greens (which my husband loves) rather than fresh. Oh, my goodness.
And do you know what? The dishes were delicious! Despite my misgivings over the meat expense and slight disappointment over the lack of a non-savory component, I was impressed by how tasty everything turned out! You have to purchase all the ingredients for the meals except for the spices—and although I thought, "You know, I probably had all these spices on my shelves at home…" the falvors were on-point and everything did taste different from our normal fare. I enjoyed the pasteis in particular and ate way more than my fill.
Because of the time constraints, I didn't have Joss really help me with these dishes. But also, most of the preparation involved cutting meat and onions, opening cans and then cooking things over a hot stove—none of which I really feel like he's ready to do quite yet (except for probably cutting onions, but he's not a big fan of those anyway). So I would say that, based on this particular box, eat2explore is probably better for slightly older kids.
The activity sheet gives some basic facts about the country of Brazil and then asks quiz-type questions about the information. Another section directs the child to look up a rainforest animal and write down three facts about it. The information seems basic enough that I could probably have walked Joss through the activity sheet, and I think he would have been able to retain at least some of the information! One side of the information sheet talked about Brazilian Regional Cuisine, which I found pretty interesting. It explained more about the origins of the dishes we made, and also some other key regional dishes/agricultural products–like wheat and beer, introduced to Brazil by the Germans, and quibe, "a deep-fried bulgur wheat and ground beef croquette" brought to the country by Lebanese immigrants who began arriving in the late-1800s.
There isn't a ton of in-depth information on the activity or information sheet, but there's a good chance it might be new info to a young child, and it could at least spur your family on to doing some of your own research! I would be interested in seeing a list of kid-friendly books about Brazil or that take place in Brazil, for some additional resources.
eat2explore boxes start at $24.95 for a single box, and go down to $21/month if you purchase a 12-month subscription. There are also gluten-free box options. Considering that most of what was in the box was paper, and the ingredients were pretty pricey, I don't know if I'd elect to subscribe to this service. But who knows, if I had older kids who could participate more in the cooking and activities, maybe the anticipation of learning something new together each month–and getting interesting mail!!–would be worth it.
Has your family ever tried a kid-friendly subscription box service? Which ones would you recommend?
---