A Quick, Overdue Jaunt to Pawhuska
That's right, we finally visited The Merc!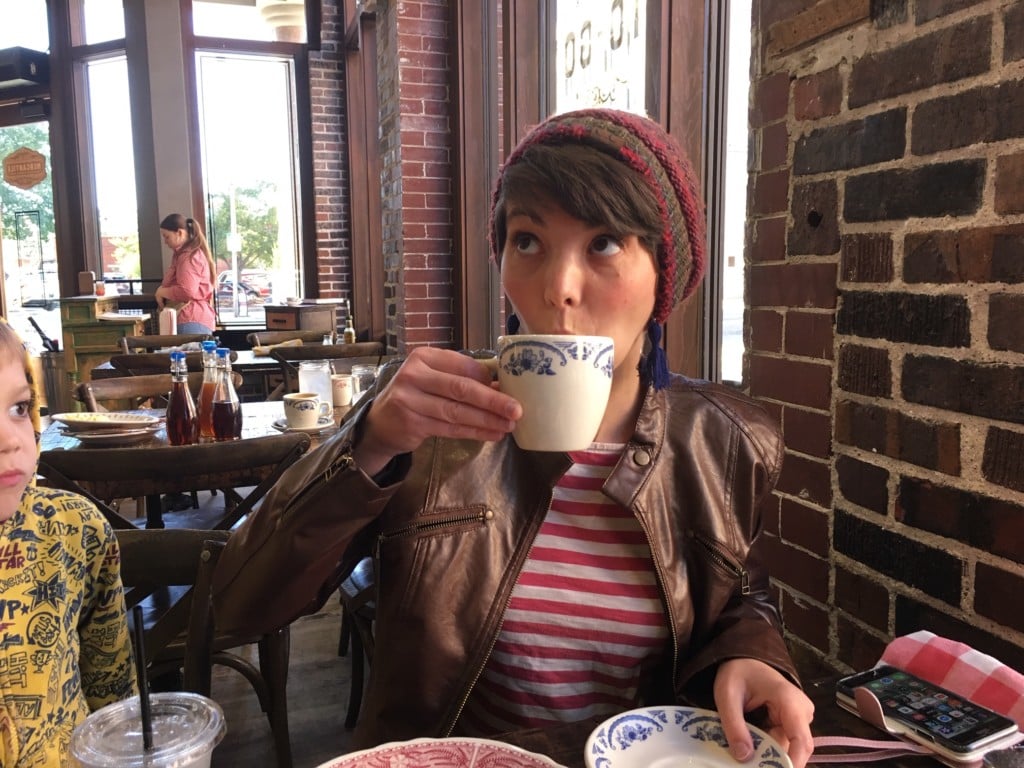 Several months ago, my friend Christi and I tried to take a Sunday drive, sans kids, to the Pioneer Woman's Mercantile in Pawhuska, OK. Unfortunately, we discovered just a few days before this highly anticipated trip that the Merc is closed on Sundays! Since my husband works on Saturdays, our plans to have a kid-free trip were a bit dampened.
Fast-forward to last week, when we decided that enough waiting was enough. We'd just make the trip with 2 out of our 3 kids, while her oldest was in school and Joss had a rare day out of school. Pawhuska, here we come!
The Drive
Pawhuska is about an hour and fifteen minutes northwest of Tulsa. The drive was lovely, especially given that the trees are just beginning to turn colors for fall! Rather than being on a major highway, most of the drive is on smaller, two-lane highways winding through the Oklahoma countryside.
The downside of this is that the twisting roads meant that Joss got carsick, throwing up twenty minutes or so before we arrived at our destination. So, pro tip if your kids are prone to motion sickness and you're driving to Pawhuska: Make sure they're in the middle seat if possible, and bring a change of clothes!
Thankfully, I had managed to outdo myself and had in fact packed a spare outfit, "just in case," not even imagining that the "case" might be Joss getting carsick. We'd started out the day in a fabulous flannel shirt and some "farmer overalls," which I thought would be appropriate for the Merc! Sadly, this fashion perfection was not to be.
Still pretty cute though!
Breakfast at The Merc
We'd left Tulsa on Tuesday at about 8:30 a.m., so arrived shortly before 10. We got seated immediately (yay!), and began pouring over the breakfast menu. I can't tell you what all was on it, because my eye honed in on "biscuits and gravy" and "pancakes with three different infused syrups." After that, it didn't matter what the other offerings were!
We both ended up ordering the pancake breakfast, which was two pancakes, a side of bacon and sausage (1 slice of bacon, 1 sausage patty), and eggs cooked to order. The pancakes were topped with three butters, two fruity and one cinnamon-y. And as promised, we had four syrups to choose from–maple, plus three house specialties. Yum!
The Merc also has two full espresso bars, one for the main restaurant and one upstairs in the bakery. I ordered a latte, which was delicious.
While we got seated instantly, from what we overheard later, I think there is more of a wait for lunch. Lunchtime reservations begin at 10:30 a.m. I'd say we arrived at the perfect time–a weekday morning.
Shopping at The Merc
I'd promised myself not to go overboard, and did a good job sticking to my resolution! Joss had $5 to spend, and after talking him down from an $18 timer was very happy with his purchase of a $5 melamine plate that looked like a classic paper plate with a drawing of asparagus on it. He was later demanding we go to the grocery store to purchase asparagus so he could eat it for dinner on his new plate (we didn't).
I bought one Christmas gift, and Christi purchased a set of oven mitts. There was a range of prices, but a lot of the items were pretty affordable ($18 timers notwithstanding). Beyond Merc-specific merchandise, you could purchase Pioneer Woman kitchen utensils, ALL the PW cookbooks, and a wide variety of dishes (my favorite!).
They had plenty of fun items for kids as well.
The Bakery
Upstairs is the bakery/coffee shop area, which would have been a nice, quiet place to spend more time. However, we were full from breakfast so somehow we managed to leave without buying anything, including the gigantic lemon bars that looked SO GOOD!
There is also a play area for kids up here, and Joss enjoyed making me "gross toast," pretending to put ketchup, mustard, vinegar and other condiments on some wooden slices of bread. *shudder*
Exploring Pawhuska
Because we were visiting with a 2- and 4-year-old, we pretty much just ate, shopped and ran. We did walk down the block and into a couple of shops, but the kids weren't exactly cooperative.
Someday, maybe we will get an adults-only trip to Pawhuska, and take time to explore the other area attractions, including:
The Tallgrass Prairie Preserve
The Ben Johnson Cowboy Museum (a new attraction as of summer 2019)
The Osage County Historical Society Museum (which features an exhibit on the first Boy Scouts troop in the U.S., founded in Pawhuska in 1909, while still under a British charter)
The Osage Tribal Museum, Library and Archives
If you had even more time, you could take a detour to Bartlesville on the way home, and go to Woolaroc! Sadly, Woolaroc is closed Mondays and Tuesdays so even if the kids were up for it, that wouldn't have been an option this trip.
Other Pioneer Woman businesses in Pawhuska include Charlie's Sweet Shop and P-Town Pizza, as well as the Boarding House. While I am usually up for ice cream and treats at any time, I've already mentioned how full we were following our pancake breakfast, so sadly we did not go to Charlie's.
If you want to make a weekend getaway of your trip to Pawhuska, you could try your luck at booking a room at The Boarding House or Frontier Hotel in Pawhuska's recently-renovated Triangle Building. However, I tried to find open rooms at Frontier Hotel, and either their website was not working or they really are booked out for several months in advance. It's not a huge place (their website says they have "over 20 rooms"), so either is possible I suppose.
The Triangle Building
Have you been to Pawhuska recently? What are your favorite places to visit there? Any favorite menu items from the Merc that we should try in the future?
---