A Four-Year College Isn't the Only Course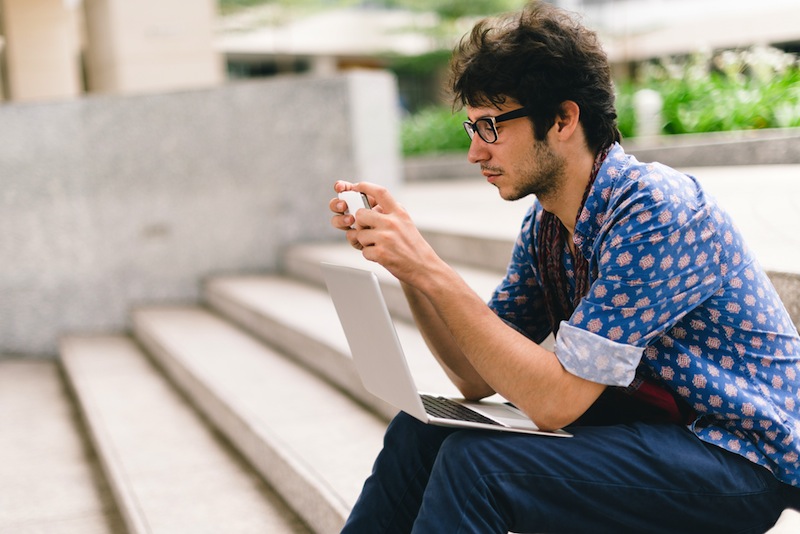 As fall semester draws to a close, high school seniors may feel a sense of dread. For some kids, the path after graduation is a clear, if not anxiety-free, one: run the gauntlet of the university application process and hope for your first choice. For others, pondering life post-high school graduation may seem more like peering down a long, dark tunnel, with no flashlight to help navigate. The truth is, life after graduation isn't one size fits all, and viable alternatives to the four-year college experience exist.
Twenty-one-year-old Christian Holtzscher graduated from Tulsa's Booker T. Washington High School in 2013. Choosing to pursue an associate degree in graphic design, he's currently enrolled in Oklahoma State University Institute of Technology in Okmulgee.
"I wanted to choose a school with realistic and economically priced programs, which didn't end up being a four-year university," Holtzscher explained.
Holtzscher found out about the program through some successful graphic designers that he had met.
"It's a two-year program taught by actual professionals in the field. They aren't just teaching basic design; in addition, they're teaching the technical applications," he said. "The program seemed like a perfect fit – exceptional teachers and a shorter degree turnaround time. I'm learning so much in a shorter period of time and am closer to doing something I can actually be passionate about in the workplace."
Musician Noah B. graduated from Washington High School in 2014. Figuring out how to balance work with his passion for music and his desire for a higher education has been an ongoing challenge. For Noah, the solution has been the Tulsa Achieves program through Tulsa Community College (TCC). The program allows eligible Tulsa County high school graduating seniors to attend TCC for free, starting in the fall following graduation.
"The choice was incredibly difficult for me," Noah said. "I felt a lot of pressure to go to college, especially since a bachelor degree is basically the equivalent of what a high school diploma used to be back in the day. In the end, a four-year program was very intimidating to me, and I wasn't ready for it when I was 18, and to be completely honest, as a 20-year old, the path of continuing my education is still something I'm struggling with…The free schooling from TCC was an amazing opportunity to try and decide what I wanted to do with my life, and while I'm very far away from knowing to this day, I still appreciate the opportunity that they presented."
Although uncertain of what the future holds, Noah is happy with his choice so far.
"Playing music, though it's frustrating, is also very fulfilling for me. When I see progress in myself and in my group, it's one of the most rewarding things," he noted. "I'm living with my girlfriend and making rent at a leisurely rate and have support from my incredible parents."
Eileen Kenney, assistant vice-president of enrollment management at TCC, believes that TCC is a great option for high school graduates.
"One of the points that we really try to stress when we're visiting with prospective students is that our faculty's primary purpose is classroom teaching, so that is their focus," she explained. "As a result, within the classroom, students are going to experience a really high level of engagement."
According to Kenney, smaller classes – 20 to 25 students maximum — an honors program, affordable tuition and research opportunities for undergraduates are some of the many advantages TCC offers its students.
For students who may have no idea what they'd like to study, TCC can help.
"We have wonderful career advising professionals who can sit down with a student, and the student can take an interest survey," Kenney said. "We have this great program called 'Career Coach,' where students can answer some questions and it can get them started on the right path, even if we get them on a broad path."
Students at TCC are encouraged to complete an associate degree before leaving for the job market or transferring to a four-year institution.
"It gives them an advantage," Kenney noted. "Any time you can obtain a credential, it's an advantage over somebody who doesn't have that credential. Our degrees at TCC that are designed for entering the job market ensure the students have the skills and tools necessary to be successful in that field."
For students who continue their education, Kenney said, "they can transfer to a four-year institution and feel well prepared."
Both Noah and Holtzscher would argue that heading straight into a four-year university isn't the only path after graduation, especially if a student is unsure of what he or she wants to pursue.
"After graduation, take a year off," Holtzscher advised. "Work full-time or travel. Really think about what you want to go to school for and what kind of program is right for you. Without the pressure of having to rush a major life decision right out of high school, you will most likely make a more informed, and, ultimately, better choice."
Noah would agree. "I don't think waiting to go to school is bad, and even though seeing all of your peers can be difficult, in the end you must make the decision that is right for you," he said. "Everyone is different, and sometimes getting a little break is nice. My father took a gap year to try to be a cyclist, and though it didn't work out, I think in the end, he's happier knowing the outcome rather than spending his life wondering 'what if?'"
Julie Wenger Watson is a freelance writer who's worked in all aspects of music promotion. She's also Co-Director of "Live From Cain's," a public radio show pilot.