A Conversation with Jason Gilardi
Gilardi is a musician, drumming instructor, proud father and husband, and actress Annette Funicello's son.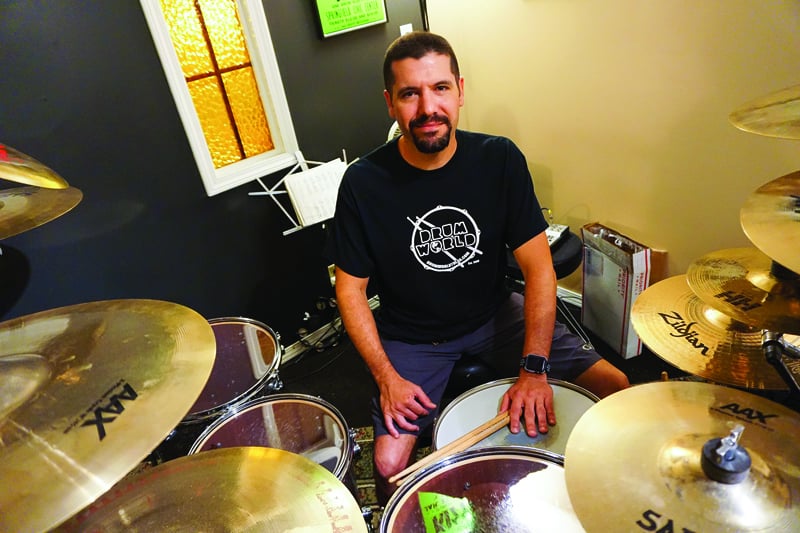 Jason Gilardi is an accomplished musician, drumming instructor, proud father and husband, and Annette Funicello's son. Funicello was a beloved actress and performer and is known for not only being one of the original Mousekeeters, she also starred alongside Frankie Avalon in numerous movies as well. In her later years, Funicello developed Multiple Sclerosis (MS) and passed away four months to the day that Gilardi's daughter was born. In talking with Gilardi, his down-to-earth demeanor conveyed his genuine love and appreciation for his mother, family and getting to do what he loves every day – drum. And his success has been great, from signing a record label and touring nationally with his band, Caroline's Spine, to now sharing his passion and knowledge with others who are interested in learning how to drum.
TK: How did you become interested in playing the drums?
Jason: One of my earliest memories of drumming was [when I was] around 6 years old, being at my grandparents' house and using their salad forks as drumsticks to hit the cushions on their patio chairs. It wasn't long after that I got a drum set and was self-taught. I finally started drum lessons with an instructor when I was 13. The teacher acknowledged that I knew how to play, but my technique was wrong; I had to relearn how to sit and hold the sticks.
After high school, my father insisted that I attend college, so I found the Musicians Institute, a one-year program that had a special section that just focused on drumming. After attending the Institute, I met some others and we formed the band, Caroline's Spine.
TK: What was it like growing up as Annette Funicello's son?
Jason: We had a normal life. We weren't raised by nannies. I have an older brother and sister and our mom was very active in our lives. She ran the snack bar at Little League and took us to school and picked us up every day. If she couldn't pick us up, our grandparents were there to help out.
For my mother, acting was a way to pay the bills. Family was her true love. She encouraged my drumming. My mom used to say that when I would practice it would relax her. She would tell me that she loved that I was doing something that I liked to do. My mom was always my biggest fan.
TK: With your mother starring in movies and your father being a Hollywood agent, were you ever hit by the acting bug?
Jason: I tried out for one part – playing the role of my mother's son in the movie Back to the Beach. Surprisingly, I didn't get the part. In the original script, her son's name was also Jason. I thought it was funny that I didn't get the part of playing me. I had people ask me all the time if her co-star, Frankie Avalon, was my father because I looked quite a bit like him.
It was meant to be because I loved playing the drums and decided to focus on my passion.
TK: Can you share a special memory?
Jason: The band members in KISS were some of my biggest idols growing up. When they did their reunion tour, my band, Caroline's Spine, was asked to open for them. My entire family came to watch our band open for KISS when we played at the MGM Grand in Las Vegas. When KISS heard that my mom was there, they asked to meet her.
At the time, my mom was in a wheelchair, so I wheeled her in to meet the band. As I stood behind my mom's wheelchair, I realized what a surreal moment it was for me because here I was looking at my idols, and they were looking at my mom because she was one of their idols. In fact, when Gene Simmons knelt down to meet her, he was so nervous, he spilled a little of his soda pop. He later wrote about that and meeting my mom in his book.
TK: How did you end up in Tulsa, OK?
Jason: While touring with my Caroline's Spine, we made Tulsa our home base because our guitarist was from here and as central location made it easy to travel to shows – at the time, we were doing 150 shows a year. Back in 2000, we took an extended break from touring with Caroline's Spine, and I really liked the laid-back vibe and friendly feel of Tulsa. I've been here ever since. I met my wife here, and we are raising our daughter here. I was never really cut out for the Hollywood scene.
TK: Do you have a favorite movie that your mom starred in?
Jason: We have started a tradition of watching Babes in Toyland with our daughter at Christmas. Right now, our daughter loves ballet and her favorite color is purple, which was my mom's favorite color. My mom was discovered by Walt Disney when she was in a ballet performance at her school and Disney happened to be in the crowd watching. Afterwards, Disney got in contact with her and asked her to audition to be one of the original Mousketeers and, after auditioning, she made it. From there, she started starring in movies. Before the first beach movie that she was in, she asked Disney for guidance because she valued his opinion. His advice to her was to wear a one-piece swimsuit in her first beach movies, and she did.
TK: Being an instructor at Drum World is a natural fit for you. What do you enjoy about teaching?
Jason: All our teachers are very knowledgeable, and the entire building is all about drums. I have found that students take lessons for a variety of reasons. It's not always because they want to be in a rock band. Sometimes they want to pursue it as a hobby and sometimes it helps them get out their aggression. We have students here from 6 to 65 years old. You're never too old to learn. I have students that I have been working with for years and have gotten to watch them grow up.
TK: Tell us how you are involved with Multiple Sclerosis?
Jason: Because my mother had MS, I saw what a horrible disease it is. My mom tried so many things to get help; she even went out of the country to seek treatment. Today, there have been so many developments to help those who have MS, but there still isn't a cure.
In honor of my mother, I organize a team of people for the MS Walk here in Tulsa known as Annette's Amazing Angels. We wear matching purple shirts, with "Annette's Amazing Angels" printed on each shirt. My sister leads a team in Los Angeles and I lead one here. This is our twelfth year to be among the top five groups to fundraise every year.
TK: What do you and your family enjoy doing in your free time?
Jason: When I'm not teaching or playing in my current bands, we are all about family time. My wife and I enjoy the environment at Guthrie Green and love what they're doing there. We also visit the Aquarium and like the new Sea Turtle exhibit.
TK: Anything else you would like to share?
Jason: Now I play in an '80s Rock tribute band, Dead Metal Society, and a '90s Rock tribute band, Amped. Check out dmsrocks.com to see a list of dates, locations and times for upcoming band performances.
Nancy A. Moore is a Public Relations Coordinator at Montreau, Adjunct Professor at Tulsa Community College, and has been writing for TulsaKids for almost 20 years.