A Brown Bag Special of Pimento Cheese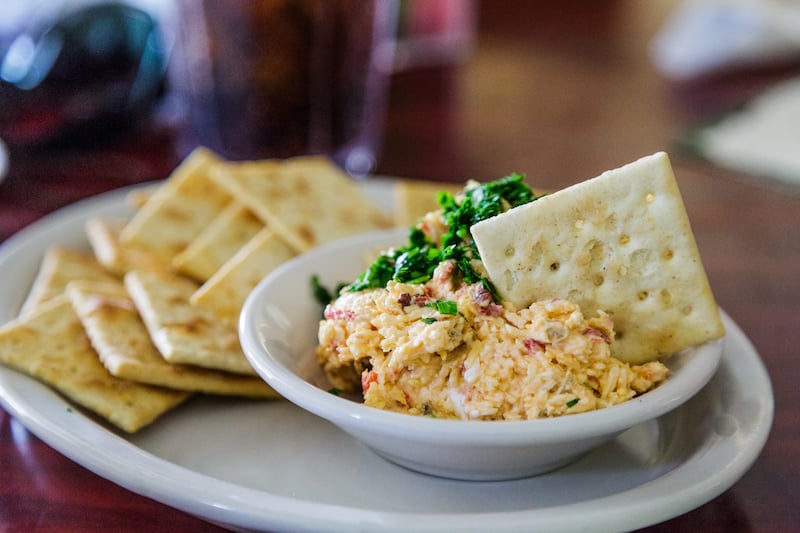 Before I get too far into this article, I think it's best if I go ahead and get this out in the open. I was home-schooled for most of my formative years. There, I said it, and with that out, I feel like I can now tell you that I never had the "privilege" of having a real cafeteria-style lunch. This is a harsh reality that I am still trying to come to terms with. Remember those tense lunch trade negotiations? I don't. Remember that scene in Uncle Buck, when Macaulay Culkin pulls out his lunch to trade for another lunch and then all the kids around the table disperse in horror? My lunch was never like that. What about bean chowder and cinnamon roll day? Nope, not me.
Here's a fun (sad?) true story. I used to read the Tulsa World in the morning before my lessons would begin. I would carefully peruse the school lunch listings and think, "Oh, if I could just have chicken nuggets, mac and cheese, French fries and that legendary chicken pot pie." I thought those kids are so lucky. It never dawned on me that not all kids ate the cafeteria food. Nor did it dawn on me that the cafeteria food probably wasn't all that tasty to begin with.
Enter the iconic brown bag lunch.
My brown bag lunch was more like a vintage square Tupperware plate, a stainless fork with a napkin, placemat and wooden table. I would eat my meals in rotation, tuna with mayo only, on Club crackers, Price's Pimento Cheese on Club crackers, and finally the ever-so-delicious hotdog with ketchup, cut into pieces and eaten with toothpicks, of course. I can promise that you will never catch me eating the latter item ever again. I never had PB&J; that was much more suited to my brother's palate. And for dessert? Little Debbie of course, Starcrunch, Nutter Butter Bars, and those really yummy oatmeal cream pie things.
Would my lunches have been trade worthy had I been in an actual school? Perhaps. Either way, I loved them. My mother made them for me, and years later when I would go to a more traditional school, she would slip little notes in my lunches for me. While I never got the chance to eat a "real" school lunch, I think I am the better for it.
I know that every child is different where the taste buds are concerned, some pickier than others. This is a great chance to expose those more adventurous little ones to a new culinary world. Listed below is my recipe for a modern take on the classic pimento cheese sandwich.
Smoked Gouda: Pimento Cheese
2 cups shredded smoked gouda
2 cups shredded cheddar
1/3 cup mayonnaise
1 TBS dill
2 TSP smoked paprika
1 small jar pimentos slice very finely
Mix altogether and chill. Serve with crackers or on toasted bread. For an unbelievable tasty sandwich, grill with bacon, avocado and tomato.
---
Tips for Healthy, Trade-Worthy Lunches
Make sure your healthy lunch includes all food groups: grains, protein, fruit, vegetables and dairy.
Kids love food in shapes, so use cookie cutters to make a star shaped sandwich or even bite-sized tea sandwiches.
Finger foods are always a favorite. Add a baggie of grapes, raisins, blueberries, strawberries or melon chunks.
Never include a food that has not been introduced at home. It will likely be tossed in the trash.
Try to avoid soda and sweetened drinks. Instead, send water, low sugar juice or milk. Once a child is 5 years old, skim or 1 percent milk is the rule.
Tips provided by Jenny Dixon, a licensed and registered dietician at Sky Fitness & Wellbeing with a degree in Nutritional Sciences from the University of Oklahoma Health Sciences Center.
---