Snack Attack! Quick Snacks that are Good and Guilt-Free
Easy Trail Mix, Nut-Free Toddler Trail Mix and Mini Banana Bread Muffins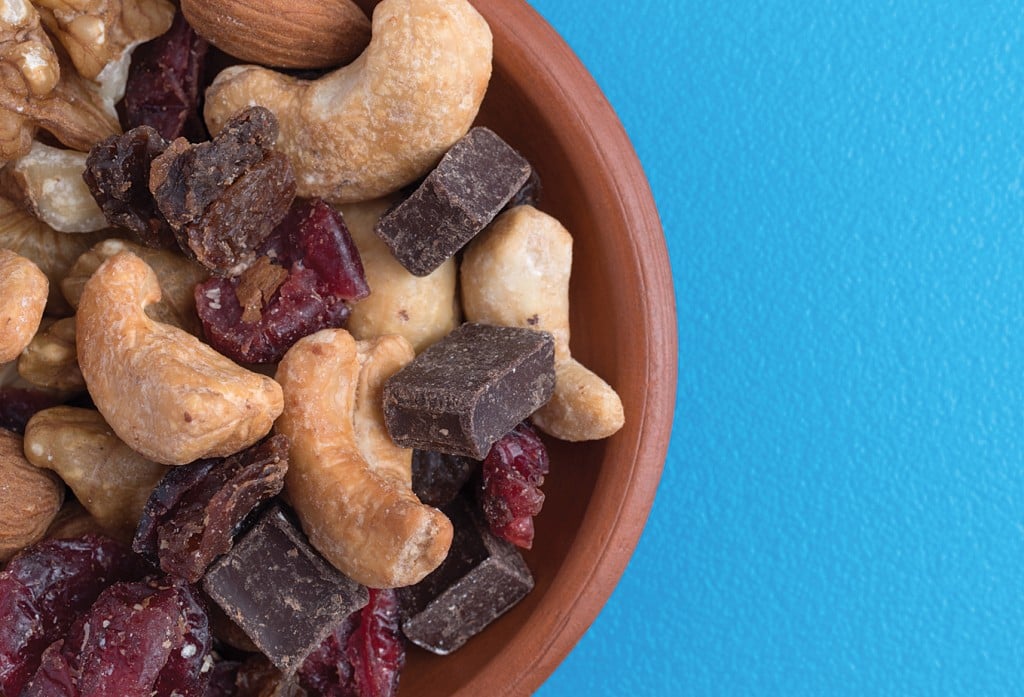 You would think being a decade into parenting, I would have earned a gold medal in kids' snacks.
But after all these years, it's still a struggle. At times, I feel like we're in a good groove of keeping the refrigerator and pantry stocked with cheese sticks, apple slices, pretzels and granola bars. Then sometimes we have periods of slipping into eating way too many unhealthy snacks. My kids unfortunately have an affinity, that they've inherited from their mother, for chips and cookies. But then we reel it back in, loading our snack baskets with nutritious foods.
Most of us have the knowledge of what makes a good, healthy snack. But most of us also need the occasional reminder or the nudge to be consistent about offering those foods to our kids so they can be the ones to make good choices about the food that goes into their bodies.
When a friend with a 2-year-old told me about her son's daycare serving doughnuts for snacks at least once a week, I cringed. Every family is different, and for mine, there's nothing wrong with an occasional doughnut. But for this mom, and other parents in the class, weekly doughnuts were too much for their 2-year-olds. Some of the parents in the class were having to forego the daycare-provided snacks, packing their own snacks for the kids to eat.
School snacktime and after-school snacking doesn't seem to have an end date. It begins in preschool, continues with elementary school and goes on with hungry middle and high school kids packing protein bars into their backpacks to eat between classes.
It's something nearly every parent has to consider, on top of making breakfast, packing lunches and figuring out what's for dinner. So here are some ideas for snacks – both purchased and homemade – to give you a little inspiration to finish the school year strong. And if your children are old enough, let them make or help make the homemade snacks. Remember when kids have a part in picking out or making food, they're more likely to eat it.
Store-bought snack idea pairings:
Cheese sticks and grapes
Whole-wheat pretzels and plain yogurt
Mini cheese crackers and cherry tomatoes
Cottage cheese cups and apple chips
Clementine oranges and Nut Thins crackers
Carrot sticks and hummus
Trail mix and banana
Unsweetened applesauce cups and granola
Cubed watermelon and Babybel cheese
Three Snack Recipes
This mix tastes even better if you take a few minutes to toast the nuts. Bake in a 350-degree oven for 5-10 minutes, then let cool before adding to the mixture.
Easy Trail Mix
Makes 4-5 cups
3/4 cup raw pecans
3/4 cup raw cashews
1/2 cup raw sunflower seeds
1/2 cup raw pumpkin seeds
1/2 cup unsweetened cherries
1/2 cup unsweetened raisins
1/2 cup chopped dark chocolate
1/4 teaspoon sea salt
1/2 teaspoon ground cinnamon
Pinch of nutmeg
Combine all ingredients in a large bowl and mix well. Store in a ziploc bag or mason jar.
---
This recipe comes from the Lean Green Bean website. It's great for kids in nut-free classrooms or schools.
Nut-Free Toddler Trail Mix
2 cups Rice Chex
2 cups Cheerios
3/4 cup pepitas (pumpkin seeds)
2 tablespoons butter, melted
1 teaspoon ground cinnamon
1/2 cup chocolate-covered sunflower seeds
1/2 cup dried blueberries
1 tablespoon brown sugar (optional)
Put cereals and pepitas in a large, microwave-safe bowl. Pour butter and stir to coat. Sprinkle in cinnamon (and sugar if using) while stirring. Microwave 90 seconds. Stir. Microwave another 90 seconds. Spread on a baking sheet to cool.
When cool, add sunflower seeds and blueberries. Portion into bags and enjoy for a snack.
---
This recipe, from the Naptime Chef, takes just about 10 minutes to prepare and 20 minutes to bake.
Mini Banana Bread Muffins
Makes 24 mini muffins
1 stick unsalted butter, room temperature
1/2 cup granulated sugar
1 egg
3 small bananas, mashed with a fork
1 teaspoon baking soda dissolved in 1 tablespoon hot water
1 1/2 cups all-purpose flour
1/4 teaspoon kosher salt
1/2 teaspoon nutmeg
1/2 cup mini chocolate chips (optional)
Preheat the oven to 350 degrees. Line a mini-muffin tin with paper liners or rub each muffin cup with butter and set aside. In a small bowl, mix the flour, nutmeg and salt, and set aside.
Cream the butter and sugar with an electric mixer. Add the egg and bananas and mix well. Then add the dissolved baking soda and mix again.
With the mixer on low, slowly add in the flour and mix until it is no longer visible. If you are using chocolate chips or walnuts (or both), stir them in with a wooden spoon.
Scoop the mixture into the muffin cups until each one is half full. Bake for 15 to 20 minutes, or until the muffins are golden brown and spring back lightly when touched. Allow to cool before serving.
Natalie Mikles is a mom of three. She writes about food, sharing recipes for busy families and picky eaters. She has been recognized for her food columns as well as features on families and issues affecting local children. She loves pizza and movie nights with her family.
---