20 Things to Do in Tulsa Over Winter Break:
2020-2021 Edition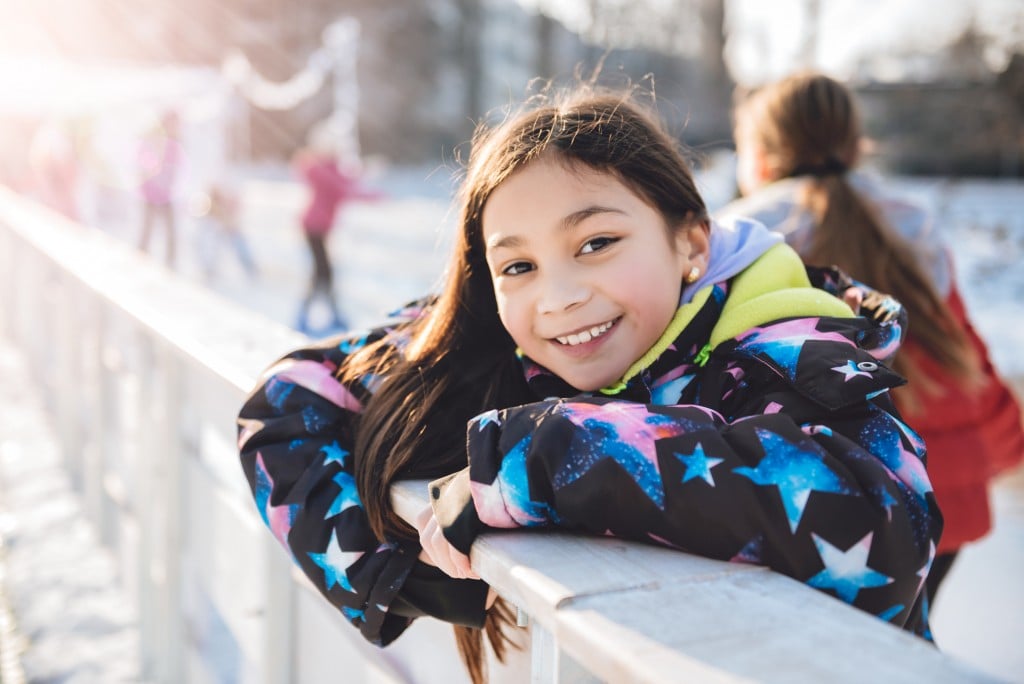 Tulsa Public Schools' Winter Break is December 19-January 3. Here are 20 events or other activities to enjoy as a family over the winter holiday.
When: December 18-January 3
Where: Gathering Place, 2600 S. Riverside Dr.
Despite the challenges of COVID, Gathering Place will once again transform into a Winter Wonderland, but this year's event will have socially spaced zones and surprises to celebrate this holiday season. Wander through the Park and experience thousands of twinkling lights illuminating Chapman Adventure Playground, special performances and carolers, as well as some exciting new plans tucked in our sleigh. Winter Wonderland presented by American Airlines will create holiday traditions and memories for the whole family!
When: December 19, 10 a.m.-5 p.m.
Where: Oklahoma Aquarium, 300 Aquarium Dr., Jenks
Mermaid Days are back at the Oklahoma Aquarium! Take an enchanted trip to the aquarium with mermaid-themed goodies, scavenger hunts, and decorations. From 10 a.m. – 12 p.m. and 2 p.m. – 4 p.m., you can even meet a mermaid all while surrounded by our beautiful aquatic life. Included in general admission.
When: Multiple Dates Available
Where: Miller Swim School Tulsa (6415 S. Mingo Rd.) or Miller Swim School Jenks (525 W. 91st St. S.)
If you're feeling cooped up – or if you just love to swim! – take the kids to Family Swim at Miller Swim School! Miller offers weekly family swims on weekends, but they've added several sessions just for Winter Break. The cost is just $2 per person if you're currently enrolled in swim lessons, or $5 per person if you're not. Learn more and sign up in advance at millerswimschool.com.
When: December 19-20, 1-3 p.m. (Also occurs December 12-13)
Where: Oklahoma Aquarium, 300 Aquarium Dr., Jenks
Did you know Santa can scuba? Come visit Oklahoma Aquarium's Diver Santa in the gorgeous Polynesian Reef Tank! okaquarium.org
When: Multiple Showtimes, December 17, 7 p.m.; December 18, 7 p.m.; December 19, 2 and 7 p.m.; December 20, 2 p.m.
Where: Cox Business Center, 100 Civic Center
Although Tulsa Ballet had to cancel their beloved Nutcracker production for 2020, they have created an all-new holiday show! Its location at Cox Business Center will allow for socially distanced seating, and virtual streaming will also be available. Enjoy three holiday-inspired pieces by Tulsa Ballet Resident Choreographer Ma Cong, Dark Circle Artistic Director Joshua Peugh, and famed Italian choreographer Luciano Cannito.
When: Thursdays-Sundays, Nov. 27-Jan. 3, 5-9 p.m., and Dec. 21-23. Closed Dec. 24 and 25
Where: Tulsa Botanic Garden, 3900 Tulsa Botanic Dr.
Reconnect with family and friends in the garden illuminated with colorful lights. Make s'mores over fire pits, enjoy holiday music and take in the spirit of the season in Tulsa Botanic Garden's magical garden escape. Warm drinks, cash bar and s'more kits are available every night for purchase.
Train rides are Thursdays, Fridays and Saturdays, and Dec. 21-23, 5-9 p.m. on the peninsula. (Note path to peninsula is not accessible)
TICKETS: $15 for ages 13+, $5 for ages 3-12. Children 2 and under are free.
Garden member discounted tickets are $10 for ages 13+; $5 for ages 3-12. Tickets are limited and advance purchase is required.
When: Wednesday, December 23, 10:30-11 a.m.
Where: Discovery Lab, 560 N. Maybelle Ave.
Move to music, play a game, and read a book! All activities center around a theme and are designed for young children's physical, mental, emotional, and social development.
This event is included with regular admission and there is no pre-registration required.
8. Mistakes to Masterpieces: Family Paint-Along
When: Wednesday, December 23, 5-6 p.m.
Where: Virtual
We will meet via Zoom to paint seasonal and themed acrylic paintings. Register at www.tulsalibrary.org/events to receive your paint-along kit! For ages 5 to adult.
When: Ongoing
Where: ahha Tulsa, 101 E. Archer St.
Have you made it to THE EXPERIENCE: IMAGINE? This fantastical world is made up of art like nothing else. Six Tulsa-based artists have built an entire floor for you to explore at ahha Tulsa. Learn more and plan a safe visit for the whole family at www.ahhatulsa.org/the-experience-imagine.
Photo courtesy of ahha Tulsa
When: Camps run December 21-23 and 28-30. Morning sessions available for ages 4-15 years; afternoon session is for ages 8-15
Where: SoccerCity Tulsa, 5817 S. 118th E. Ave.
Don't want your kids to get "cabin fever" over the Winter Break???
Bring your kids to SoccerCity for one or both of their Winter Break Camps!
SoccerCity will be offering 2 separate morning camps for ages 4-15 years this Winter Break and an afternoon option for ages 8-15 years.
For more information and to register visit: http://www.soccercitytulsa.com/banner-pages/winter-break-camps/
When: Thanksgiving through New Year's Day
Where: Honor Heights Park, 1400 Honor Heights Dr., Muskogee
The beautiful Honor Heights Park comes alive with lights in the evenings. From Thanksgiving through New Years Day, visitors can enjoy a stunning drive through a holiday delight. The drive-through display includes over 1.2 million shimmering lights, enhancing the natural beauty of the park's gardens, waterfalls and ponds with holiday displays the whole family will love. www.visitmuskogee.com
When: Saturday, December 19 and January 2, 8:30 a.m.-12 p.m.
Where: 1 S. Lewis Ave.
Summer may be over, but the Tulsa Farmers' Market isn't! Shop seasonal produce and locally produced goods every other Saturday during the colder months.
When: Wednesday, 16, 23 and 30, and Thursday, 17 and 31, 10-10:45 a.m.
Where: Philbrook Museum, 2727 S. Rockford Rd.
Bring the whole family to storytime inside Philbrook Museum! Free with museum admission. Advance, timed tickets required.
When: Ongoing (Closed Christmas Day)
Where: Tulsa Zoo, 6421 E. 36th St. N.
Tulsa Zoo has seen some exciting changes recently! From new arrivals Zoe the Giraffe, Sally the White Rhino and Booper the Asian Elephant to the opening of the Helmerich Playground – if you haven't been to the Zoo in awhile, take advantage of Winter Break to do so! Advance, timed entry required.
When: November 30-January 3
Where: BOK Center, 200 S. Denver Ave.
Enjoy skating on an indoor ice rink, plus Sundays with Santa (Sundays from 12-4 leading up to Christmas Eve); holiday food and drinks; and riding on the Winterfest Express (Saturdays, 12-3). Advance tickets required.
When: December 31, 10:45 p.m.-1:30 a.m.
Where: River West Festival Park, 2100 S. Jackson Ave.
2020's Race Into the New YEar 5K's theme is "Onesie"! Wear your favorite onesie and get a healthy start to the New Year. The One-mile Fun Run starts at 11 p.m.; the 5K starts at 11:45 p.m. Hosted by RunnersWorld Tulsa.
When: Ongoing
Where: Gilcrease Museum, 1400 N. Gilcrease Museum Rd.
Kids of all ages will love exploring the grounds around Gilcrease Museum. Gilcrease Gardens and neighboring Stuart Park are open – with free admission – from 6 a.m.-11 p.m. daily. If you'd like to visit the museum, reserve your tickets online in advance. Gilcrease Museum, 1400 N. Gilcrease Museum Rd. gilcrease.org
18. Stock Up for Your Own Family Storytime
When: Ongoing
Where: Various Locations
Pay a visit to a local bookstore and choose a book to read out loud as a family! Don't know where to start? Check out Eleanor's Bookshop, Fulton Street Books & Coffee, Lavender's Bleu Literacy Market, Whitty Books or Magic City Books. Plus, Lavender's Bleu has a weekly socially distanced storytime at 11 a.m. every Saturday!
Ages: -7-12
Dates: December 28-30
Time: 10:00 a.m. – 4:00 p.m.
Conveniently located in South Tulsa, KJM's 3-day mini-camp includes daily riding, an intro to horsemanship, games, and horse-related arts & crafts. Our facilities include large riding arenas, a covered barn area, and heated camp house for arts & crafts. Safety on and around horses is a major objective of our riding program, and our counselors are well versed in educating beginning riders. $275 per camper, maximum 10 participants.
20. Family Photo Shoot
One of our favorite, socially distanced activities is to hunt for local murals and stop for a photo op. Kendall-Whittier, Route 66 and downtown Tulsa, including the Tulsa Arts District, are great places to start. Find more specific details in this blog post.