20 Things to Do in Tulsa Over Winter Break:
2021-2022 Edition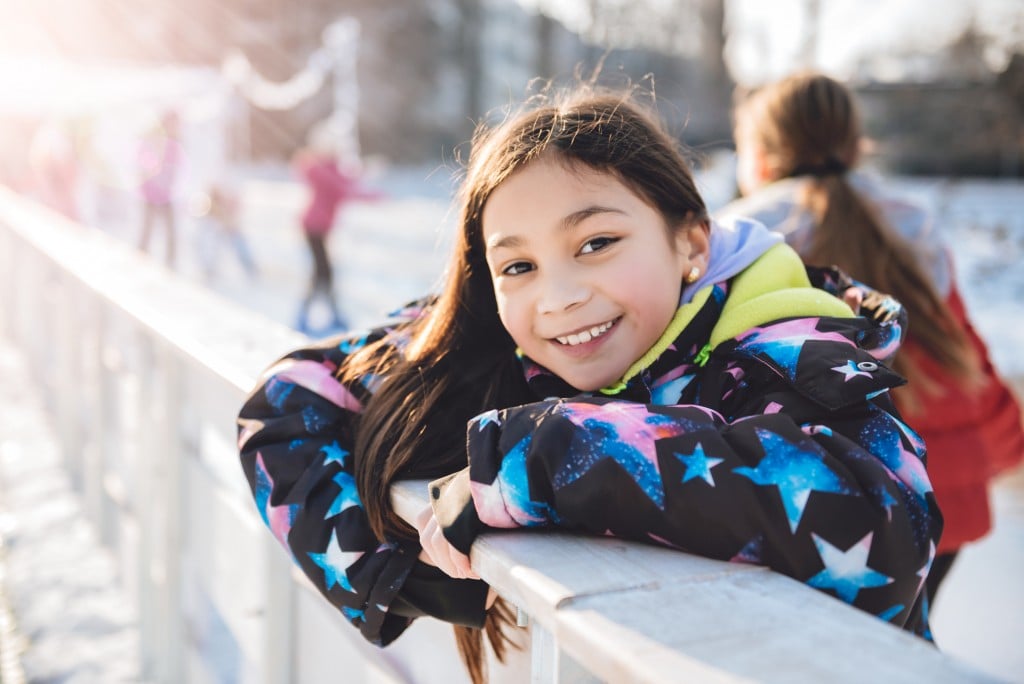 Tulsa Public Schools' Winter Break is December 18-January 3. Here are 20 events or other activities to enjoy as a family over the winter holiday.
When: December 17-January 2
Where: Gathering Place, 2600 S. Riverside Dr.
Gathering Place will once again transform into a Winter Wonderland, spreading holiday cheer with special performances, carolers, festive food and holiday drinks. Enjoy a ride on the Winter Wonderland Express and explore thousands of twinkling lights transforming the Park into a festive holiday village! Don't forget to capture a holiday family photo with Santa Claus! Create holiday traditions and memories for the whole family at Gathering Place's Winter Wonderland presented by American Airlines.
When: Multiple Dates Available
Where: Miller Swim School Tulsa (6415 S. Mingo Rd.) or Miller Swim School Jenks (525 W. 91st St. S.)
If you're feeling cooped up – or if you just love to swim! – take the kids to Family Swim at Miller Swim School! Miller offers weekly family swims on weekends, but they've added several sessions just for Winter Break. Learn more at millerswimschool.com.
With brand-new choreography by Tulsa Ballet's past and present Resident Choreographers, and spectacular new sets and costumes by Tracy Grant Lord, Tulsa's holiday tradition returns with an all-new blockbuster production of The Nutcracker. Taking audiences back to the original setting of 19th century Germany, this larger than life production brings the Victorian era to life with lavish visuals to tell the story of a young girl's magical journey on Christmas Eve. From the epic battle between the Nutcracker Prince's army of toy soldiers and the Mouse King's rodent minions, to the enchanting land of the Snow Queen followed by the Sugar Plum Fairy's Kingdom of Sweets, a cast of close to 100 local children joins the dancers of Tulsa Ballet to create a lifetime of memories for young and old. The Nutcracker is sponsored by The HA and Mary K Chapman Foundations and the Suzanne and Jim Kneale Family Foundation.
When: Thursdays – Sundays, Nov. 26,-Dec. 12, 5-9 p.m. Open nightly: Dec. 16-Jan. 2, 5-9 p.m. (closed Dec. 24 & 25)
Where: Tulsa Botanic Garden, 3900 Tulsa Botanic Dr.
Reconnect with family and friends in the garden illuminated with colorful lights. Make s'mores over fire pits, enjoy holiday music and take in the spirit of the season in our magical garden escape.
NIGHTLY: Hot drinks (with spiked options), beer, wine and s'more kits are available every night for purchase. Hay maze/snowball pit, glow games, photo stops and fire pits will be available each night. (weather permitting)
Advanced tickets highly recommended, as capacity is limited. Reserve your tickets here.
When: Ongoing
Where: ahha Tulsa, 101 E. Archer St.
Have you made it to THE EXPERIENCE: IMAGINE? This fantastical world is made up of art like nothing else. Six Tulsa-based artists have built an entire floor for you to explore at ahha Tulsa. Learn more and plan a safe visit for the whole family at www.ahhatulsa.org/the-experience-imagine.
Photo courtesy of ahha Tulsa
When: Thanksgiving through New Year's Day
Where: Honor Heights Park, 1400 Honor Heights Dr., Muskogee
The beautiful Honor Heights Park comes alive with lights in the evenings. From Thanksgiving through New Years Day, visitors can enjoy a stunning drive through a holiday delight. The drive-through display includes over 1.2 million shimmering lights, enhancing the natural beauty of the park's gardens, waterfalls and ponds with holiday displays the whole family will love. www.visitmuskogee.com
When: Ongoing (Closed Christmas Day)
Where: Tulsa Zoo, 6421 E. 36th St. N.
Tulsa Zoo has seen some exciting changes recently! From new arrival Dara the Siberian Tiger to the opening of the Helmerich Playground – if you haven't been to the Zoo in awhile, take advantage of Winter Break to do so! Advance, timed entry required.
When: November 19-January 3, 2021
Where: BOK Center, 200 S. Denver Ave.
Enjoy skating on an indoor ice rink, plus Sundays with Santa (Sundays from 12-4 leading up to Christmas Eve); holiday food and drinks; and riding on the Winterfest Express (Saturdays, 12-3). Advance tickets required.
When: December 30 and January 1 (Men's Basketball Team); December 20 and 22 (Women's Basketball Team)
Where: Mabee Center, 7777 S. Lewis Ave.
Cheer for the ORU Basketball teams! All kids aged 13 and under get in free to ORU men's and women's basketball and baseball games when accompanied by an adult. This includes individual game tickets and even season tickets. Ticket information can be found at oruathletics.com/tickets.
When: Daily at 11:30 a.m. (excluding Mondays)
Where: Eleanor's Bookshop, 1102 S. Lewis Ave., Suite D
Kids are invited to storytime at Eleanor's Bookshop every day at 11:30 a.m.! Stories will be geared toward kids 10 and under.
When: December 18, 7-8:30 p.m.
Where: Oxley Nature Center, 6700 Mohawk Blvd.
Hike beneath the beautiful full December moon! $3 members, $5 non-members. Please bring exact change (cash). Registration required by 4:30 p.m. two days before the walk. Call 918-596-9054 to register.
If you can't make the Full Cold Moon Walk, general admission to Oxley is free. The Interpretive Building is open Monday through Thursday, and Saturday, 10:00 a.m. – 4:30 p.m.; Sun. noon – 4:30 p.m. It is closed Fridays. The gate and parking lot is open daily, 8 a.m.-5 p.m., except for most city holidays. The hiking trails are accessible daily from 7 a.m.-9 p.m. oxleynaturecenter.org/hours-directions
When: December 10-23, various times (See schedule here)
Where: Tulsa PAC, 110 E. 2nd St.
Robert Odle and Richard Averill's musical adaptation of Charles Dickens' beloved novella about the joy of giving has been a Tulsa tradition for more than 40 years. It's a heartwarming story about Scrooge, a lonely humbug who is given the rare chance to change his life and find his heart.
When: December 31, Doors open at 6:30 p.m., the movie starts at 7 p.m.
Where: Will Rogers Memorial Museum, 1720 W. Will Rogers Blvd., Claremore
Enjoy Movie Night in the newly renovated Will Rogers Theatre for a fun night of classic movies. This month's feature is Life Begins at 40, starring Will Rogers. Admission is FREE and there is FREE Popcorn and water thank to the Bank of Commerce.
When: Ongoing
Where: 31st and Riverside
Discovery Lab's new Gathering Place location is planning to open late December 2021! Follow @discoverylabtulsa on Facebook for updates, and make sure to pay a visit to this impressive new facility!
When: December 19, 4:05 p.m.
Where: BOK Center, 200 S. Denver Ave.
The Tulsa Oilers are playing hockey against the Orlando Solar Bears! This is the only Tulsa Oilers home game during Winter Break. But find the rest of their 2021-2022 season schedule at tulsaoilers.com/2021-22-schedule.
When: Ongoing
Where: Various Locations
Stock up on some Winter Break reading material, perfect for road trips or cozy evenings. Check out something to read aloud as a family! It's free to visit the library, and with twenty-four locations in the Tulsa area, there's certain to be a branch near you! Don't have a library card? Apply now at tulsalibrary.org/get-a-library-card.
When: Ongoing
Where: Various Locations
If the weather gets frosty, but you still need to expend some energy, check out our list of Indoor Places to Play! You'll find gaming options, bowling, skating and more!
18. Learn a New Skill: Intro to Screen Printing
When: December 22, 6:30-7:30 p.m.
Where: Central Library, 400 Civic Center
See a demonstration of the screen-printing process. We'll discuss how to use the vinyl cutter to prepare a stencil for screen printing and options for pressing images onto fabric. After attending this orientation, you can make appointments to use the equipment for your projects! Register at www.tulsalibrary.org/events. For all ages.
19. Pick up a Kwanzaa Craft Kit
When: December 26-31 (Rudisill Regional Library); December 27-31 (Suburban Acres Library)
Where: Rudisill Regional Library, 1520 N. Hartford Ave.; Suburban Acres Library, 4606 N. Garrison Ave.
In celebration of Kwanzaa, Rudisill Regional Library and Suburban Acres Library will have children's kits available with a Kwanzaa craft and a FREE book! Drop in and create or take yours home today. All supplies and instructions are included with each kit. Kits are available all week, while supplies last. Please specify your child's age to get the age-appropriate book. Sponsored by the African-American Resource Center.
Don't miss the virtual Kwanzaa Celebration on December 26, 5-6:30 p.m.: Join the African-American Resource Center virtually to explore the seven principles of Kwanzaa through dance, song and spoken word. Join the Kwanzaa celebration here: https://m.facebook.com/tulsalibrary/ and www.facebook.com/TulsaLibraryAARC/. For all ages.
When: Various Dates, November 26-December 24
Where: Philbrook Museum, 2727 S. Rockford Rd.
Philbrook Festival returns with all of your favorites: thousands of holiday lights and a spectacular musical light show, holiday shopping, the LEGO Village, visits with Santa, and more. Festival Nights are special ticketed event nights and require advance, timed tickets. Philbrook will also offer special festival activities daily throughout the holiday season during regular business hours.