10 Ways to Celebrate St. Patrick's Day At Home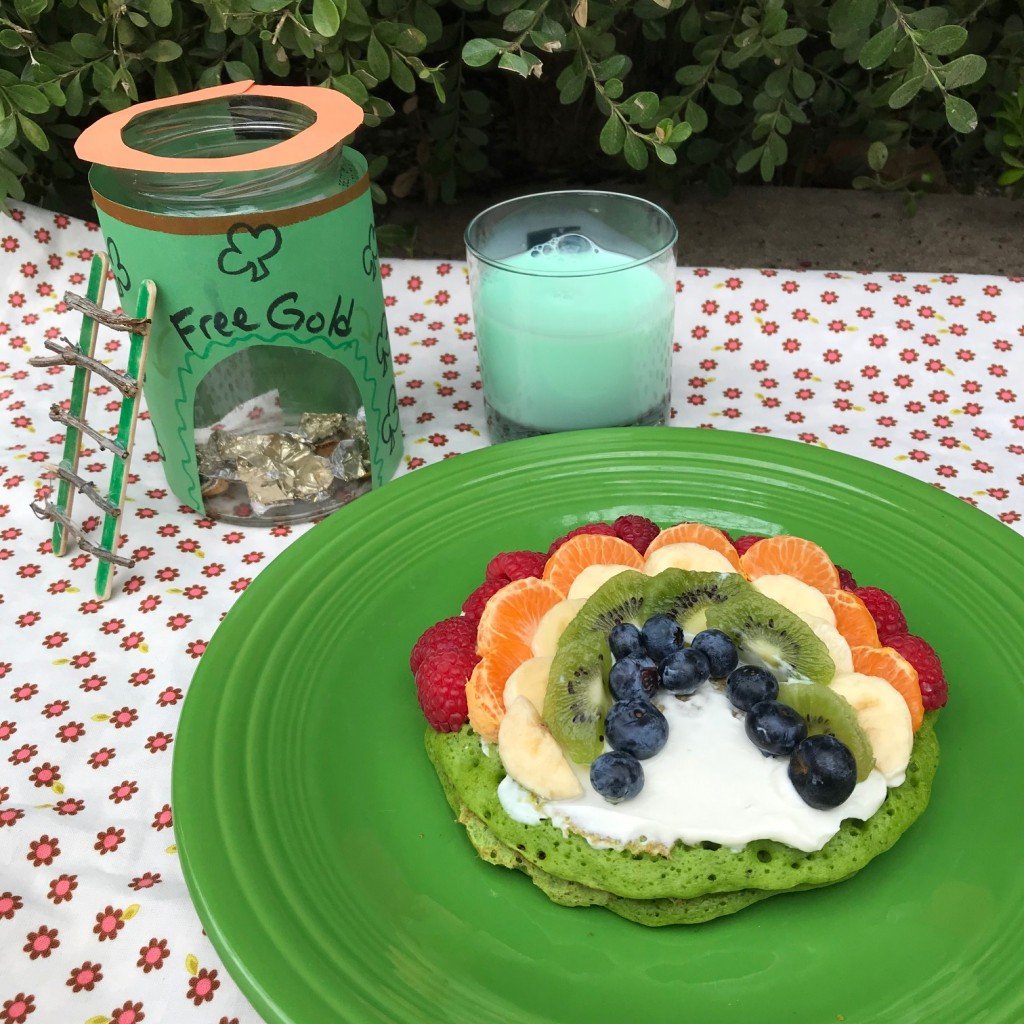 I assume you're already planning to wear green on St. Patrick's Day, so that's not even on this list. But do you know what? Why not make it a friendly competition: Who can incorporate the most green into their outfit? The loser gets to make breakfast!
So. Now that you're all decked out in your favorite verdant hues, here are 10 more ways to celebrate St. Patrick's Day at home.
1. Add Some Greens to Your Breakfast
Start the day with a Green Smoothie or these Green Rainbow Pancakes adapted from Super Healthy Kids. The green doesn't come from food die, but Spinach!
For a fun trick, add a few drops of green food coloring to the bottom of your child's milk or water glass (clear is best). Add the liquid, which will "magically" turn green before their eyes!
Spinach Pancakes, Rainbow-Style!
Ingredients:
1 c. packed baby spinach
1 c. whole milk
1 Tbsp. apple cider vinegar
1 Tbsp. oil
1 egg
1 c. flour
1 Tbsp. sugar
1 tsp. baking powder
1/2 tsp. baking soda
1/4 tsp. salt
For decorating: bananas, kiwi, raspberries, blueberries and mandarin oranges, whipped cream or honey Greek yogurt
In a blender, blend spinach, milk, vinegar, oil and egg thoroughly. You don't want large chunks of spinach.
In a separate bowl, mix dry ingredients.
Stir wet ingredients into dry ingredients. Don't over-mix.
Cook pancakes as usual.
Top pancake with whipped cream or yogurt (don't do this when they're too hot). Arrange fruit slices to create a rainbow shape! The fruit adds enough sweetness that you probably don't even need syrup.
2. Watch "The Secret of Kells" or "Song of the Sea"
These beautiful animated movies by Irish-based studio Cartoon Saloon are also both set in Ireland. "The Secret of Kells" tells the story of a 9th-century Irish monastery preparing for the Viking invasion. "Song of the Sea," according to Wikipedia, "follows the story of a 10-year-old Irish boy named Ben (David Rawle) who discovers that his mute sister Saoirse, whom he blames for the apparent death of his mother, is a selkie who has to free faerie creatures from the Celtic goddess Macha."
3. Have an Irish Dance Party!
Look up some music by your favorite Irish performers, and have a dance party! Suggestions include Riverdance, Flogging Molly or The Cranberries. If you head on over to YouTube, you can find some tutorials for actual Irish dance moves. Learn a few and have fun putting them together to make your own choreography!
4. Build a Leprechaun Trap
From a blog post by TulsaKids Editor Betty Casey: "Preschoolers love making Leprechaun Traps. These three versions from The Best Ideas for Kids website give the basics for three types of traps. Use these as models or have your kids imagine what would be the best type of trap and let them create their own."
5. Hunt for Gold
If you have chocolate coins, so much the better. If not, you could either use real coins or, to make this activity last even longer, have your kids make and cut out some gold "coins" out of paper. Hide the coins around your house, and then let your kids hunt for them!
6. Take a Virtual Tour
Add an educational element to your St. Patrick's Day fun. The National Museum of Ireland – Natural History and the National Gallery of Ireland both offer virtual tours. The Ground Floor tour of the National Museum of Ireland lets you see some fauna found in Ireland, including a basking shark hanging from the ceiling!
This website also offers 360-degree tours of several Irish castles, including Blarney Castle, home to the legendary Blarney Stone!
7. Bake Irish Soda Bread
Irish Soda Bread is a great bread to make with kids because you don't have to wait for it to rise! Here's a recipe from Sally's Baking Addiction. Raisins optional!
8. Read a Story About Leprechauns or Ireland
In Betty Casey's blog post, linked earlier, she recommends listening to this YouTube read-aloud of "The Story of the Leprechaun."
Other St. Patrick's Day-relevant options include YouTube Readalouds for "The Irish Cinderlad," "Patrick: Patron Saint of Ireland" by Tomi dePaola, and (for a more lighthearted option) "Pete the Cat: The Great Leprechaun Chase."
9. Make Your Own Shamrock Shake
McDonald's seasonal Shamrock Shake is just one more reason to look forward to St. Patrick's Day. You could go out and get an original, of course, or try making your own version at home!
Ingredients:
2 c. vanilla ice cream
1 1/4 c. milk
1/4 tsp. mint extract
green food coloring
chocolate syrup (optional)
whipped cream
Add ice cream, milk, mint extract and food coloring to a blender, and blend until smooth. Use chocolate syrup to decorate the inside of your glass before adding the milkshake mixture. Top with whipped cream and more chocolate syrup, if desired.
10. Go on a 4-Leaf Clover Hunt
If it's nice enough, go outside and hunt for four-leaf clovers! Offer a prize for whoever finds one–maybe some of those chocolate coins? Take a nature journal outside and draw the clover you see. Is it flowering? Are there different patterns on the leaves? If you happen to have a microscope, put some on a slide!
Here's a video from Scientific American on how to use science to find a 4-leaf clover.
How are you celebrating St. Patrick's Day this year? Feel free to tag @tulsakids in your Instagram pics, and we will try to share them to our Story!
---