Woody Guthrie Center Offers Afters School Program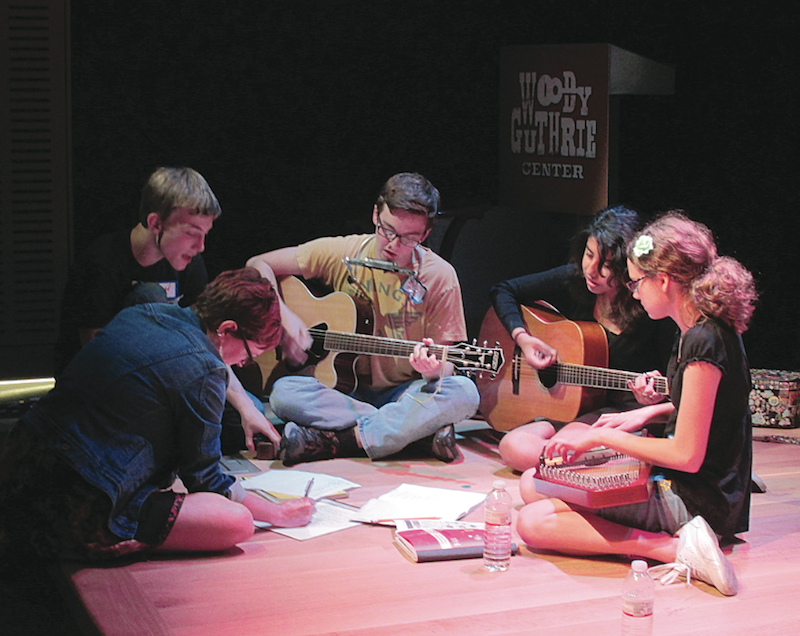 What do you want to be when you grow up? An astronaut? A fireman? A vet? Or maybe, a ROCK STAR? For those Tulsa teens whose reveries are filled with guitars, amps, drums and a killer soundtrack, the Woody Guthrie Center's (WGC) "Youth Rocks Afterschool Program" may help make those dreams a reality.
Beginning January 14, aspiring young musicians will meet each Thursday from 4:30-6:30 p.m. at the WGC in the Brady Arts District. Under the guidance of local musician Cody Clinton, students will learn the basics in everything from songwriting to setting up sound systems for live performance. The program culminates in a concert at neighboring Guthrie Green.
Clinton, who started his first band when he was 13, has been a full-time professional musician for the last seven years. He and Becky Hawkes, education and public programs manager at the WGC, developed the afterschool program together. Last spring, approximately 18 middle and high school-aged kids participated.
According to Clinton, there are no musical prerequisites for the course. Last year's group included a diverse mix of boys and girls with a wide range of skill levels. "The main thing we focus on is the practical foundation for what it takes to be in a functioning band," Clinton explained.
In addition to writing songs, practicing vocals and instruments, and rehearsing together, the students learn to set up the sound system and do their own sound checks.
"Everybody is interested in something different, and you need all different types to make the whole thing go, so it's good to have one person in each group that's interested in various different things so you have a good synergy for the group." Clinton said.
For a generation that grew up with American Idol and The Voice, instant fame and success can seem like the norm. "I try to show them other possibilities," Clinton said. "Everybody gets something different from it. I hope what they take away is the importance of music and how cathartic it can be and how enjoyable it is…Hopefully, they get the band experience and maybe they'll go start their own band, or at least get involved in high school band or music somehow."
Growing up in a musical family, Clinton's own love of music started early. "My dad and my uncles were musical," he recalled. "We used to have big family get-togethers where everybody would sit around in a circle. You might hear 'I'll Fly Away' and these old gospel tunes one minute, and the next you might hear The Eagles or The Rolling Stones, so I was lucky to grow up in that environment."
Clinton enjoys sharing his knowledge with the young musicians. "You get into the music business side of things, which I touch on a little bit because I try to teach them and warn them about it," he laughs. "But, it's rejuvenating, and it makes me feel less jaded."
For more information about the program, visit www.woodyguthriecenter.org.
Julie Wenger Watson is a freelance writer who's worked in all aspects of music promotion. She's also Co-Director of "Live From Cain's," a public radio show pilot.