Why We Love Snap Circuits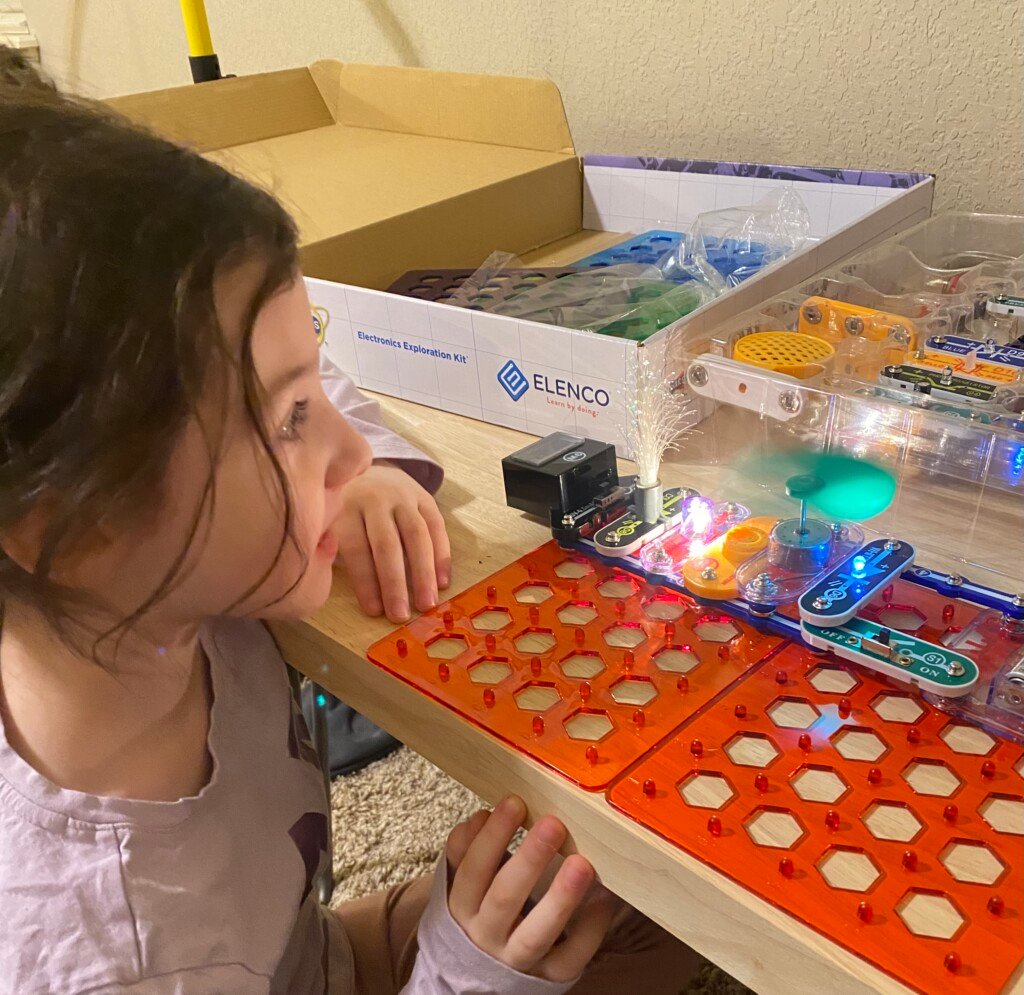 If you had to choose one of your child's toys to play with for an hour, which toy would you choose? The iPad doesn't count. Mine is any easy selection. I'd pick the Elenco Snap Circuits. We have a few different sets lying around the house, and they are seriously cool, or whatever word kids are using right now.
Isabelle was four or five when she got her first Snap Circuits set. From there, her curiosity about electronics grew. That's the point. Snap Circuits are a safe, fun, and easy way for kids to understand how electrical circuits work. If a child can put together a Lego set and follow those instructions, then they can do this, too. Also similar to Lego, there are entry-level kits and sets that are more advanced. For each set there is a booklet outlining many different projects. Hours and hours of genuine fun await.
Science Fair Success
For her first-grade science fair demonstration, Isabelle put together a project using the Snap Circuits MyHome Plus kit. This kit is designed to teach children how electricity in their own homes work on a miniature scale. I had such a blast watching Isabelle put together pieces, troubleshoot problems, and overcome some frustrating moments. The house ended up with a motion detector, wind energy, lights, and much more. It sat on a high shelf in our house for awhile before the day of the science fair. Did it freak us out one night when it suddenly started playing music? Yes. Luckily, we figured out the issue and all was well thereafter.
Educational Fun
What Isabelle loves about Snap Circuits is the same thing I love — a complex concept suddenly becomes accessible. I hadn't really thought much of how circuits worked before because I studied and was interested in other things during school and university. I wish I had something like this as a child. When kids try out different activities and explore new concepts, it helps them eventually form what they decide to pursue as a career.
If any stigma exists that educational toys are boring, Snap Circuits breaks it. When kids can light things up, create sounds, or make a fan whirl, they tend to forget they are also learning. It is an A+ for STEM learning in my book. Explaining what is happening during each project step or having your child read the manual to grasp the concepts is key to tying it all together.
I've also found these experiments are a fun family activity. If you are looking for a different take on game night, consider diving into circuits! The kits for ages 8+ are good for a wide range of ages with parents to guide. You can always keep creating with Snap Circuits.
Something to note: Some kits do have small pieces so Snap Circuits are not suitable for very young children.
---