Why We Dig The Great Salt Plains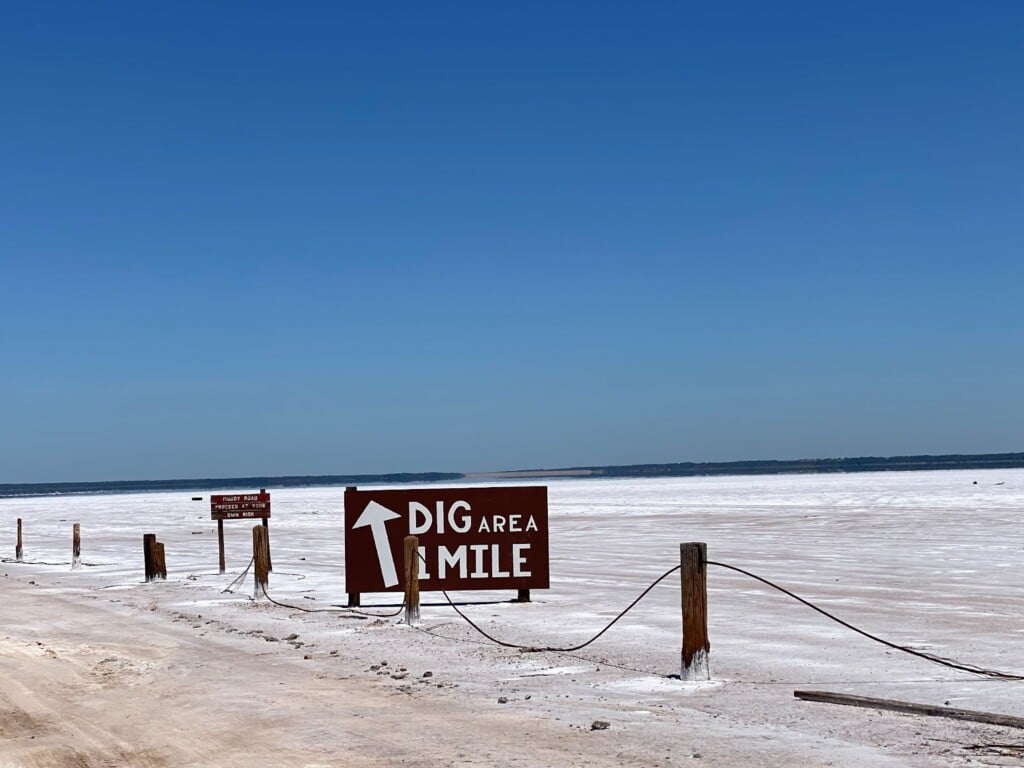 Though I grew up in Oklahoma, I never experienced the joy of Salt Plains State Park. It wasn't until I moved back here in late 2014 that I started to hear more about it from folks that would make the journey from Tulsa across the state once or twice a year. For us, it has become a pilgrimage and one I wish every kid could experience no matter where they live in the country.
Planning Your Trip
Situated in Alfalfa county, the drive is about two and a half hours from Tulsa. Enid is likely the largest city you will go through before arriving. We've found it is the perfect place to stop for brunch or lunch before a day spent at the park. Enid is also a great place to grab snacks, drinks, or anything else you've forgotten because the opportunity to do so will be very limited around the park area, though there is one convenience store we found in Jet.
Digging for Crystals
Though the park offers plenty of activities such as fishing on the lake, birdwatching, hiking, and an equestrian area, it is famous for its selenite crystal dig area. April marks the start of digging season each year! The digging area is accessible southwest of the lake on the side that borders the town of Cherokee. It took us awhile of driving around on the east side of the Great Salt Plains Lake instead of venturing west before we arrived at the sandy digging destination.
I'll never forget the first time we saw it from a distance. What an odd experience to be driving along a flat green and brown landscape which suddenly meets a sea of stark white sand. I remember my daughter saying "Snow! Wait, is that snow?" because it appears to be at first glance. It feels as though a snow white beach has been dumped right in Oklahoma, minus the ocean water of course. The white part is, of course, the salt laying over the darker sand. It is one of nature's marvels.
Aside from its beauty and feeling out-of-place in a landlocked state, the Salt Plains State Park digging area is the only place in the world where you can dig for hourglass selenite crystals.
They are brownish and fragile and we are obsessed with finding as many of them as possible. Before going out the first time, we read tips and tricks for how to find crystals. Many people say you should dig two feet down and two feet wide. Our first time out, we found tons of crystals toward the surface, but perhaps that was because it was earlier in the digging season, which ends in October. What we were not prepared for that first time was how hot we would get despite bringing a pop-up tent for shade. The next time, we would find ourselves with perfect weather, but having to dig much deeper and wider in multiple locations to find crystals.
Why We Love Salt Plains State Park
The kids both love Salt Plains State Park because you feel accomplished bringing home whatever crystals you find, and the science behind their formation is really cool. The iron oxide from the soil combined with clay gives the crystal their color. Selenite is a crystalized form of gypsum. These are all things we've learned over the past several years.
Add to this the entire rest of the park area on the east side of the lake, opposite of the salt flat, where you can marvel at flowers and bird sounds. We continue to learn and find out fun facts about this amazing area, which is why we won't stop coming back.

Don't forget to bring
:
Sunscreen and sunglasses

Shovels and other digging/collecting necessities

Lots of water

Snacks

Cooling towels or a canopy for shade

A change of shoes (unless you want your car to be super sandy afterwards)
Fun facts
:
There are over 300 species of protected birds that live in Salt Plains State Park.

It is free to park in the crystal digging area and to dig for crystals!

There are no major places to stay near the park, but there are campsites and eco-friendly cabins available to reserve.

The salt plains were formed by flooding millions of years ago.
---