Who Is Teaching Your Children?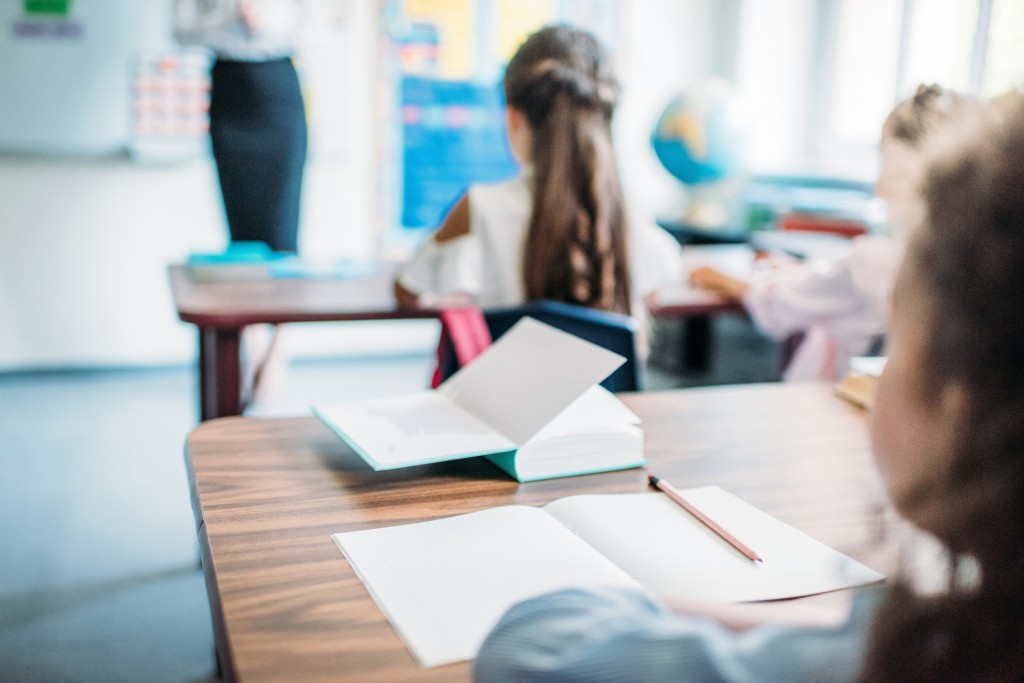 Governor Stitt recently put forth an interesting idea for solving the current teacher absentee problem. State workers could step in as substitutes.
For those who think that anyone can be a teacher, this might seem like a sensible solution (I guess?). I can't even begin to enumerate the many problems with the governor's solution – background checks being a one; lack of experience teaching or dealing with children being another; lack of credentials in a subject area; the list goes on and on – but do any of those things matter to the governor?
Keeping classrooms staffed in the midst of COVID is a problem, no doubt, but using state workers as a solution to the shortage is just one more slap in the face to professional educators. The teacher (and substitute teacher) shortage has been a problem for years, yet Gov. Stitt and those who have an underlying distaste for supporting public education haven't bothered to address it. Surely he's not just now noticing that Oklahoma has a teacher shortage problem.
The pandemic has shown us that open schools help the economy. In-person classrooms where children feel safe and connected to adults and peers are critical to their mental health. Virtual learning is not working. Here's just one example: edsource.org/2020/disappointing-grades-technology-glitches-and-glimpses-of-learning-fun/641615
Educators, administrators and parents are struggling. There are no easy answers. I think most parents can remember having a substitute or an inexperienced teacher in a class. When I was teaching high school, I had 150 students every day. I dreaded having a substitute. Even with a clear lesson plan, I knew that little would be accomplished.
Who is teaching your children? A substitute with no child development training? An emergency certified worker who doesn't know how to create a lesson plan or has no background in the subject they're teaching? An inexperienced Teach for America corps member with a few weeks of training?
According to Oklahoma Watch's Jennifer Palmer, there are more than 2,600 emergency certified teachers in Oklahoma public schools. A table in the article puts that number in perspective. In 2011-12, the state awarded 32 emergency certifications. In January of 2022, that number is 2,673.
The teacher shortage isn't new. Teachers have been leaving the profession for several years for a variety of reasons such as low pay, large class sizes, scripted curriculum, lack of respect and lack of autonomy.
TPS created the teacher corps to help stop the hemorrhaging, allowing individuals to skip professional colleges of education and teach with a bachelor's degree in anything. As the TPS website states: Oklahoma state certification is required to teach, but don't worry if you don't have a degree in education. With a bachelor's degree in any area, you can pursue alternative certification and begin your teaching career with Team Tulsa.
A study done by the Oklahoma Association of Colleges for Teacher Education (OACTE) showed the negative impact that emergency certified teachers are having on students. The research was presented at The University of Tulsa at a summit in August 2019. Did Gov. Stitt even look at this study? If so, has he presented any solutions based on the study?
It's interesting that the summit was held at the same university that trains short-term Teach for America (TFA) corps members. There has been much research over the years on TFA. James Horn's book "Work Hard, Be Hard: Journeys Through 'No Excuses' Teaching" contains a chapter called "Teach for America's Socialization and Manipulation" by Barbara Veltri, which she describes as a "cautionary tale [that] illuminates how private venture philanthropy and 'public good' corporate education reform initiatives are managed and manipulated."
TFA students might make good teachers after doing on-going training from an accredited college of education along with student teaching and mentoring from an experienced educator before being put in charge of a classroom. But most TFA members move on. After five years, 27.8 percent were still in teaching, and about half of those left their original placement in a low-income school.
Lack of experience and high turnover in the teaching profession is harmful to children, but especially damaging to students who live in poverty or suffer from other trauma.
Most parents would prefer a teacher who is qualified in the subject they are teaching. Most would choose a teacher who understands child and adolescent development. Most parents would like their child to have a teacher who understands how to write curriculum and how to adjust to the variety of human beings in a classroom. Those are just the basics. We all know that what teachers do every day goes way beyond that.
What did the OACTE study find?
At the OACTE summit, TU's Chair of the Department of Education and OACTE Vice President Elizabeth Smith is quoted as saying, "As teacher educators and education programs across the state started to look at the data, we found there is evidence that the rise in the number of emergency certifications is harmful to students in Oklahoma and schools."
Information from the summit also says, "Emergency certification is a substandard credential that people can receive to teach with only a bachelor's degree. It allows individuals to begin teaching on their own in public school classrooms without having coursework on teaching and learning, a background in the content area they're teaching, experience working with children and without passing any state certification exams."
OACTE offers four solutions to expand the numbers of qualified Oklahoma teachers.
Offer state-funded loan forgiveness and/or scholarship funds for university-prepared teachers who commit to teaching in Oklahoma public schools.
Allocate state funds for university-based teacher candidates' certification exam costs.
Provide state-funded signing bonuses for the first three years in Oklahoma public schools for university-prepared teachers.
Provide state funds for paid student teaching internships
"While emergency certification is a short-term Band-Aid to a problem that took a decade or more to develop, OACTE offers long-term solutions," Smith said. "Our state government must take action now so we can ensure every student has access to high-quality education and a prepared, qualified teacher."
I have no way of knowing whether or not Gov. Stitt read the OACTE report. These recommendations clearly value teachers who are choosing the profession and graduating from accredited colleges of education over those who are coming in via emergency certification or less rigorous, shortcut routes.
Teaching is not an easy job. I've taught high school and middle school. While the OACTE recommendations address ways to support and encourage teachers in the pipeline, other things that would help attract highly trained teachers include higher pay, small class sizes, wrap-around services for those students who need it, more autonomy, support services and respect for the profession.
Putting more inexperienced people into classrooms is not the answer to solving the teacher and substitute shortage crisis in Oklahoma. It was happening long before Covid appeared and will continue, unless the governor and other leaders take a serious look at the needs of Oklahoma's public-school children. The pandemic won't last forever, but the teacher shortage and staffing problems will continue unless they are addressed with serious, long-term solutions.
---