When Grandparents Become Parents
Almost 90,000 children in Oklahoma are being raised by grandparents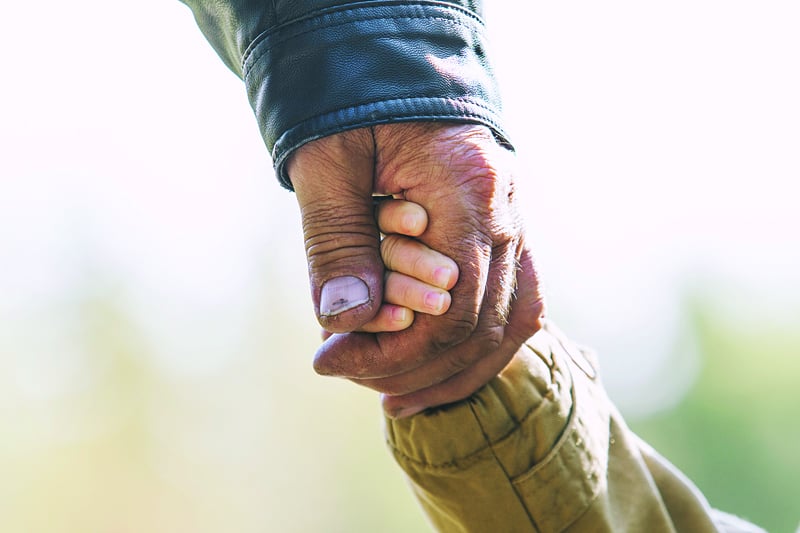 John and Susan were ready for their golden years. The kids were grown, so they downsized to a one-bedroom apartment with a great view of the river and bought a sporty red convertible two-seater. They knew their daughter was having drug abuse issues; she was leaving her 3-year-old son with them more and more often and for longer periods. It was becoming normal for them to have Aiden for two and three days at a time with no contact from their daughter. Then came the visit that never ended. Their daughter left Aiden with them and has not seen him for over two years. John and Susan became legal guardians of Aiden, moved to the suburbs and completely changed their lifestyle to become parents again in their late 50s. "My entire world is my grandson," John says, "but is this where I want to be at this point in my life? No."
This story is becoming commonplace. Almost 90,000 children in Oklahoma are being raised by grandparents, and that number doesn't include the many informal kinship arrangements that are unreported. Although grandparents have often been seen as the safety net for grandchildren, social conditions have caused a rise in the number of grandparents raising grandchildren. In the past, the main causes for grandparents becoming parents again have been death, divorce, military deployment, drug abuse, illness and poverty. Increasing rates of female incarceration and substance abuse, specifically the opioid crisis, have created a significant increase in the numbers of grandchildren living with their grandparents. Oklahoma has the highest number of incarcerated women and just recently became the top state in incarcerated men as well, a high percentage of those doing time for drug-related convictions.
One in 10 Oklahoma children will experience having a parent in jail or prison during their childhood, leaving them without a parent in the home. Those statistics, combined with other issues that make the adult children unable to parent their own children, have led to Oklahoma having the second highest number of "grandfamilies" in the nation.
There are many complex issues regarding grandparents raising grandchildren and, fortunately for Tulsans, Sandie Sullivan of Ability Resources leads a support group for grandparents. As the facilitator for the group, she provides a wealth of information about resources for grandparents. Sullivan invites expert speakers to discuss relevant issues for grandparents raising grandchildren, including legal issues, financial assistance, child development expectations, behavioral issues and, perhaps the most crucial benefit, a safe place to express emotions involved in raising grandchildren. The group meets twice a month at Asbury Methodist Church and welcomes any grandparent raising grandchildren.
The members of the group say the adult child is often a source of disappointment, turmoil and worry. Grandparents must draw strong boundaries with their adult children in order to protect themselves but mostly to ensure safety and stability for their grandchildren. As one grandparent said, "I gained a grandchild but lost my daughter in the process. I lost the dream of the happy family at Thanksgiving. My grandchild's emotional needs and physical safety have to come first."
The adult children, usually substance abusers, take the family on an emotional rollercoaster, breaking promises and, in turn, breaking hearts. It's difficult for parents to give up hope that their adult children will someday be able to conquer their problems. Making it even more difficult for the grandparents is that, almost without exception, the children of the absent parents want them in their lives regardless of the chaos, neglect or abuse they suffered through while under their parents' care. When the child does have contact with the parent, there is usually a period of emotional fallout that is manifested in behavior issues as the child struggles to deal with the wide gap between their dream family and the reality.
Most of the grandchildren arrive in the grandparents' lives with a full suitcase of trauma, sometimes physical and/or sexual abuse and almost always emotional trauma. Because a majority of the children have lived with parents who are drug abusers, they have often witnessed violence and sometimes suffer from post-traumatic stress syndrome. A Tulsa couple, Debbie and Tom, said that when their granddaughter came to them at the age of 4, she was not speaking, didn't seem to understand language and was suffering from severe malnutrition. Through several years of physical, speech and occupational therapy and proper nutrition she is doing well, even excelling at school. However, her grandparents, who have legally adopted her, are aware that she will need to continue counseling for many years to deal with the psychological aftermath.
The stress that comes with the territory of raising grandchildren can cause relationship issues. Sullivan reports that they have had several couples in the support group whose marriages have not survived the stress. This creates more upheaval for the grandchild's already fragile sense of stability and leaves the remaining grandparent to face the additional challenges of being a single parent. Raising a grandchild as a single person increases the level of physical exhaustion most grandparents already feel and has the added burden of emotional isolation. There is no one to share the work and, perhaps more importantly, to share the emotional burden.
Besides the tension on the marital relationship, friendships also suffer. While friends may initially be supportive, they often drift away as lifestyles become further apart. In their 50s and 60s most people are looking toward retirement and enjoying leisurely pursuits while the grandparents raising grandchildren find themselves immersed in diapers, homework and afterschool activities. Few people in their peer group understand what they are going through, resulting in fissures in their friendships.
Grandparenting traditionally is seen as a magical stage in life where grandparents get the joy of loving and spoiling their grandchildren without the responsibilities of parenting. The reality doesn't meet the expectations for 2.7 million grandparents in America that are the primary caregivers for their grandchildren. The grandparents must give up the dream of being the indulgent, fun grandparent and become full-time parents again, providing love, security and a home for their grandchildren. If you're a grandparent raising grandchildren, you're not alone. There is help and support.
Support and Assistance
Grandparents Raising Grandchildren Support Group is a support group that meets bimonthly. They are currently looking for a new location. For further information, call Sandie Sullivan at 918.381.1931.
Oxford Home HealthCare: Grandparents 55 and older are eligible to receive assistance with respite care. Call for specific information, 918.258.1111.
Department of Human Services: DHS offers resources such as food stamps, Medicaid and other government-funded programs to benefit lower income children, 918.295.3500.
AARP Foundation Grandparent Information Center (GIC) www.aarp.org/grandparents or 1.888.687.2277
Legal Aid Services of Oklahoma provides assistance with legal issues including guardianship paperwork. Calls taken Monday through Thursday at 888.534.5243.
SoonerCare: A healthcare program that covers most or some of the costs of medical care for qualified children under the age of 19. 800.987.7767.
www.grandfamilies.org provides state fact sheets with information about public benefits, educational assistance, legal relationship options and state laws.
How can I get other people to help me out?
As you take on the task of caring for grandchildren, your friends and family will probably want to help. But they may not be sure of what they can do. It's up to you to:
Ask for help. Make a list of small and large ways family and friends can support you. Asking for help is a sign of strength, not weakness. It shows that you are going to do your best in raising your grandchild and you know what it will take to get that done.
Have a family conference or meeting of close and extended family members. Discuss how your life, your grandchild's life and other family members' lives will change.
Try to divide up tasks and responsibilities for other areas of your life, such as caring for older parents, so you can have the time and energy for raising children again. A small amount of planning can save you some big headaches later.
Talk with your friends about how your social life will change. Let them know you'd still like to see them, but you might need help with babysitting.
Source: www.aarp.org
---