What You Should Know about Pregnancy, Your Baby & Covid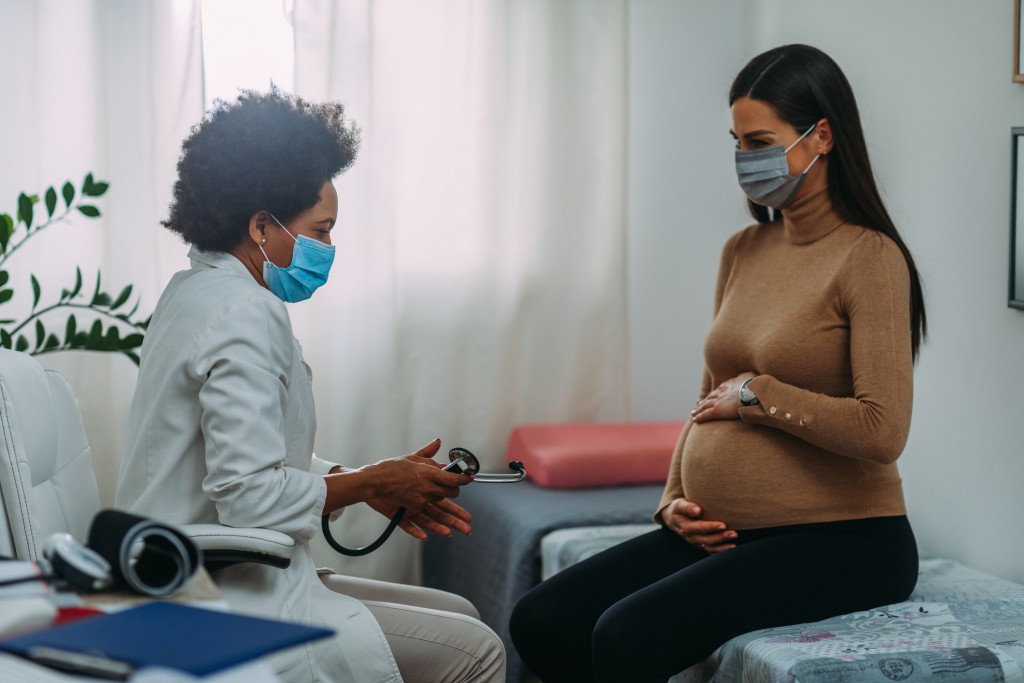 We asked Taniesha Buffin, M.D., Utica Park Clinic, what pregnant and new parents should know about how Covid might affect pregnancy and infants.
TK: How does Covid affect pregnant women? If a pregnant woman has Covid, what should she do?
Dr. Buffin: Pregnant women who acquire infection with Covid can have an array of symptoms, including mild cold-like symptoms to severe upper respiratory illness requiring ICU admission. Covid can lead to death.
Pregnant women with Covid who are not vaccinated are at greater risk of having severe illness, such as severe respiratory symptoms including pneumonia, and requiring hospitalization. Women may also experience pregnancy-related complications, including severe pregnancy-induced hypertension, increased risk of blood clots and even stillbirth.
Pregnant women are advised for these reasons to receive the Covid vaccine if they have no medical conditions to keep them from getting the vaccine, of which there are few. The vaccines have been shown to be safe for both mom and baby. Additionally, there is evidence that the baby can get the benefit of mom's protective antibodies.
If a pregnant woman tests positive for Covid, she should continue staying home/quarantining with supportive care, masking and distancing with others in the home. She should also contact her physician and seek emergency care for severe symptoms such as chest pain, difficulty breathing, etc.
TK: Can newborns get Covid-19 and its variants? If so, what are the signs, and should the baby be taken to the hospital?
Dr. Buffin: Newborn infection is rare, and if it occurs, is more likely to be asymptomatic or to occur with mild symptoms. If you have a baby who appears to have difficulty breathing (rapid breathing or increased work with breathing), high fever, or poor feeding, seek emergency care. Don't hesitate to contact your newborn's physician with any concerns.
TK: Since they can't be vaccinated, can infants be protected if the mother was vaccinated during pregnancy? What are the best things parents can do to protect their newborn from Covid and other viruses?
Dr. Buffin: Newborns can receive protective antibodies from a vaccinated mother through the placenta if mom is vaccinated during pregnancy, or through breastfeeding if mom has received the vaccine during or after pregnancy.
Other protective measures from viruses in general can include limiting visitors, encouraging up-to-date vaccination status of visitors, as well as frequent hand washing and masking of others around your newborn.
TK: Can women with Covid safely breastfeed their babies?
Dr. Buffin: Women with Covid who are not vaccinated can continue to breastfeed their infants. Both mom and infant should continue to quarantine. Mom should be sure to thoroughly wash or sanitize her hands prior to feedings or expressing milk. She should also mask while feeding or expressing milk. Mom should also be sure to thoroughly clean/sanitize her breast pump and feeding items. The vaccination status of the mom would make no difference in how you should handle this scenario.
TK: Is there a Covid vaccine for infants on the horizon? What else should pregnant women and parents of newborns know about Covid and Covid variants?
Dr. Buffin: There is currently collection of data concerning vaccination of children aged 6 months – 4 years of age. The best protection against Covid and Covid variants that we have for now is vaccination and boosters. And remember that Covid is still present and transmissible. Additionally, it is important to be aware that even as a vaccinated community, we can still contract Covid and be a source of infection for more vulnerable populations such as infants, children, those with comorbidities or who are immunocompromised. We must all do our part to help keep everyone safe!
---