We Visit Zoorassic World at Tulsa Zoo!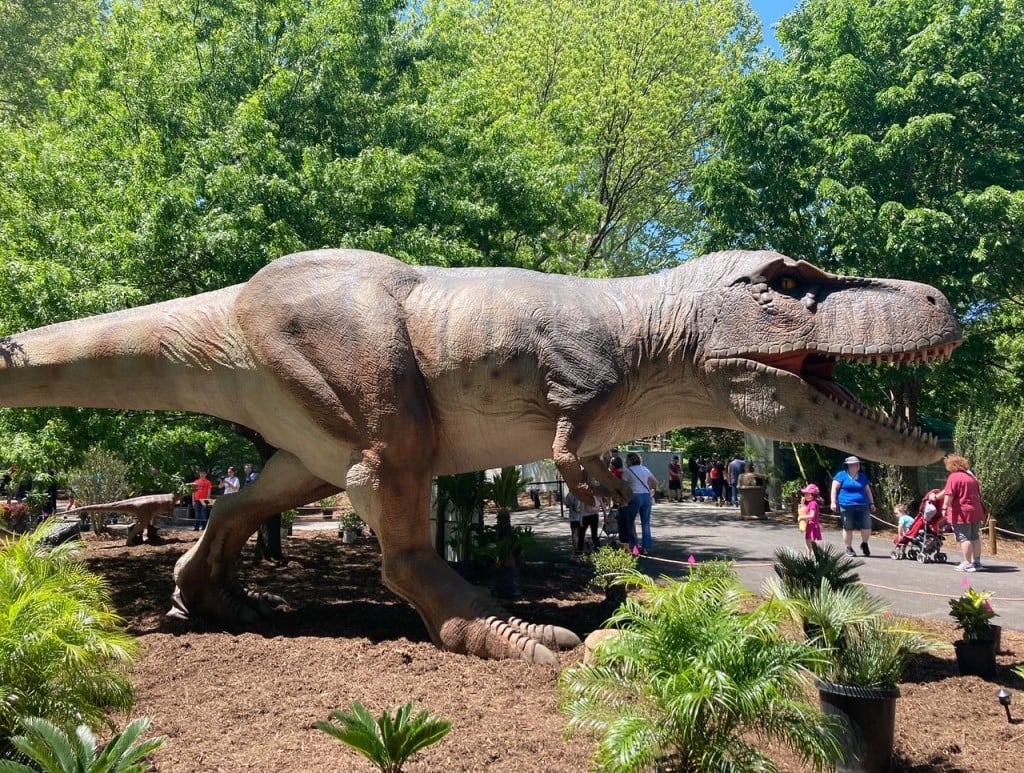 As of today, May 9, Zoorassic World is officially open at Tulsa Zoo! Joss and I got to take a tour during their soft opening weekend on Saturday, and we loved it! We were lucky enough to get a tour with two Tulsa Zoo employees, who were able to talk to us more about the exhibit. Well, they talked to me, at least. Joss was off and running most of the time, and we finally caught up with him at the gift shop.
Ticketing and Other Key Info
Zoorassic World is 25+ life-size animatronic dinosaurs arranged in a special area inside Tulsa Zoo. (If you've been to HallowZOOeen, it's located in the HallowZOOeen Pirate Cove, near the Children's Petting Zoo.) Zoorassic World will be open through September 5, 2022.
There's an additional cost to visit Zoorassic World: $6 per person for non-members, and $5 per person for members. Children 3 and under get in free. Members also have the option of purchasing a $45 add-on to their annual membership, which gets them six Zoorassic World tickets per day throughout the duration of the exhibition.
Walking Through Zoorassic World
The dinosaurs are laid out according to whether they lived in the Triassic, Jurassic or Cretaceous Period. I didn't realize that the dinosaurs living during the Triassic Period were generally smaller, and then, as a whole, they get larger over time. This is why the exhibit ends with a gigantic Tyrannosaurus Rex.
A fact-filled sign helps you identify each dinosaur, along with some interesting info. I didn't read many of the signs because I was busy trying to keep an eye on Joss, ha. But I did learn some cool facts from our tour guide, including that the "velociraptors" in Jurassic Park were actually based on another type of dino. And actual velociraptors were more small and feathery.
Tulsa Zoo apparently had dinosaurs several years ago, but these ones are to-scale. I didn't see the previous exhibition, but they were apparently quite a bit smaller. Moreover, the dinos of Zoorassic World were carefully constructed according to the latest scientific information, which is why said velociraptors made noises that more closely resembled the caw of a crow than what you might expect.
Beyond the Dinosaurs
In addition to the cool walk-through, Zoorassic World has a picnic area and food stand. You'll also find a fossil dig and dino-themed gift shop. And don't forget to end your visit by snapping a pic at the T-Rex photo op!
If you really want to "dig" into Zoorassic World, Tulsa Zoo will be hosting Zoorassic World Walking Tours on Saturdays from 9-10 a.m. And if you're planning a birthday party in the coming months, check out Tulsa Zoo's special Zoorassic World Party Packages.
Joss and I loved our visit to Zoorassic World. The Zoo was SO busy on Saturday, we had to park outside of the main parking lot, and by the time we were done touring Zoorassic World, we didn't have a lot of oomph left for the rest of the Zoo. So we just chose a few key stops and headed out. Wanted to share this pic of Joss looking so "over" petting a goat because it makes me laugh. As with any visit to the Zoo, expect to spend a few hours and prepare accordingly with snacks, sunscreen, etc.!
Let us know in the comments if you go to Zoorassic World, and what you think! Enjoy!
---