We Did Great Wolf Lodge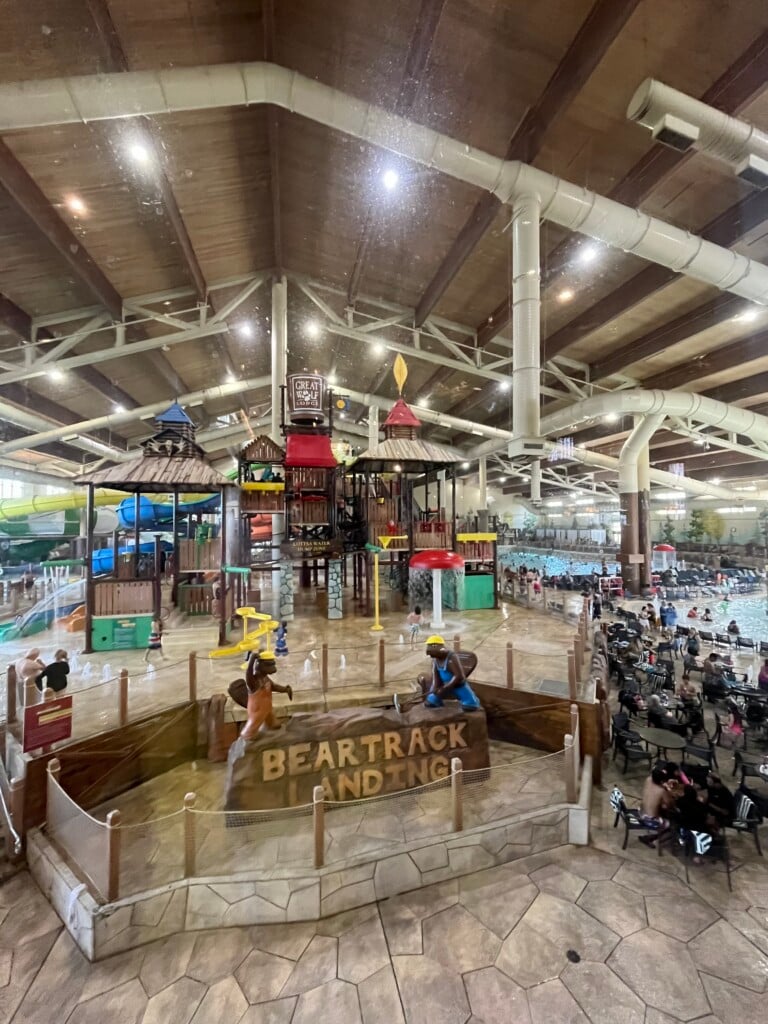 I try to be completely honest in every post, but I am going to be extra honest in this one. We had been talking about going to Great Wolf Lodge for a few years. It was always my husband, Peter, who brought it up. I always said something to the effect of, "Hey that's neat, but here are 8,000 other things we could do instead."
While I love theme parks and outdoor water parks, the thought of a giant water park where we would spend much of the time at indoor attractions didn't thrill me. Imagining the echoes of screaming children in a dimly lit environment and much worse, I closed off my mind to the idea of visiting the Wolf time and time again. Yes, I pre-judged a book by its cover without actually seeing the cover.
Finally this past spring, Peter determined that this year we were going. I was about to have my first Great Wolf Lodge experience. Around this same time, I heard of a few work groups that had gone there and loved it during the off-season for company retreats. When I finally went to the website to make reservations, I was intrigued. I was game to try this Wolf thing.
Peter, Isabelle, and I chose the Great Wolf Lodge in Grapevine, Texas just outside of the Dallas area. Tulsans typically flock to this location or the one in Kansas City. I was surprised at the size of the facility upon arrival. Isabelle stared in amazement as we walked into the huge lobby. From there you can see into the indoor water park. There were a few employees dancing on a stage and very happy kids. The adults looked pretty content as well. Some of them were wearing wolf ear headbands.
Though we enjoyed the outdoor pool during our stay, the indoor area was a perfect way to beat the Texas heat. Inside, guests can enjoy slides of all sizes, a wave pool, lazy river, a massive playground contraption, and much more. Great Wolf Lodge has an accessible swimming pool as well as an adults-only hot tub in this area.
My first impression of the indoor water park was shock at its size. Not only is it large, it has something for every age. I had fun watching children gain confidence in their water skills because the appropriate level of challenge was available to them, and lifeguards are everywhere. In many locations, the water is just ankle or knee deep, but water features keep older children engaged in those same spaces. Isabelle certainly gained more confidence in her abilities while there and even went on her first major water slide.
When guests are not swimming, they can visit an arcade, gemstone mining area, Build-A-Bear Workshop, family game den, ropes course, and multiple eateries on site, including an all-you-can-eat buffet and a Starbucks. There is an immersive game called MagiQuest, which kids can play even after the pools close. Of course, there are gift shops!
You want to know what I really loved though? Great Wolf Lodge has strict rules about quiet hours from 11 p.m. – 7 a.m. It was silent. That was awesome and unexpected. The beds were comfortable, and Isabelle loved our "Kid Kamp" room. In this arrangement, she got a separate bunk area within our space. It was a win-win.
Notice at the start of this post I mentioned this was my first time at Great Wolf Lodge. That is because we've already decided that we will come back again next year. The facility was clean, the staff extremely helpful, the lifeguards vigilant, and the whole experience exceeded my expectations. Should I have purchased the wolf ears headband?
Now with my stepson back home and school imminently starting for both kids, we are settling back into routines and will be seeking out adventures in and around the great city of Tulsa. I love the whimsy of summer, but there's something wonderful about the predictable schedule of the academic year as well. I'm glad our summer ended with Great Wolf Lodge.
Good-to-know:
We stayed 1 night and felt that was plenty of time to do everything we wanted to do!

Guests do get admission to the water park all day on the day they check in and the day they check out.

Guests pay extra for late check-out. However, we chose this option due to the rush of people trying to leave at the standard time. I recommend it!

Guests can request early check-in, but it is not guaranteed.

Great Wolf Lodge is a place where families and groups go to have fun and bond. It is not an educational facility, though children can certainly learn through water play and obstacle challenges.
---