View the National Geographic Photo Ark at Gathering Place
The exhibition will be on display April 30-July 31, 2022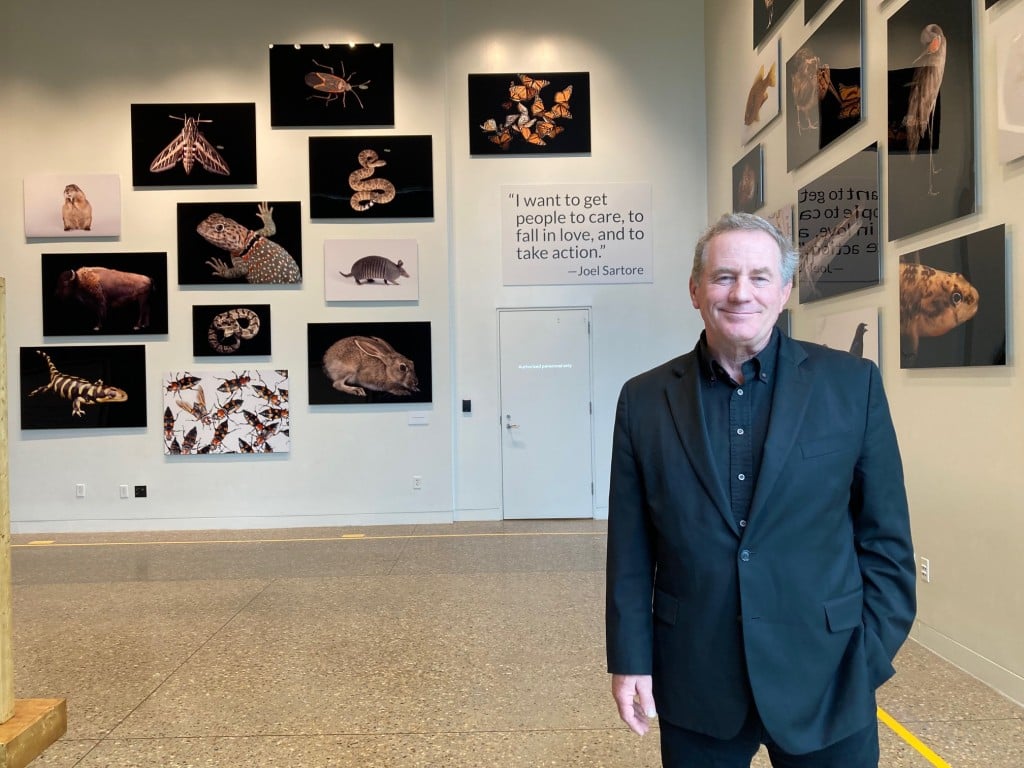 On April 28, I had the pleasure of going to Gathering Place for a sneak peek of the new National Geographic Photo Ark installation in the ONEOK Boathouse. The exhibition opened April 30, with two days of exciting activities. Beyond just getting to see the beautiful photographs, members of the media had the opportunity to talk with photographer Joel Sartore. Sartore spoke about the purpose behind the project, the work that goes into something of this scope, and more.
The goal of Sartore's project is to document every animal living in human in human care. Whether that be in zoos, aquariums, wildlife conservation organizations, etc. He is about half-way through the project, having documented about 12,000 species out of an eventual 20,000 or so. Sartore anticipates it being a 30-year project, taking him across the globe.
More than just capturing compelling photographs, Sartore hopes to inspire viewers to care about the animals portrayed. He notes that it is often easier for people to care about larger, flashier animals, but a lot of the animals that need help are small and not as well known. Think frogs, insects, freshwater mussels, etc. Each photograph displays the animal on either a black or white background so there is nothing to distract the viewer from the creature itself. And the canvases are all similar in size, which is intentional. Both large animals, such as bison, are displayed at the same scale as smaller animals like katydids. Because they're all equally valuable.
The Process
As someone who has tried and failed many times to photograph their cat, it was fascinating to learn a little about how Sartore is able to capture his photographs. And the whole process is with the animal's best-interests in mind. For smaller animals, there is a small tube lined with both a black and white lining. The animals don't even need to know that people are around there – all they see is the small tube and the lens of the camera. They remove the first lining when finished, and take more photos on the second. He said they typically only take about ten photos on each background, so it's a quick process.
For larger animals, they usually prep a room in advance, letting the animal eat meals there for a couple days before the shoot, so they're in a familiar environment. The zoo/aquarium/rescue staff is an important part of the process.
Although the Photo Ark project keeps Sartore busy 7 days a week, 365 days a year (including major holidays), he is its only photographer. With such a specific, streamlined process – and the need to keep the animals calm – I can see why. However, his son, Cole, often accompanies him and helps.
Education
To help viewers engage with the photographs, Gathering Place has included thought-provoking questions and prompts in the exhibition area. Beyond this, you can pick up a National Geographic Photo Ark scavenger hunt sheet, and they also provide scavenger hunt lists that you can do throughout the park.
Make sure to read the photography label cards, as you'll learn fascinating facts about the animals displayed! My favorite was the katydid card. Did you know that katydids can be born pink, yellow, etc.? We just never see these different colors in the wild because they aren't camouflaged, and therefore more at risk to predators. Incredible!
Visit gatheringplace.org/events to stay up-to-date on educational programming that Gathering Place will host throughout the duration of the exhibition.
What You Can Do
A representative from Oklahoma Today asked what people can do if they are inspired to take more action to protect the planet after viewing the exhibition. Sartore mentioned, among other things, thinking about how they spend their money: "In your purse or your wallet, you have the power to save the world or to tear it up." Insulating your home, reducing what you buy, watching how much meat you eat…all these things can save you money but also are good for the planet.
Later, I had the opportunity to ask what advice he would give to kids looking to support conservation efforts. He said, Bug your parents. Encourage your parents to plant native plants like milkweed, and quit watering your lawns. (More native plants, less manicured lawns.) Encourage them not to buy things that are harmful, and get into conservation by visiting zoos and aquariums. Become a member of these places because your dollars are "literally being injected into conservation efforts."
Since Joss has been fearful of bugs, I asked briefly about that. Can education help? Sartore mentioned "indoor syndrome." Kids raised in urban areas often don't spend a lot of time outdoors, or at least not out in nature/green space. I do think Joss has had some excellent education. He knows more than I do about pollinators and recycling probably. But still, getting out into nature more could help, I'm sure!
*Side note #1*
Both the Tulsa Zoo and Oklahoma Aquarium of teen volunteer programs. Learn more at tulsazoo.org/support-us/volunteer/zooteens and okaquarium.org/199/Aqua-Teens.
*Side note #2*
Would love to start a list of books for kids about conservation. But one we have enjoyed is Amara and the Bats, written and illustrated by Emma Reynolds. It's all about one girl's love for bats and her campaign to bring bats back to the park near her new home.
One thing Sartore said that stuck out was that these animals are waiting to make a comeback – we just need to take the pressure off.
Photo Ark Special Events
Gathering Place will host Photo Ark-related events at Gathering Place through July 31. These include Animal Encounters on Fridays at 10 a.m. and art-making activities Tuesdays at 10 a.m. in June and July. Learn more at gatheringplace.org/events.
---