Valentine's Day Crafts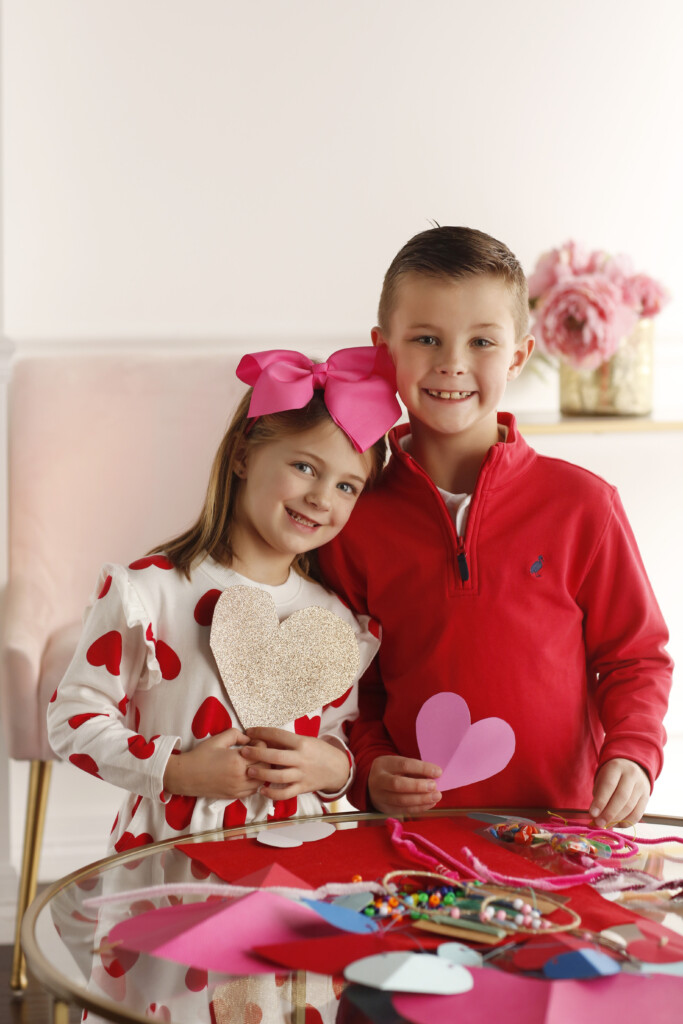 Here are four easy and fun Valentine's Day crafts for kids to enjoy with their families.
Craft #1: Valentine's Friendship Necklaces
Supplies:
Red or pink foam paper sheets or construction paper
String
Red, white, and pink beads
Scissors
Hole puncher
Step 1: Fold a piece of paper and draw half of a heart on one side. Keeping the paper folded, cut out the heart.
Step 2: Use scissors or a hole puncher to make a small hole in the middle of the heart.
Step 3: Put the string through the hole and begin to put beads on the string.
Step 4: Once you're done beading, knot the string at the top to create a necklace.
---
Craft #2: Valentine's Day Pins
Supplies:
Glitter, sequins or gems
Hot glue gun
Safety pin or a flat lapel pin
Construction paper or tiny wooden hearts
Step 1: If you're using construction paper, fold the paper in half and draw half a heart. Cut the heart out.
Step 2: Glue the gems or sequins on one side of either the wooden or construction paper hearts.
Step 3: Finally, hot glue either a safety pin or a flat lapel pin to the back of the heart.
---
Craft #3: 3D Hearts
Supplies:
Red construction paper
Printer paper
Scissors
Glue
String
Step 1: Draw half of a heart on printer paper and cut it out to use as a template.
Step 2: Fold a piece of construction paper and use the template to cut out four hearts.
Step 3: Glue the string in the middle of one of the hearts. Then glue one half of a second heart to one half of the first heart. (This should be done on the side where the string is.)
Step 4: Repeat the process by gluing half of a third heart to the unattached half of the second heart.
Step 5: Lastly, glue the last heart to the unattached halves of the third and first hearts.
---
Craft #4: Valentine's M&M Butterfly Treat Bags
Supplies:
Ziploc baggies
Red, pink, and black markers
Googly eyes
Clothespins
Pipe cleaners
M&Ms
Step 1: Color the clothespins and let them dry for a few minutes.
Step 2: Glue on googly eyes and twist the pipe cleaners to create antennas, then glue them to the back of the clothespin.
Step 3: Put M&Ms in your Ziploc baggies, then fold the top down to create a gap in the middle to put the clothespin. Put the clothespin in the middle of the bag to finish the butterfly!
Mya Safary is a junior at Cascia Hall with an interest in writing and journalism. She worked for TulsaKids as an intern during her January minimester.
---