Tulsa Rocks Concert #1 Benefitting Tulsa FMAC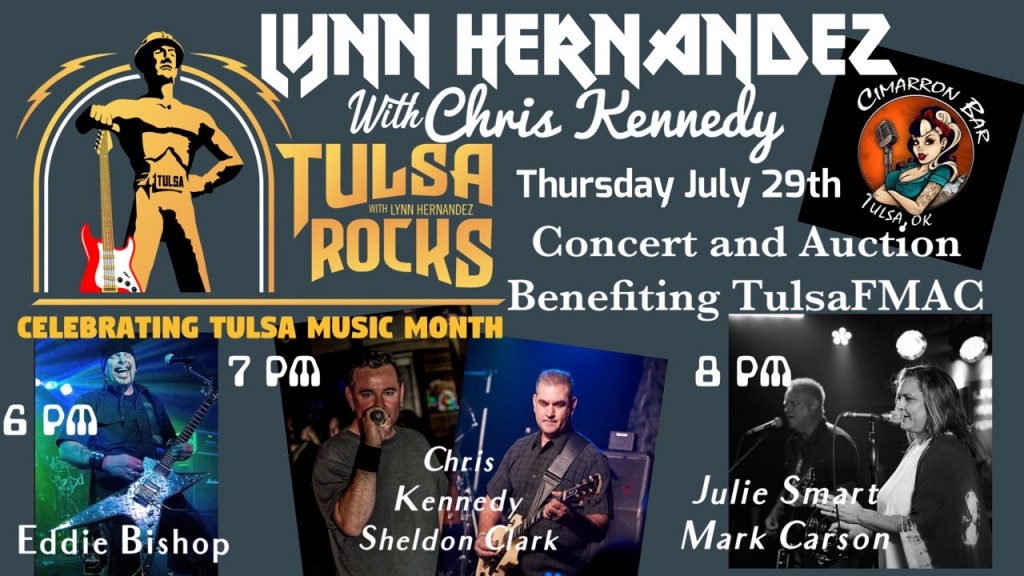 I remember as a kid watching my older brother Roy practice his drums. I was around 6 and he was around 9 when he got his first drum set. I was always amazed at how he could use his foot pedal in one certain beat pattern, his left hand striking his snare drum to a different beat pattern and his right hand striking his tom-toms with a third different kind of beat pattern. I mean, HUH? How does a person do that?
The same way you get to Carnegie Hall: Practice, Practice, Practice.
Many times, as a kid I wanted to go outside and build forts or play Evil Knievel on our bikes or see if we could finally pull apart my Stretch-Armstrong. When recruiting my brother to go with me, he often he couldn't because he had to practice for his upcoming drum lesson. The rejection sometimes made me sad or mad, but he had the desire and dedication to achieve his goals.
I took guitar lessons around the same time because I had the desire to be the next Ace Frehley. What I lacked was the dedication part. As a result, my older brother became one of the best drummers I've seen, and I've seen A LOT of drummers. Me? Welp, I finally ripped my Stretch Armstrong to pieces but alas, discontinued my guitar lessons. I hope you have better luck with your kids and their music lessons. I'd love to see some pictures of them practicing or at a recital or something. I'll post some of the pictures in my next blog if you email me: Lynn@Tulsa-Rocks.com
This is the root of why I love watching live music so much. I've taken lessons to play guitar, drums, and piano. None of them stuck. Or more appropriately, I should say I did not stick with any of them. Having attempted to learn them, I understand how hard it is to play them. So, when I see a guitar player, drummer, etc. jamming in their "zone," I am happy to go along for the ride. As a result, I became a big fan of the prog-rock bands of the '70s like Yes, Genesis, and Rush. Their unique and complex time changes and styles had me awestruck. It's hard to even TRY and air-drum to Neil Peart of Rush!
So, I may not have been able to be in a band, so I did something I was good at, talk about rock bands. I was always eager to tell my friends about the new band or album I just heard. I never dreamed I could make a living by just playing music and talking about bands, but that's what I've done for the past 20 years. Being a radio DJ for me was exactly like you see Dr. Johnny Fever on WKRP in Cincinnati. In the control room cranking up your favorite song!
Along the way, I have gotten to know and hang out with many big national bands like Metallica, Linkin Park, and Seether. Plus, I've interviewed and become friends with some of my childhood heroes like Ozzy, Rush, Ronnie James Dio, and Candlebox. And when my brother Roy joined a band in Austin called Mad Hatter, I began hanging out with many local bands. And while in radio, I always connected with local artists. While on two rock radio stations in Austin, 101X & KLBJ, I would occasionally be able to play local bands and talk about them on the air. And while in Dallas Fort-Worth on 102.1 The Edge and 97.1 The Eagle, I'd occasionally fill in on their "local shows" and play local music.
And even today, while I am between radio stations, I want to help local artists by having a fundraiser for Tulsa FMAC. They are an organization that provides resources to local musicians and artists. They are also tasked with educating the rest of the country about our very talented pool of artists and support staff to create major motion pictures and albums in and around Tulsa.
Tulsa Rocks Benefit Concert #1
So, this Thursday, July 29th at 6:00 p.m. at Cimarron Bar, I am hosting an acoustic concert. It is called "Tulsa Rocks Concert #1." This is to celebrate Mayor Bynum's declaration that forever more, July is "Tulsa Music Month" and to benefit Tulsa FMAC.
There will be three sets of local artists: Eddie Bishop, Chris Kennedy & Sheldon Clark, and Julie & Mark Carson. I'll also have lots of items you can bid on in silent auctions like Rocklahoma tickets, a $100 gift card to Myers Duren, 2 Season Passes to Safari Joes H2O, autographed guitars from Queensryche, Rev Theory, and more.
---