Tulsa Police and Engine Room Boxing Create Afterschool Program at Monroe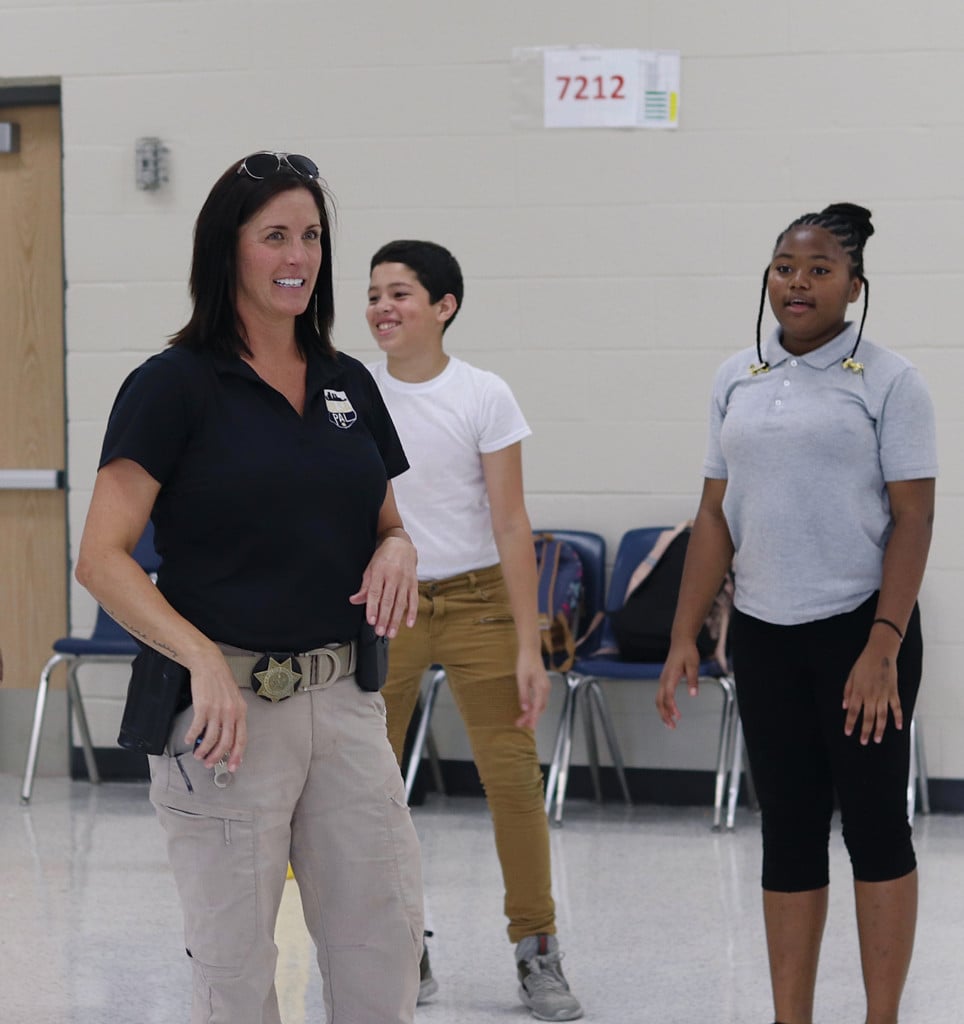 Crowded classrooms, teacher shortages and budget deficits – Tulsa Public Schools has it all, and it's a sad state of affairs for our children and our city. With no simple solution on the horizon, it's easy to get discouraged. While it may be impossible to solve the big problems overnight, creative and dedicated individuals are finding a way to make a difference.
At Tulsa Public School's Monroe Demonstration Academy, the Tulsa Police Activities League and the Engine Room Boxing Gym are joining forces with the school's administration to bring an afterschool, non-contact boxing program directly to the students, teaching the value of discipline, self-control and perseverance with every jab, straight and hook.
A former TPS physical education teacher and a regular at the Engine Room's fitness boxing classes, Monroe Assistant Principal Rob Kaiser recognizes the benefits of regular exercise in his own life and the lives of his students. With the help of the gym's owner and head coach, Aaron Sloan, Kaiser hatched a plan to offer non-contact boxing through the Engine Room's Ready to Fight Youth Specific Boxing Program as part of the Monroe's afterschool program this fall. With a plan in place, the only thing missing were the coaches.
As a result of recent school closures, Monroe was left as the only middle school in the McLain High School "feeder pattern," causing the school's student body to triple in size just as the semester began. An already tight budget was now stretched thin, leaving no room for new hires. Fortunately, help was just a uniform away in the form of The Tulsa Police Activities League (TPAL), a program designed to foster positive relationships between kids, police officers and the community. Volunteers from the Tulsa Police Department and a representative from the Tulsa Fire Department converged on the Engine Room for boxing training with Coach Sloan at the end of the summer.
"With the funding challenges we face in public education, we see this program as a way to offer a safe, affordable and healthy afterschool activity to engage the students and expand their learning opportunities," Sloan says. "In this particular instance, working with volunteers from the Tulsa Police Department and the Tulsa Fire Department also allows the students to interact in a fun and positive way with first responders in their community."
Khara Rogers, Community Relations Officer for TPAL, is one of those volunteer coaches. According to Rogers, PALs in other cities across the nation are involved in boxing programs in their communities, so this was a perfect fit for the local officers.
"I was excited to be presented with the partnership with the Engine Room and Monroe," Rogers says. "The Tulsa Police Activities League has been researching boxing programs and had discussed different options and avenues within the community. This program seemed to be exactly the layout and plan that we were looking for."
Roger's recruited Tulsa firefighter Xavier McNac to join his fellow first responders. McNac began boxing when he was 19, and for many years, he was the fight coordinator for "Smoke & Guns," an annual charity fight night with police officers and firefighters in the ring. McNac believes boxing taught him a lot of useful life lessons, and he hopes to share those with the kids at Monroe.
"Boxing changed my life completely. I would not be where I am today without it," he says. "It taught me a lot about drive and pursuit. I call it 'education' – educating you through fight training. It teaches you a lot about yourself. It teaches you a lot about what it takes to be successful."
Rogers agrees. "Any athletic program is great for kids because it helps them focus better in the classroom and at home. Boxing is excellent for kids that are not involved in team sports and have better success competing with themselves," she adds. "It takes a different type of responsibility, focus and concentration than other sports. The kids learn respect, discipline and accountability because it's a sport that's completely based on their determination and work."
According to Rogers, the program is also a good opportunity to have positive and fun interactions between the kids and the officers – a chance to build trust.
"From the officer standpoint, it's important for the children to see that officers are human and also want to help them succeed," she explains. "They are our community's future, and we don't want to see them get involved in gangs, crime or drugs. By helping them in any type of program, there's more potential for them to maintain a positive pathway for their future."
McNac hopes to be a positive role model, too.
"I want to be a representative for the Fire Department. I want to help," he says. "It's not teaching them to fight. It's teaching them to be disciplined. Fighting takes discipline. I think this could be what they need – a path, an outlet. A way to help keep them structured and focused. There are a lot of bad things that can go on. If we can give these kids a positive influence and somewhere to go, maybe we can prevent some of them. I'm hoping that's what this will do."
Julie Wenger Watson is a freelance writer who's worked in all aspects of music promotion. She's also Co-Director of "Live From Cain's," a public radio show pilot.
---