Tulsa Couple Hopes to Open Children's Bookstore at Mother Road Market
But They Need Your Help at the Pop-up Shop on Thursday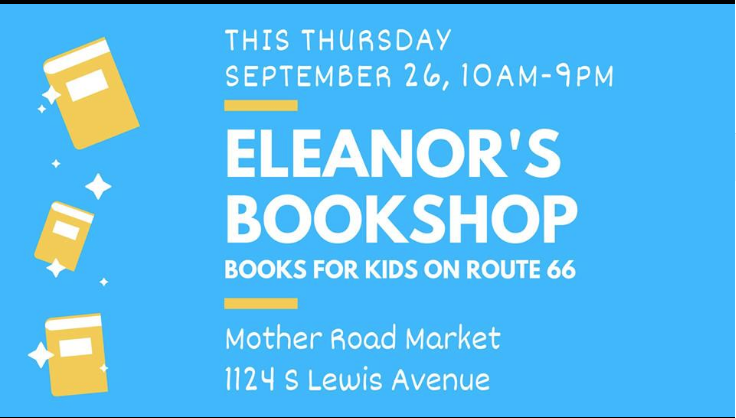 Matthew and Kelsey McAfee want to open a children's bookstore in Tulsa. If you talk to Matt, they are opening a children's bookstore in Tulsa. The McAfees are one of 10 finalists in the Lobeck Taylor Family Foundation's competition to add three retail shops to Mother Road Market at 11th Street and Lewis Ave. Matt says they are in it to win it, and has no room in his head to accept that Eleanor's Bookshop will be anything but successful.
The 10 finalists will each have a one-day pop-up shop and, depending on how well they do in terms of sales, public interest and a rubric of criteria, three entrepreneurs will be chosen in October to have a permanent shop at Mother Road Market. The McAfee's pop-up shop day is this Thursday, Sept. 26 from 10 a.m. to 9 p.m. Besides books, the couple plans to have activities, lemonade and products such as candles and T-shirts for sale. Most of all, though, the McAfees want to create a welcoming space where they can help kids find that perfect book.
"We want it to be inclusive and approachable for every child in Tulsa," Matt says, "where anybody can find a book they're going to like. Everybody can be a reader. We can help them find a book they like."
The McAfees met when both were teaching at Edison Middle School. Matt taught American History and Kelsey taught eighth-grade English.
"The students put us together," Matt said. "They call it 'shipping' (as in 'relationships'). At the time, if students had seen two people they thought should be together, they 'shipped them together.'"
Matt said he agreed with his students and knew that he wanted to date Kelsey, but it took a little longer for her to come around. However, by the end of the year, the two were in love.
Children's literature is one of the passions that Matt and Kelsey have in common.
"We love children's literature," Matt said. "We always pick up a children's book when we travel somewhere."
Because Matt loves history, the couple decided on the name Eleanor's Bookshop, using Eleanor Roosevelt at the namesake. The store will have many books with historic themes, stories and characters, including Frank Keatings' biographies for children.
As a nod to the type of store and to the namesake, Matt said they will sell only two books for adults: "If You Asked Me," by Eleanor Roosevelt, and "Wild Thing: The Joy of Reading Children's Literature as an Adult."
"We support independent book stores and we need more of them," Matt said.
He believes that Mother Road Market needs a children's bookstore that can be a destination for visitors and locals alike. "It's about a destination where we can have hundreds of books for kids," Matt said.
The McAfees so believe that Mother Road Market is the place for them, that they cancelled the lease on a space they were going to rent when they found out about the competition.
"It was good timing," Matt said. "Can Eleanor's bookshop actually work? We applied and found out that we were finalists. And, out of 10 finalists, we were the kid-focused one – the only one in this category."
Matt says that, even though everything happened quickly, he feels they're getting some momentum.
"We hope that Tulsa will show up!" he said. "If all goes the way we plan, we'll sign a lease [at Mother Road Market] in January 2020."
Follow Eleanor's Bookshop:
Facebook: @EleanorsBookshop
Instagram: @eleanorsbookshop
Website: www.eleanorsbookshop.com
---