Treats for the Thanksgiving Table
Let your kids help you make some fun treats for your Thanksgiving feast!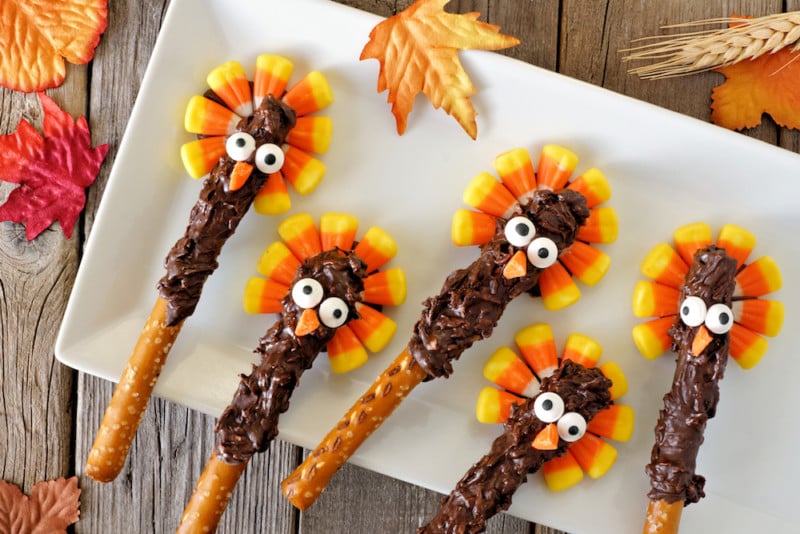 Bugle Cornucopias
I never particularly liked runts, but for some reason, these Bugle cornucopias hit the mark for my young taste buds. And they couldn't be easier!
Ingredients:
Bugles
Ritz Crackers
Runts
Vanilla Frosting
Method:
Spread frosting on top of Ritz cracker.
Set one Bugle on top, using the frosting to "glue" it down.
Arrange runts to look as though they are spilling out of the bugle.
Enjoy!
---
Acorn Kisses
Ingredients:
Nutter Butter Bites
Mini Chocolate Chips
Hershey's Kisses
Method:
Melt a small portion of your mini chocolate chips in the microwave.
Dip the flat end of a Hershey's Kiss into the melted chocolate. Place a Nutter Butter Bite on top of the flat end of the Kiss. The chocolate should hold the two together.
Dip the flat end of a mini chocolate chip into the melted chocolate. Place this, melted-chocolate-side-down on top of the Nutter Butter bite. This is the stem.
Repeat, until you have an array of acorns!
---
Pretzel Stick Turkeys
You may need to fall into "Team Candy Corn" in order to enjoy these, but even if the presence of candy corn keeps you from wanting to "gobble" these up, they'll still make a cute addition to your Thanksgiving table.
Ingredients:
Large Pretzel Sticks (Pretzel Rods)
Candy Eyes
Candy Corn
Reece's Pieces (separate out orange ones)
Chocolate Chips
Small Chocolate Cookies—try Keebler Grasshoppers or Oreos, separated with crème removed
Method:
Melt chocolate chips in the microwave or double boiler.
While chocolate is melting, lay out cookies on a sheet of wax paper on top of a baking tray (you won't be baking these, but this will make it easier to move the cookies into the refrigerator). Make sure there's enough room in between the cookies for the pretzel rods.
Spoon melted chocolate on top of the cookies, and arrange candy corn in a circle around the outside to resemble turkey feathers. The pointed end should be facing toward the center. Make sure you leave a space open for the pretzel rod.
Dip pretzel rods in melted chocolate, about ½-way down. Place on top of cookie. Before chocolate hardens, add candy eyes. Use Reece's pieces to create the beak.
Chill in refrigerator.
---