Travel to Oklahoma's Great Salt Plains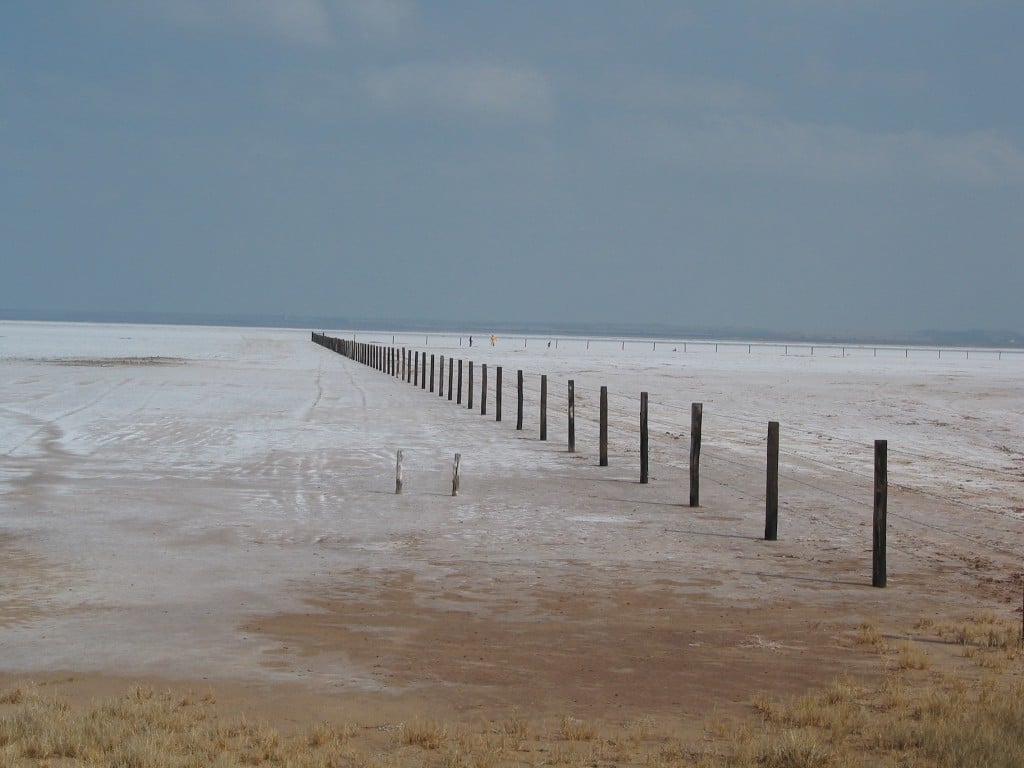 If you are looking for a new twist to your family travel itinerary this year, a day or two's trek to the Great Salt Plains in Northwestern Oklahoma will certainly prove flavorful. Only a few hours away from Tulsa, this unique destination offers a one-of-a-kind adventure. There is literally no other place like it on the planet!
Situated along the Oklahoma-Kansas border, the Great Salt Plains includes an expansive state park for camping and hiking, an adjacent national wildlife refuge for exploration, bird watching and excavating and a partially salted lake, with over 40 miles of shoreline with beaches for swimming and fishing.
The Salt Plains were formed during prehistoric times when the ocean covered Oklahoma. Today, the ocean's recession left remains resembling a Hollywood depiction of a post-apocalyptic civilization. This wide-open, barren landscape stretches out over a seemingly endless horizon on the west side of the Great Salt Lake. It is a virtual sea of salt-covered sand.
Digging for Crystals
Likely, for children, digging for the unique, oh-so-fragile selenite crystals on the wildlife refuge's salt flats will be the crowning jewel of your visit. In fact, it may be all they will want to do while there. Mining is easy as the children sprawl out flat on the ground to uncover the unusual hourglass shaped gems. With the use of a small handheld shovel and a little elbow grease, crystals are waiting for the taking just a few inches below the earth's surface. Crystal mining can be a very dirty job—-so bring jugs of water for rinsing the jewels and the kids!
Excavating opportunities abound between April 1 and October 15. So, outfit your clan in old pairs of jeans, worn-out T-shirts and gently used water shoes or sneakers. Trust me: All of you will be filthy by the time your gathering pails are full. And, don't forget to bring lots of towels and a change of clothes along with plastic bags to house your dirty laundry. Oh, and, a quick run through the car wash is recommended upon your return home. This will allow you to remove the salty sand from your vehicle.
Camping and Wildlife
Camping is available at the Great Salt Plains State Park, complete with RV hook-ups and restrooms so an overnight stay is simple. Making your visit an overnighter means that kids can not only dig for crystals but also will have plenty of time to admire the unique surroundings, including marshes and grasslands. The area is home to over 300 bird species that migrate to the Wildlife Refuge, making it a destination for both novice and experienced birders who can see turkey vultures, herons, owls, pelicans, whooping cranes and bald eagles. This area is one of the most important habitats for shorebirds in the Western hemisphere, so your novice ornithologists will not be disappointed.
With enough preparation, if you're not up for pitching a tent, you can reserve one of six renovated western-style cabins. Each comes complete with a fridge and stove and affordable rates. Rates may vary depending on the day of the week. Watching the sun rise over the salt flats may be worth an early waking. And fishing for sand bass and catfish might just provide tasty treats for a late breakfast. If you have time, kayaking and canoeing can top off your stay.
Don't overlook Northwestern Oklahoma's distinctive geological destination. It will bring hours of enjoyment and many special souvenirs — oodles of crystals for the memory box.
Jet, Oklahoma
580.626.4731
800.654.8240
For more information about the Great Salt Plains, check out stateparks.com, fws.gov/refuge/salt_plains and travelok.com.
---