Touring the Bob Dylan Center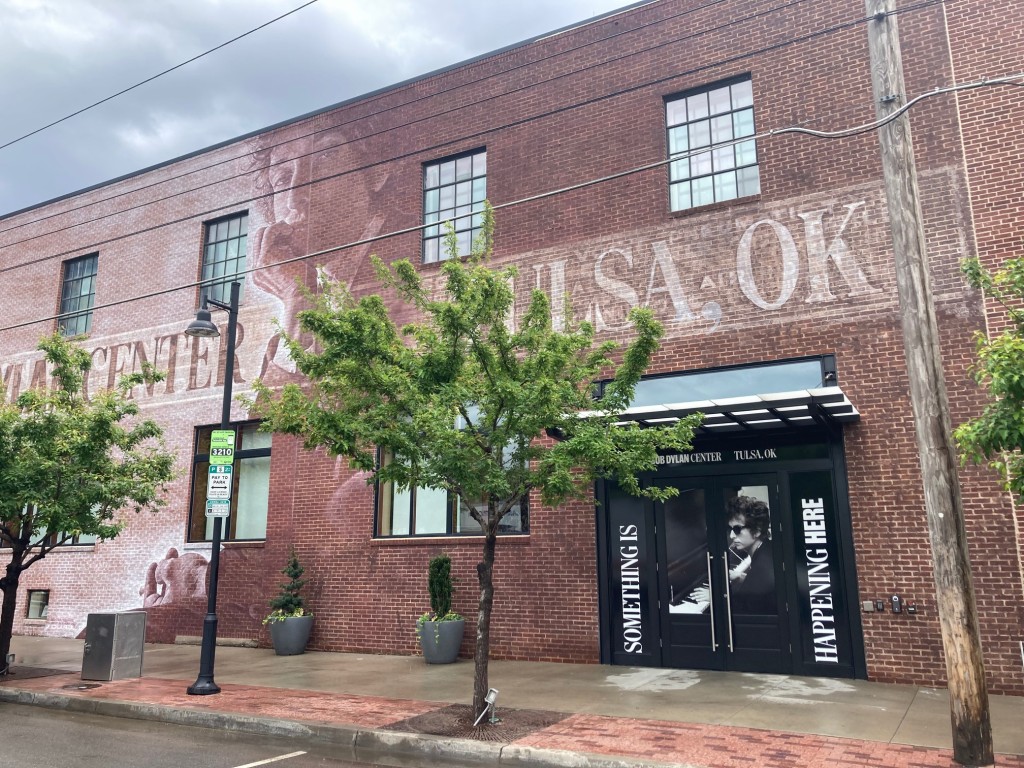 Tulsa's long-anticipated Bob Dylan Center is opening May 10! Last week, I was lucky enough to get early access. I've been excited for the opening mostly because I know my Dad is excited about it. He loves Bob Dylan, and I have several nice childhood memories of him playing "Blowin' in the Wind" and other favorites on guitar.
Entrance/Gift Shop
When you first enter the Bob Dylan Center, you're in a large room with a ticket counter and gift shop. Here, you'll find BDC merch like T-shirts, hats, etc., as well as Bob Dylan albums. There's even a nice section for kids, with picture books and a build-your-own ukulele kit! (Do I want this? Yes!)
Most of the people I saw were walking around with headphones. So I believe you can checkout headphones with a guided tour at the front desk as well. I was in a bit of a hurry so didn't do this, but I'm sure it would help, as there's a lot to see and absorb!
The Main Floor
The main exhibition space is composed of multiple "columns." Each column features a different Bob Dylan song, and walks you through the writing/recording process for that song. As a (very bad) songwriter myself, this is fascinating! You get to see Dylan's handwritten lyrics, and how a single song evolved over time. There's one interactive screen that walk you through about seven versions of the same song, and you can trace how key phrases changed/moved in various versions.
Along the walls of this room, you'll find a timeline of Bob Dylan's life. There's so much to read and look at, I definitely didn't do it all justice with the limited time frame.
Off of the north side of this room, you'll find the Reading Alcove, curated by Joy Harjo. There's a large magnetic poetry wall on one side, and then a nice, long bench underneath shelves of relevant reading material. And lots of extra pillows. So if you really want to dive deep into the life and music of Bob Dylan – or Woody Guthrie, Elvis Costello, etc. – grab a pillow and a book, and settle in!
Second Floor
Head upstairs, and you'll find even more artifacts from the Bob Dylan Archive. According to the BDC's website, "The archive consists of more than 100,000 items, including essays, poems, liner notes, correspondence, philosophical musings, never-before-seen photos and more, spanning nearly the entire length of Bob Dylan's career." Here, you'll see harmonicas and other instruments, large portraits drawn by Dylan, film strips and much more.
I loved seeing the large bag of fan mail, including a host of get well cards, I'm guessing sent following his motorcycle accident.
A temporary exhibition features the work of photographer Jerry Schatzberg. Large-scale, iconic celebrity portraits of Dylan and others.
There's so much to read and learn, you could easily spend at least a couple hours here if you really want to take it all in.
Hours and Admission
The Bob Dylan Center will be open 10 a.m.-6 p.m., Wednesday through Sunday. It is located at 116 E. Reconciliation Way, in the Tulsa Arts District.
Admission is $12 for adults, $10 for Seniors (55+), veterans and students (18+ with ID). Children 17 and younger get in free, as do K-12 teachers. Tickets can be reserved in advance. Also, adults can purchase dual tickets to both the Bob Dylan Center and the nearby Woody Guthrie Center for just $20. Learn more at bobdylancenter.com/visit.
---