Touring Discovery Lab's New Gathering Place Location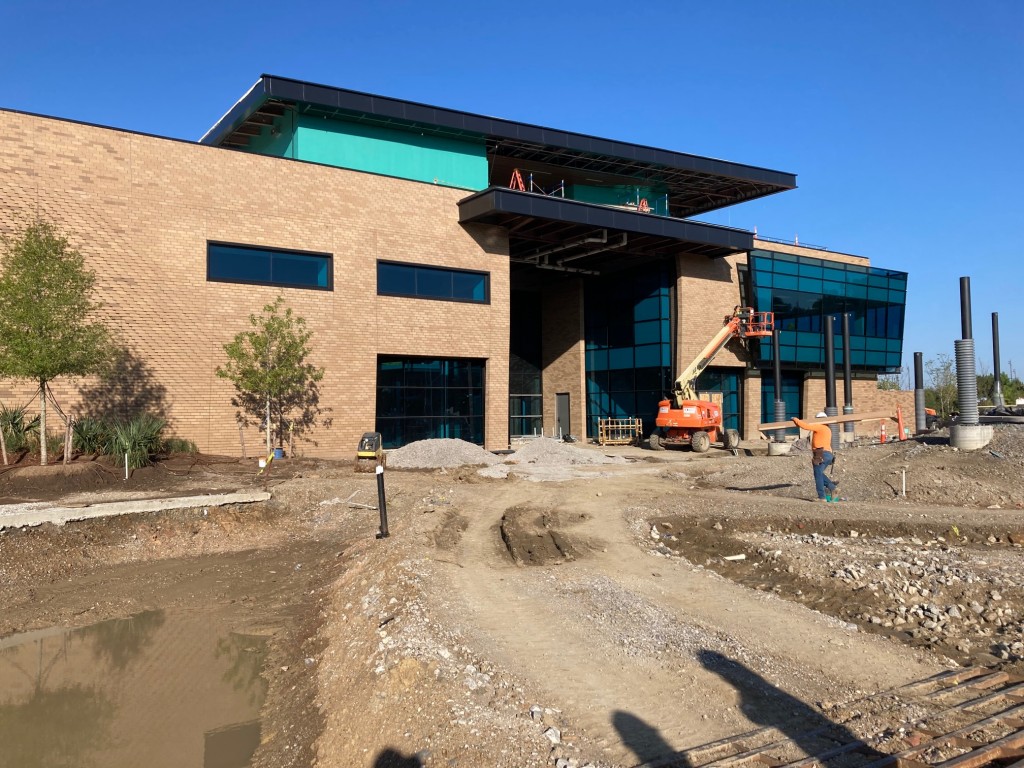 This week for Fall Break, Joss is back again at science camp! He enjoyed Discovery Lab's summer camps so much, when I heard they were having a weather-themed Fall Break Camp, I immediately signed him up. We didn't have plans to go anywhere, so it's a win-win. He'll have a blast learning cool science facts and doing experiments, and I won't have to try to work from home while worrying about screen time. All that to say, we're big fans of Discovery Lab. So I was thrilled to tour their new facility at Gathering Place, along with TulsaKids Editor Betty Casey!
Keep an eye out in TulsaKids' December issue for a feature story all about Discovery Lab. We'll cover the history of the museum, and what to look forward to in the future. For now, I'm just going to take you on a tour-by-photo and provide information about Opening Day, memberships, etc.
Exploring the Lab: Main Exhibit Hall
As you can see, it is still very much under construction! But what these first two photos show is the future main exhibit hall. It will feature over 20,000 square feet of exhibits, divided up into seven sections. Each will explore a different scientific concept, all of which will somehow tie in to life in Oklahoma. When we took the tour, our guide emphasized how important this was. There are three open rooms adjoining the exhibit space. One of which will be the Workshop, where kids can explore different hands-on concepts each month. There will be a Lab, where a Discovery Lab educator will conduct jaw-dropping experiments. And the third is the Little Lab, sponsored by the Sanford & Irene Burnstein Foundation. The toddler area is a popular feature of the current Discovery Lab, and the Little Lab will provide more space for the littles in the new facility! (See below.)
For contrast, Discovery Lab provided the following renderings of the Little Lab. Doesn't this look like an incredible place to play??
For kids who adore the tape slide, there will be even more tape tunnels to explore! Those three circular structures on the left in the picture below are future tape tunnels. These are placed all over the exhibit hall! Plus, there is an accessibility ramp leading to an elevator on the second floor, so everyone can enjoy the new space.
Another exciting brand-new feature is the silver spiral at the back of the above picture. This is going to be a kind of virtual reality experience. Although not with goggles. But it's going to have an interactive screen on the inside featuring, for example, an Oklahoma landscape. It will be movement sensitive, so if the screen is showing water, you'll be able to jump in puddles. Or push through a field of grass. And everything will respond to your movements. I hope that makes sense – but it sounds really cool!
Also on the first floor, you'll find the Bean Sprouts Café. Bean Sprouts specializes in providing kid-friendly fare for museums like Discovery Lab. You can find a sample catering menu here. But it will be nice to have a lunch option on-site! There will also be an expanded gift shop.
Exploring the Lab: Second Floor
This magnificent staircase is next to Riverside entrance. I got tired climbing it to the second floor, but it's a really fun design. There are also elevators though, so no worries there. On the second floor, you'll find the almost-7,000-square foot education center. Every TPS student in grades pre-K through 6th will get to go on a field trip to Discovery Lab every year. They'll get to do exciting STEAM experiments, and explore the exhibit hall afterwards.
You can also rent this space for birthday parties. It was hard to get a good picture out the window, but the view overlooking the river is really lovely. And as you can see, there are lots of windows!
Exploring the Lab: Thirty-One Twenty-Three
The third floor of the building is a separate event venue, which they're calling Thirty-One Twenty-Three. (The building's address.) This is for fancier, more grown-up events such as weddings. It opens up onto a balcony terrace, with views of the Arkansas River, Gathering Place and Downtown Tulsa.
Countdown to Opening Day
What's probably on everyone's minds is, When will it open?! I won't give an exact date, but the museum should be open to the public shortly before Christmas. Gizmo Guild and general members will have access even earlier in the month.
Discovery Lab's Owen Park location is scheduled to close at the end of October. They're having a big "good-bye" Block Party on October 31. The event will last from 11 a.m.-3 p.m., and include STEM activities, giveaways, etc. It's all free, but you do need to RSVP ahead of time. (ETA: The Block Party is Sold Out. However, their post about it said to check back closer to Oct. 31 in case there's additional availability.)
Gizmo Guild and Family Memberships
If you want to support Discovery Lab at a donor level, join the Gizmo Guild. This "philanthropic membership program" is $1,000 per year, so it really is a donation beyond a typical membership. Here's a list of Gizmo Guild perks, from the Discovery Lab website:
Gizmo Guild Members will jump to the front of the line and be the first to experience the new Discovery Lab — even before regular members
Unlimited free entry for 2 adults and up to 8 dependent children (adults are named on membership)
Recognition at the Gizmo sculpture in the museum plaza and in the Annual Report
20 Complimentary guest passes
2 Named Caregiver cards
Supports the museum to keep Discovery Lab accessible for ALL families
Limited edition Gizmo Guild Membership card for Gizmo Guild Members
As far as more general memberships, there are five different levels. The top two are the Family Premier ($250) and Family Patron ($500) levels. But most families may be interested in the Just for Two membership ($65); Family membership ($125); or Family Plus membership ($175). The difference between the Family and Family Plus memberships is that Family Plus covers four dependent children, and the Family membership covers two dependent children.
Since Joss and I are usually adventuring together, the Just for Two membership has been perfect for us. It's reasonably priced and gets you nice discounts on things like camp, which we've definitely taken advantage of!
Finally, here's a great video from the Discovery Lab website that walks you through the new space! So you can see what it will look like when it's more complete, with all the bright colors on the wall, exhibit installations, etc.
---