Throwing a Pokémon Party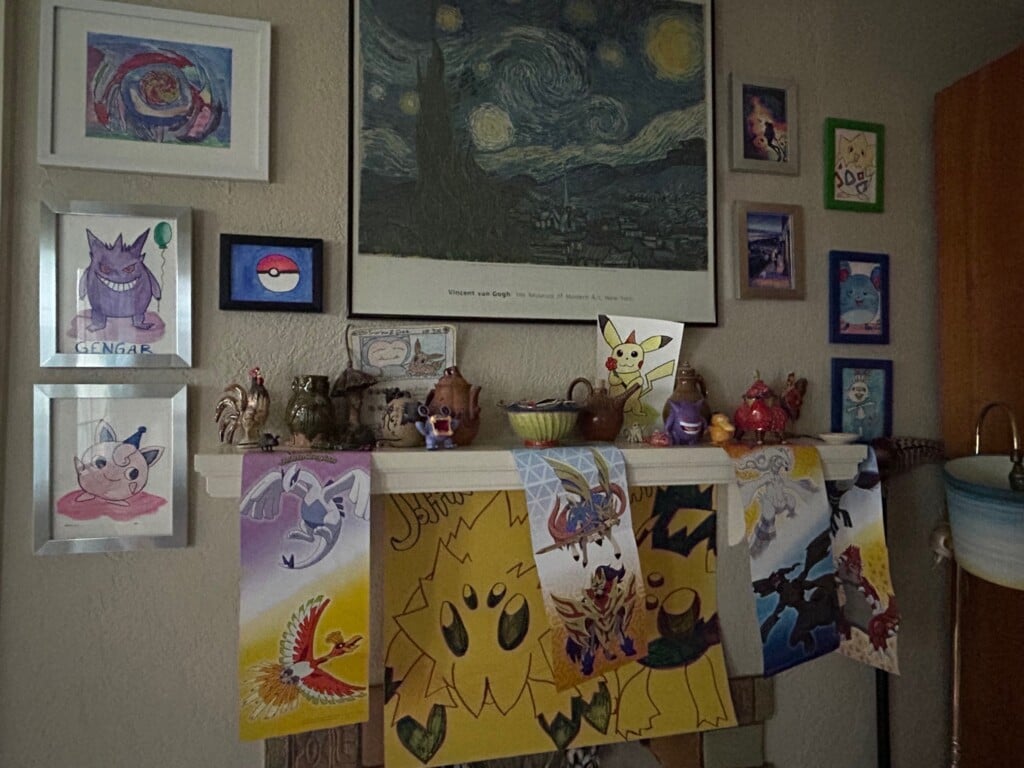 Joss turned eight recently, so last Sunday we hosted his birthday party! He'd originally wanted to do a Cat Condo II party (an app game he likes). However, I thought that might be a *little* obscure and wasn't immediately inspired with decorating ideas. So I suggested Pokémon as the theme. Since my suggestion, his interest in Pokémon grew exponentially (thanks to a Pokémon TV app and getting into Pokémon Let's Go Eevee). So overall, I'd say we made a good choice! Here are some easy things we did for a Pokémon Party.
1. Invitations
Joss has an app on my iPad that lets you design your own Pokémon cards. You can either upload photos or draw your own picture for the main image. Then, you can customize all the text. I saw that someone else used this app (or something similar) to design their own Pokémon card invitations. So I stole the idea and customized the text to include the Where/When/RSVP info.
Joss got inspired to create his own Pokémon cards in a similar vein, which he then wanted to print off and use as party favors so all his friends had their own custom cards. I didn't print off our invitations, just saved them to my phone and distributed them via the convenience of text messaging.
2. Decor
I enjoy watercolor painting, so my favorite thing we did planning the party was to paint watercolor Pokémon. I have several small framed prints in our living room, so I just placed our Pokémon paintings in front of the other prints. So this was a relaxing way we decorated for several weeks leading up to the party. The Pokémon are so fun and colorful, I may leave them up for awhile!
Joss doesn't love art projects at home (unless they're his idea), so I would have loved more contributions from him. However, he did enjoy drawing some more simple Pokémon, which I then painted, and he did a great job!
That's really the only decor I planned. We did end up making a large poster with two Pokémon on it, and hanging up four small posters that were in some books he had.
3. Activities
The main activity I had planned was a Pokémon figurine scavenger hunt. First, I'd bought round, plastic "gumball machine" balls and paint markers. (Similar to these.) The kids used the paint markers to decorate the plastic balls like Pokéballs. Then, we'd hidden some plastic Pokémon figures around the house and backyard. The kids could take their new Pokéballs and they each got to capture a Pokémon to take home.
I also laid out plenty of paper and art supplies so that kids could draw Pokémon (or whatever they want, really), or Pokémon Surprise folding art.
We also made a "Pin the Tail on the Gigantamax Mew" poster, but all the kids were having fun just running around that we didn't get to it.
Again, mostly the kids just ran around, talked about Pokémon, made up their own Pokémon battles, or played with other toys.
4. Food
I kept it very simple. There are probably loads of Pinterest ideas. But all I did was pick up cupcakes at Reasor's the morning of the party. I had ordered some plastic Pokémon rings on Amazon, so I stuck one on top of each cupcake. Easy, easy, easy.
For the adults, I got a veggie tray and bubbly water, and small bottles of water for the kids. It was an afternoon party, so I didn't think things needed to get too elaborate.
I did see a cute idea for making a Pokéball tray with strawberries arranged in a half circle on top, marshmallows (or apple slices) on the bottom half-circle, and a round bowl of sweet cream cheese dip in the middle.
5. Party Favors
We had fun with these. Thanks so much to someone in our Buy Nothing Group who gave us a large amount of Pokémon cards. Basically, we went to Vintage Stock and found some used Pokémon card tins for .99 each. (We didn't find quite enough, so I ended up buying some cardboard card holders there later for about the same price). Vintage Stock also sells Pokémon cards for ten cents each, and you can get used Pokémon cards on Amazon pretty cheaply (just order with plenty of time for shipping).
So between getting cards from Amazon, Buy Nothing and Vintage Stock, we had fun divvying them up between the expected party guests and what kinds of cards we thought they'd like. The idea was that they could either just take the cards home, or have fun trading at the party (a bonus activity).
I also ordered some nice Pokémon stickers and a book of Pokémon Mad Libs, which we included as well. (Tearing out individual Mad Libs sheets).
Anyway, it was a lot of fun to plan this Pokémon party! It was a great theme, and I'm glad we did it. Thank you to everyone who came and helped celebrate Joss and make his birthday extra-special.
---