The Work of Childhood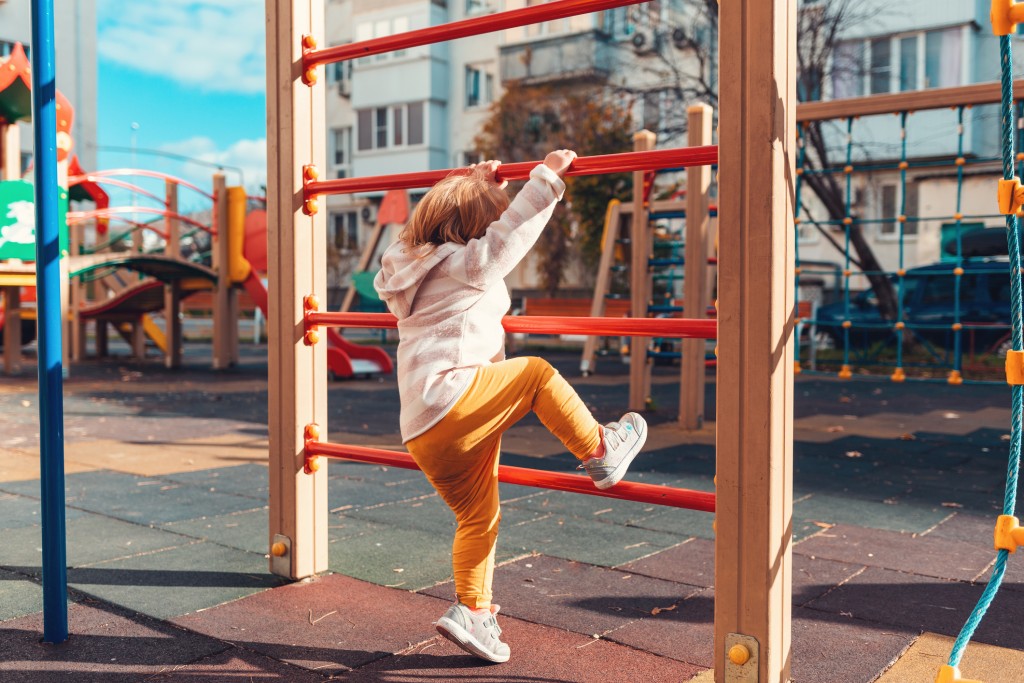 When my niece, her husband and their two children, Ella, age 4 and Maya, age 9 months, visited me and my husband last weekend, I was reminded how much learning takes place before your eyes with young children.
As Ella eyed the randomly stacked logs at Gathering Place, they must have seemed insurmountable. As she watched a boy scramble to the top of the structure and walk along one of the top logs, she said, "I don't think I can get that high." Soon, she was cautiously climbing up, first one log and then another until she was on top. "I did it!" she said. In those brief moments, not only was Ella watching and learning from older children, but she was also exercising her body and brain, all the while gaining confidence and self-esteem. These micro-bursts of development happen constantly in young children if they are provided with a rich play environment.
As Fred Rogers said, "Play is often talked about as if it were a relief from serious learning. But for children play is serious learning. Play is really the work of childhood."
Of course, other child development experts such as Maria Montessori and Jean Piaget recognized the serious work of play. And there are plenty of studies touting the importance of play in early childhood development. A recent report, The Power of Play, in the American Academy of Pediatrics publication, encourages developmentally appropriate play to "promote the social-emotional, cognitive, language, and self-regulation skills that build executive function and a prosocial brain." It also points out that countries that provide more recess see "greater academic success among the children as they mature."
Executive function supports the process of learning. It is essential to self-regulation. These skills cannot be learned on a screen or by doing worksheets.
If you're not convinced that your preschooler is learning more by digging a hole in the backyard than by doing something on a screen, read this report.
In developmentally appropriate play, children take risks. I saw Ella take a risk as she climbed to the next level on the log structure. She tested her ability as she tried different ways to reach the top. She looked at the rope net that might catch her at the bottom. Next time, she may be balancing and walking across the top like the older boy she saw.
Baby Maya was doing her own play. She has recently learned to crawl, which gave her greater access to grabbing anything within her crawl space that looked interesting. She has also learned that smiling, waving and clapping get lots of responses (and silly faces) from surrounding adults.
As we approach Mother's Day, you might feel exhausted from one more imaginary play session or those endless games of "peek-a-boo," but keep in mind that you are building a healthy relationship with your child and facilitating the most important work of childhood – PLAY!
---