The Power of Pets:
A Lot of Love to Give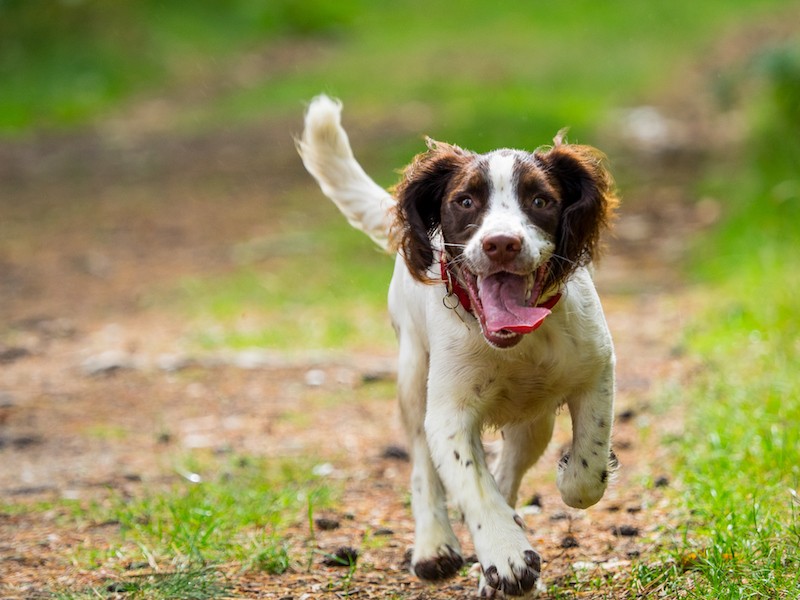 My husband and I weren't sure we were ready for another round of dog ownership when we brought home 6-month-old Cubby, a very "springy" English Springer Spaniel, to be a companion for our then 9-year-old son Alex.
Though my husband and I are both animal lovers, we knew what was ahead: dog hair on the couch, mud on the carpet, vet visits, flea, tick and heart worm preventatives, "dog duty" in the backyard, barking, chewing, property damage — all packaged in an adorable bundle of fluff and energy. Due to some recent losses in our family, our son was hurting in ways we couldn't kiss away. Bedtime was especially hard. A dog seemed the perfect answer.
Cubby seemed to sense his role in Alex's life, licking his face, curling up in his lap, and following him wherever he went. In Cubby, Alex had a full-time playmate, bodyguard, confidant, and partner-in-crime. Bedtime was no longer an issue.
Entering Alex's room to kiss him goodnight, we'd find Cubby tucked next to him — two freckly faces on one pillow. Alex's fears were no match for "The Cub" and they slowly melted away.
Benefits of Pet Ownership
Dr. Oleta Whibbey, counselor at Mayo Demonstration School, understands the therapeutic benefits of companion animals and recently adopted a Schnauzer, Camille, for her 10-year-old granddaughter, Alexandria. "Alexandria was living between two families," says Dr. Whibbey. "Camille was a good stress reliever for her.
There are times when children want to be alone — to have an emotional moment. During these times a dog provides comfort. When Alexandria is petting Camille, she has someone to love on. It gives her a reason to feel good about herself."
Dr. Whibbey says that having Camille has also given Alexandria more confidence. "She will get out on her own to walk the dog," says Whibbey, "I don't have to be with her all the time. It's helped her let go and become more independent."
For Alexandria, her Schnauzer has become a best friend. "My cousins live next door and they weren't playing with me. I was getting really lonely, so I got Camille. She's kind of awesome! I get to play with her every day!"

Colton Butler, a fifth grader at Mayo, believes his three Great Danes, Star, Saxon and Olga, can sense his emotions. "They have this feeling," he says, "They know when I'm sad. They come up and cuddle me."
According to an article by Jane Brody in the New York Times, "Pets can be a source of solace (a teddy bear for all ages) and help to dissipate negative emotions like anger, disappointment and grief. Virtually all people talk to their pets," she adds, "and sometimes use them to work through conflicts or problems."
Additionally, according to the American Academy of Child & Adolescent Psychiatry website, "Children raised with pets show many benefits including increased self-esteem and self-confidence. A good relationship with a pet can also help in developing non-verbal communication, compassion, and empathy."

Dr. Whibbey stresses that one of the reasons Camille has worked out so well in her family is that she was careful to get "the right kind of pet at the right time. Alexandria had been begging me for a dog since she was five. But I knew at that age the dog would be my responsibility. I also waited until after Christmas to get Camille. I didn't want Alexandria to think of her dog as a disposable object." Alexandria shares the responsibility of Camille's care with her grandmother. "I clean out her crate, put in new pads and feed her," says Alexandria. "Then I take her outside so she can play."
Nathan Hairston, a fifth grader at Mayo Demonstration Academy, believes that having pets has made him more responsible. "Last night it was dark and cold, but the cat litter was all nasty, so I had to clean it out. I think it makes you more responsible because you learn to take care of them," says Nathan, who has a cat named Mugsy, and a Rottweiller named Spud. Nathan also says that owning pets makes him feel safer.

Before Adoption: Questions to Ask When Getting a Pet
Though getting a pet can vastly enrich a child's life, parents must remember that not all pets are right for every family. The Humane Society of the United States encourages parents to ask the following questions when – or rather, before – getting a pet:
Why do you want a pet? It's amazing how many people fail to ask themselves this simple question before they get a pet. Don't forget that pets may be with you 10, 15, even 20 years.
Do you have time for a pet? Dogs, cats and other animal companions can't be ignored just because you are tired or busy. They require food, water, exercise, care and companionship every day of the year.
Can you afford a pet? The costs of pet ownership can be quite high. Licenses, training classes, spaying/neutering, vet care, grooming, toys, food, litter and other expenses add up quickly.
Are you prepared to deal with special problems that a pet can cause? Flea infestations, scratched-up furniture, accidents, medical emergencies are common aspects of pet ownership.
Is it a good time for you to adopt a pet? If you have kids under 6, you might consider waiting before you adopt a pet. Pet ownership requires children who are mature enough to be responsible.
Are your living arrangements suitable for the animal you have in mind? Do some research to find a pet that will fit into your lifestyle and living arrangements.
Will you be a responsible pet owner? Spayed/neutered, obeying community leash and licensing laws, monitoring barking, and keeping identification tags on your pets are all part of being a responsible pet owner. Of course, giving your pet love, companionship, exercise, a healthy diet and regular veterinary care are all other essentials.
Finally, don't forget, your children will learn responsible pet ownership by observing your behavior with your pet.
Whether it is for easing a child's loneliness, helping him deal with fear, teaching responsibility, or just adding joy and comfort to family life, having a pet can have a huge impact on a child. Cubby has become an indispensable part of our family. A few months after Cubby joined our family, Alex was sitting watching TV and stroking Cubby's head when he looked up and said, "Ya know, Mom, Cubby has a lot of love to give."
Preparing for Your New Pet's Arrival

Think you may take the plunge and invest in furry family member? Iams.com offers the following advice:
Choosing your new pet wisely is an important first step in making it a part of your family. Now, get ready for its arrival.
Prepare! Get the family ready first. Discuss needs and responsibilities. Talk to younger children about proper handling of a pet. Set expectations. But remember, all newcomers need time to settle in.
Get the right gear: collars, leashes, proper identification, bowls, bedding, litter pan, and toys.
Find the right food for your pet's age and lifestyle, because just like all babies, puppies and kittens have different nutritional needs than adults.
Designate a bathroom area outdoors so that you aren't cleaning up the entire yard.
Pet-proof your home. Electrical cords, household products, shoes and plants should be moved out of the pet's reach.
Choose a veterinarian and visit him or her as soon as possible for an overall health check and necessary vaccinations.
Unless you plan to breed your pet, arrange to have it spayed or neutered, as soon it's old enough.
If you adopt a dog, sign up for puppy obedience class to help make your new pet a well-behaved family member. You'll find the time it takes is well spent in terms of having a pet you can live with.
Look forward to loving and being loved by your furry friend. The relationship between humans and pets is like no other. As you care for your pet, it will reward you with unwavering friendship and loyalty that will last a lifetime.
---