The Many Benefits of Infant Massage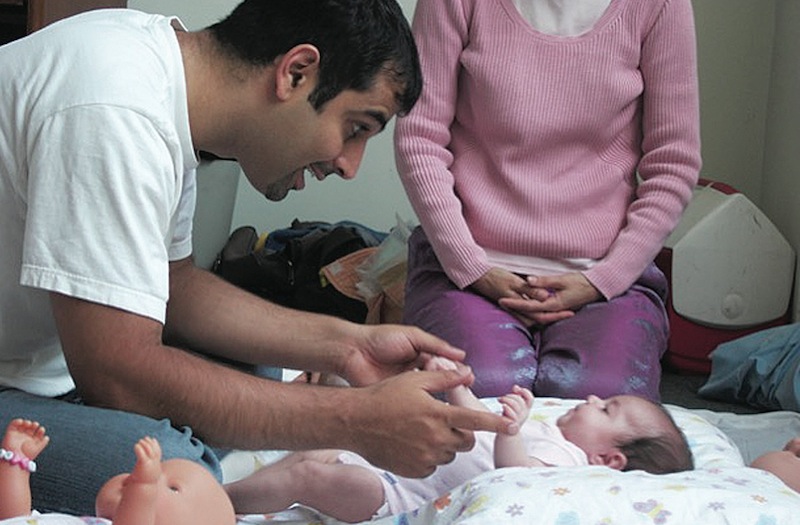 What parent doesn't crave a relaxing massage every once in a while? But you're not the only one who loves a nice body rub. Your little one also finds a gentle massage very calming — even therapeutic. That's because of the five senses, touch is the one that's most developed at birth, and there's research to suggest that infant massage has enormous benefits for helping babies grow and thrive.
"Infant massage is an age-old practice that has been passed down from mother to daughter for ages," explains Linda Storm an international trainer of infant massage. "Vimala McClure brought this practice to the U.S. in the late 1970s. She combined Indian massage, Swedish massage, reflexology and yoga into one routine."
Storm has been teaching infant massage for nearly 15 years and has trained hundreds of parents around the globe and here in Tulsa. But even before she was involved with infant massage, she was still doing the work. As a mother of three, Storm gave regular back rubs to her kids before bedtime to help settle them down for sleep. She says the benefits were obvious.
"The wonderful thing about infant massage is that it has benefits physically and emotionally for babies but also benefits parents and the community as well," Storm says.
Storm isn't alone in her praise of infant massage. Dozens of research studies by institutions like the American Academy of Pediatrics (APP) and the Mayo Children's Hospital have been supporting the benefits of infant massage for years. Evidence from these studies shows that it relaxes newborn's muscles, helps to increase circulation and reduces stress. Infant massage can also help ease babies' tummy troubles, teething pains and boost their muscle development. Research shows that newborns who receive a daily massage grow more in both height and weight during the first few weeks of life. Plus, a 15-minute bedtime massage can help infants go to sleep faster and rest better.
The advantages don't stop there: the rubbing and touching makes it easier for parents to bond with their newborns. What's more, giving your baby a massage can help you find your own inner Zen. Research suggests that mothers of infants had lower levels of depression and anxiety after massaging their babies.
The benefits are clear for both parent and baby, and Storm says learning infant massage is just as straightforward. "If parents are changing diapers, they can do massage."
The Tulsa Health Department offers information about infant massage training for families. But parents can actually start these gentle massages the day they bring home baby. Here are some infant massage moves to get you started:
Legs and feet – Hold your baby's heel in one hand; with your other hand, start at the top of the thigh and slowly stroke all the way down to the ankle. Then rub the feet with your thumbs, gently uncurling and stroking the toes. Switch legs. You can do these same strokes on the arms and hands.
Chest – Fold your hands on your baby's chest, then push out to the sides, as if you were smoothing the pages of an open book.
Tummy – With your fingertips, draw an oval below your baby's belly button. (Move clockwise, to follow the natural path of digestion.)
Back – Stroke his back side to side and then up and down.
If you're interested in learning more, reach out to a certified educator of infant massage with the Tulsa Health Department for an in-depth training and technique overview. Infant massage can be a wonderful tool to help your baby grow, relax and bond with you.
"Touch is a baby's first language, it's how they feel loved," Storm explains. "Touching and stroking your baby helps you get to know them intimately and helps establish a strong attachment and relationship. A relationship that will be reflected in every other future relationship they have."
---
To learn more, visit infantmassageusa.org or call the Child Guidance Clinic at the Tulsa Health Department, 918.594.4720.