The Importance of Swim Lessons for Babies and Toddlers
sponsored by Miller Swim School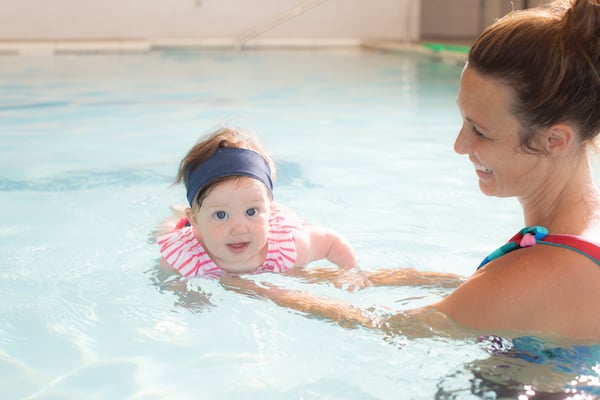 Swim lessons are not only fun for babies and toddlers, but also provide so many benefits. Swimming lessons can reduce the risk of childhood drowning by 88%. The American Academy of Pediatrics (AAP) recommends that all children learn to swim. By starting your children early, you can help them build confidence, create positive experiences, learn ways to protect themselves and nurture their swimming skills. Here's why you shouldn't wait to get started!
Swimming lessons promote safety.
During swim lessons, students learn how to feel comfortable in and around the water. Good swim lessons will teach the basics of water safety and how to prevent accidents from occurring. And, they will learn a valuable skill that will be helpful throughout their entire life. Drowning is one of the leading causes of accidental death for children 4 years and younger, and many young children don't have the swimming skills to save themselves from drowning. Participating in swim classes can help prevent these tragedies from happening.
Swimming lessons are fun.
During classes, kids have fun! Classes for infants give parents a developmentally appropriate, hands-on way to have fun, learn basic water safety and to bond with their baby. Older children get to make friends and meet new people, but they play games and participate in activities that are equally fun and important in gaining swimming skills.
Swimming lessons help build confidence.
Learning and mastering skills is an important part of development in children and swim lessons help build those skills. Participating in swim lessons allows kids to learn new skills, strokes and water safety tips. And, it allows them to use critical thinking and fine motor skills.
Swimming lessons help set up healthy habits.
It is recommended that children participate in physical activity daily for their development. Swimming is a great way to improve fitness, especially because it is a low impact sport, meaning it produces less stress on joints.
Miller Swim School is now enrolling for fall and winter of 2022. Sign your child up by visiting this link: millerswimschool.com.