The Enchantment of Natural Falls State Park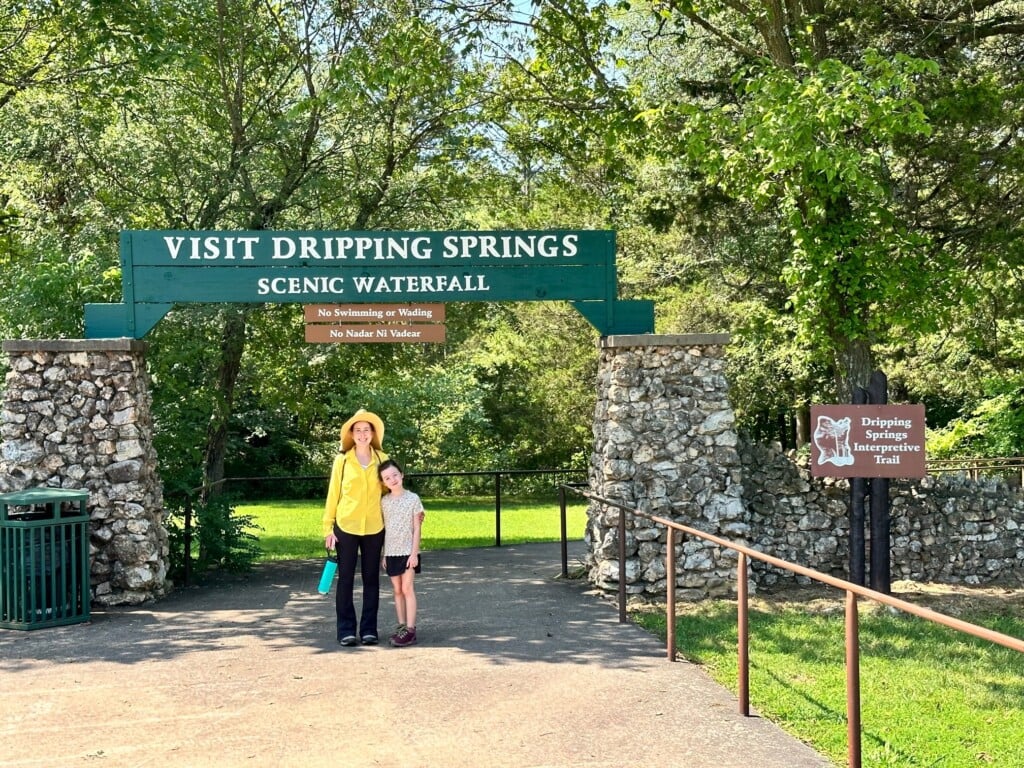 Not far off of highway 412 on the way to Arkansas lies one of my favorite hidden gems, Natural Falls State Park. At the heart of the park are its two stunning waterfalls, the 77-foot tall Dripping Springs Falls and the 44-foot tall Twin Falls. Surrounded by dramatic cliffs, the waterfalls look so exotic that some people find it hard to believe from photographs that this destination is right here in Oklahoma!
After days of sweltering heat, our family finally found the perfect sunny, but not lava-hot, day to visit. We put on our sunscreen, packed snacks and plenty of water, and got ready for a few hours of hiking at the park. When you enter the main area around the waterfalls, you can choose a path that offers a view from the top of the waterfalls or head to the bottom. We began with a view from the top.
In order to take in the panoramic view from up high, you must walk across a bridge which leads to several yurts. The yurts looked very inviting, and we all agreed we had to reserve and stay in one next time. Sleeping by the falls sounds fun, but sleeping by the falls in a yurt is redefining cool. Plus, the yurts have air conditioning and heating units, so they really offer "glamping," instead of camping.
Along the trails, we encountered people of all ages, many with leashed dogs, some walking and others running for exercise. Whereas certain paths and areas are not rugged, other trails are "off the beaten path" and rocky. This is a park where you need to know the limits of the group you are with and especially keep an eye on little ones. The cliffs are gorgeous, but create some steep drop-offs along a few of the trails.
Challenges can also be fun though! Isabelle found a walking stick that was perfect for her height and useful for getting up and down steep areas. With some coaching from us, she understood when and how to place her stick. Before our next hike, Isabelle plans to decorate it with cord and beads.
Once down at the falls, there is a viewing area to see nature in action. The bottom of the falls is also the perfect place to cool down, as it is noticeably less hot. It is important to note the strict rules against swimming and wading in the Natural Falls State Park. Watching the waterfalls is mesmerizing, and we could have sat there for awhile if we weren't excited to start exploring again.
We continued down the bottom of the path, where we learned about ferns and discussed how water movement affects algae. Whenever Isabelle felt tempted to grab a flower she saw, we brought up the importance of keeping places like our State Parks as untouched as possible so that others can have the same experience as us. Beautiful settings such as these are powerful places to talk about Leave No Trace ethics with children.
If you plan to visit Natural Falls State Park and have extra room in your backpack, bring binoculars. There are many bird species to spot, fish to find, and turtles to count. There are also deer, foxes, raccoons, coyotes, and bobcats in this lively area, which sits on the Ozark Plateau. We didn't see any large animals, but did see a few tiny, colorful lizards, hawks, and many varieties of plants and trees to read about. This enchanting state park gets five out of five stars from all of us.
Fun fact: Scenes from the 1974 movie, "Where the Red Fern Grows" were filmed in the park.
---