The Best Places to View Oklahoma Fall Foliage
The fall foliage is beautiful in Oklahoma and there are many places you can go to see it.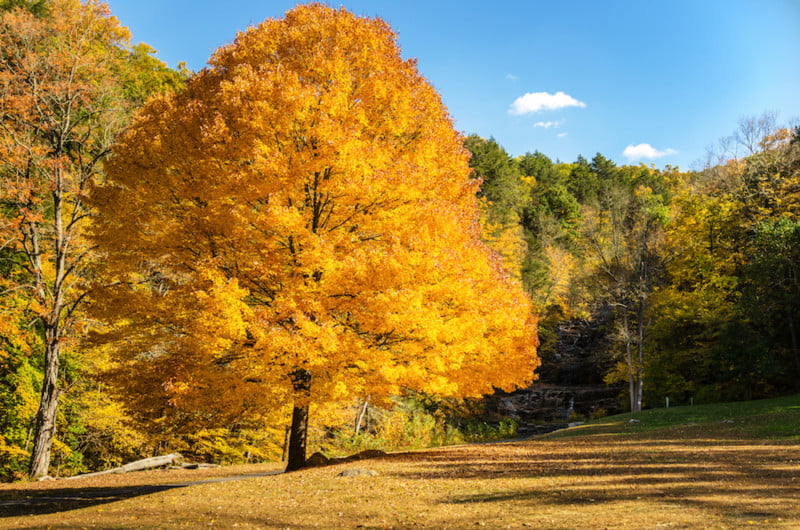 While I was growing up in New York, admiring fall foliage was a family tradition. Whether we took a Sunday drive along a serpentine road on the northwest coast of Long Island, spent a weekend at my Aunt Marcia's cabin in the Catskill Mountains or set up camp in the Adirondack region, my family made a point to celebrate the beauty of the changing season. Then, decades later, at the ripe old age of 35, my husband and I packed up and moved to Oklahoma. Having a limited knowledge of the Sooner State, I assumed that admiring fall foliage would, of course, require a long trek back to the Northeast. Little did I know that along with the prairies and the plains, I would have numerous choices to carry out the fall family tradition and view Oklahoma fall foliage with my children right in my own new backyard.
Now that it's cooling down and the anticipation of Halloween and Thanksgiving is bubbling to the surface, the Oklahoma leaves will start turning, and it'll soon be time to get outside to see the colorful views and the changing hues. Amidst the crisp air, the rustling branches will once again wave their explosion of golden, orange and amber colors, providing an amazing picture of autumn.
Local Foliage Hot Spots
Dotting the landscape in many places throughout Oklahoma, the peak times for viewing this cornucopia of color tends to be the latter part of October into early November. Take a walk at River Parks, hike up Turkey Mountain or head out to the Botanic Garden right in Tulsa when time is limited.
Or head to Keystone Ancient Forest for their weekend hikes (see the schedule here). If, however, you can devote more time to seeing the full foliage fanfare, fuel up with a tank of gas and hit the road for a dazzling day or an overnight jaunt to the most highly regarded vantage points and best vistas statewide. Compliments of Mother Nature, magnificent viewing spans across the state.
Talimena National Scenic Byway
Without a doubt, though, the most visited sightseeing spot for leaf peepers is Oklahoma's Talimena National Scenic Byway. Located in the breathtaking Ouachita National Forest with elevations as high as 2,600 feet, this 54-mile auto adventure trek—a mere two-and-a-half hours outside of Tulsa—takes you winding up hill and down dale through rock formations and along rolling rivers and placid lakes. You can make your way from beginning to end in a little over an hour if you simply remain in the car. Or, if you stop at various turnouts and historic sites, you can make a full day of it, or even spend the night and enjoy more sites the next day.
Along the route, there are trails for walking and hiking, spots for picnicking as well as opportunities for fishing, white water canoeing and horseback riding. Just think of the thrill of combining fun-filled activities with such a vibrant colorful backdrop! And, you might just spot a furry friend, for there is a prolific wildlife throughout the area.
For complete details about specific routes and stops during your adventure, visit talimenadrive.com to plot your expedition. The scenic byway passes through several historic gateway towns including Heavener, Talihina and Broken Bow in Oklahoma as well as Waldron, Mena and Fort Smith in Arkansas. Camping and lodging choices are numerous, but popular, so plan in advance.
Are you ready to carve out this special time with family and perhaps start a tradition for appreciating the impressions Oklahoma fall foliage will create in your minds and in your souls? I know I am. And, please remember your camera and make sure it has plenty of battery because you might just get a picture-perfect photo for the Christmas card this year!
More Beautiful Routes
In addition to Oklahoma's Talimena National Scenic Byway, Travelok.com prepared a list of recommended Oklahoma fall foliage routes:
Boiling Springs State Park
Chickasaw National Recreational Area
Great Salt Plains State Park
Lake Murray State Park
Oologah Reservoir
Osage Hills State Park
Red Rock Adventure Park
Robbers Cave State Park
Roman Nose State Park
Miami to Tahlequah
Tahlequah to Sallisaw
Talimena National Scenic Byway
Kiamichi Trace
Wichita Mountains Wildlife Refuge
---