Teresa Forehand Shares Mom Hacks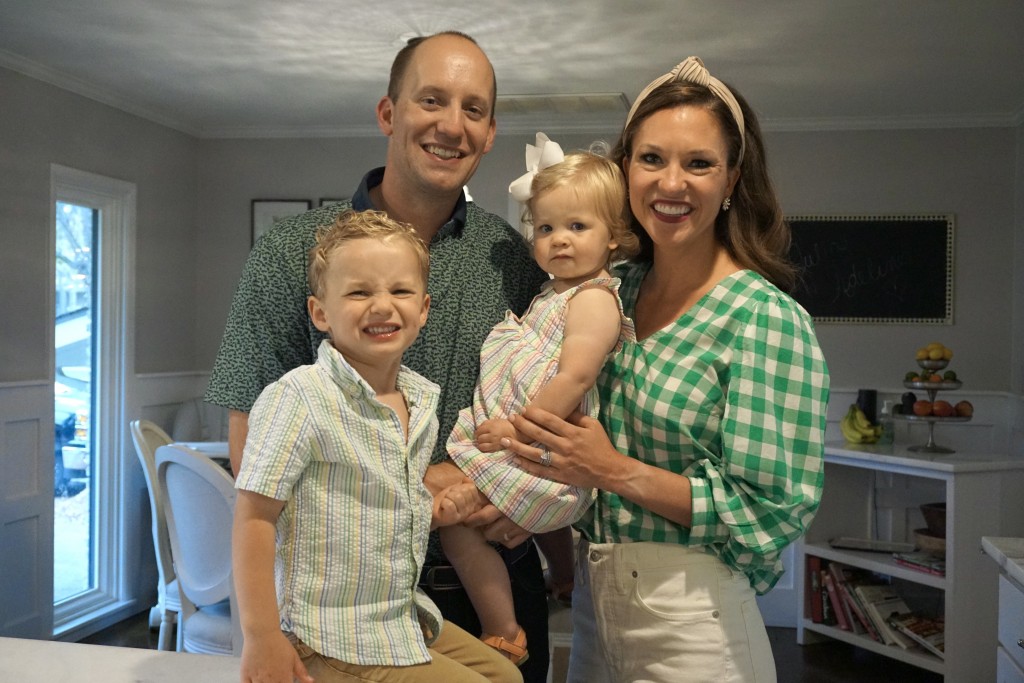 In honor of Mother's Day, we are spotlighting Teresa Forehand, one incredible mom who not only works in a caring profession, but is interested in helping others on a larger scale through a podcast she and her husband, Cody, created called The Parent Hack! This podcast is for parents and caregivers with kids of all ages and focuses on a variety of trending topics and current events in their household. Teresa is the first to admit that she doesn't have it all figured out – but she is willing to be vulnerable in sharing what she has learned. Along with the podcast, she works full-time, runs a health and fitness group, and has two kids under the age of 4. It's a busy life, but she wouldn't have it any other way!
TK: Tell us about yourself:
Teresa: I'm from Tulsa and met my husband in college. We've been married for six years. Our oldest will be 4 in a couple of months and our littlest is 1 ½. In addition to the podcast, I am a Physician Assistant in long-term care and I also do health and wellness coaching. Both enable me to utilize my degree in Nutritional Sciences.
TK: What do you enjoy doing as a family?
Teresa: We're really big on using all that Tulsa has to offer. When we're not at home, we love going to the Gathering Place.
TK: What inspires you?
Teresa: I am very passionate about helping women live fulfilled lives – whatever that means to them. The journey of motherhood has taught me that it's easy to get caught up in what other people are doing or worrying about the things we should be doing. Something I've really learned as a mom is to focus on what my core values are and doing the things that I want my children to remember.
TK: Tell us where the idea began for The Parent Hack podcast?
Teresa: This last year we spent a lot of time at home together. We try not to watch a ton of TV, which led to conversations that Cody and I would have after putting the kids down for bed at night. We both know that parenting is hard and were constantly questioning if we were doing it right. I would think, 'I have these two babies that I love so much, I want to raise them to be good people.' Those conversations led to a lot of research and personal development. It was through that process that Cody realized that others could learn from what we were going through – it was his idea to start the podcast.
TK: What are your top three "parent hack" tips?
Teresa: My top tips are: 1. When it comes to motherhood, don't be afraid to ask for help. It doesn't make you 'less than' to ask for or accept help. 2. When it comes to marriage, don't be afraid to talk to your spouse about the hard things. It's important to communicate and share your feelings with your spouse. 3. One of our most popular podcasts was about our personal budget. Talking through those values and goals with your spouse keeps you both focused on what you want in life.
TK: How do you decide what topics to discuss on the podcast?
Teresa: A lot of our subjects come from what we are currently struggling with in life. A recent challenge may spark an idea. We also love hearing from our listeners and what they want us to talk about. Our goal is to serve our audience and give them what they need.
TK: How do you stay focused on taking care of yourself?
Teresa: Taking care of myself is really important. That doesn't mean just fitness, although fitness and nutrition are huge components of that. Thinking about my time, when I am presented with another opportunity, I look at it as a choice and how it's going to serve me. I consider if it is something that is going to help me become better or whether is it going to drain my energy. This last year has helped me figure out how to prioritize my time.
TK: Can you share one of your superpowers?
Teresa: I'm really good at maximizing my time – that's how I've always been wired. My mom is like that. She worked full time and had four kids and seemed to be able to do it all. The negative side of that is that I have a hard time just sitting still. It's something I'm working on…I'm getting a little better at it.
TK: How do you personally maximize your time?
Teresa: I know we're all busy – but we all have the same 24 hours in a day. We all get to decide how we spend our time. I tell people who feel like they don't have any extra time to do an audit of their day to figure out where they're really spending their time. A few minutes on social media or tv time in the evenings all adds up. Remember, it's ok to ask for help!
TK: What is something you know now that you wish you would have known earlier in life?
Teresa: I am somebody that can overcommit myself. I am an achiever, but what I have learned is that just being busy and hustling all the time is not necessarily going to make you happy. And if what you thought was going to make you happy isn't making you happy, it's ok to look into other things. I think so often we think we're stuck in a certain situation, but it's ok to pivot and change. Think about where you can make some changes to live a life that is more balanced or fulfilled. It's ok to change your mind and not look at it as failure. Give yourself grace and be ok with changing things.
TK: Do you feel like you're living the life you imagined?
Teresa: I am living a life that is more than I imagined. Cody and I are at a great place in our marriage – it has come with a lot of work, but it's the best work. Being a wife and mom, there are so many days that I think, 'Am I doing anything right?' But it's the most fulling work even though it's the hardest work. It's definitely worth it.
TK: What do you appreciate about your spouse?
Teresa: Cody is definitely the risk taker, he's the entrepreneur and investor. He loves to dream big, and I've always been the one to play it safe. He's brought that out in me a lot more. I've seen what that can do with your life if you're willing to step out of your comfort zone a little bit and dream a little bigger, work a little smarter and not give up on your dreams. Most people aren't willing to do the work. So many people give up on your dreams when it gets a little bit hard. Those are some of the most defining moments of your trajectory and where life takes you.
TK: What's next for you?
Teresa: For now, I'll just say that this year is going to have a lot of changes as far as how my time is spent! We'll be working more on our podcast and maybe think about having another baby! I'm looking forward to watching my kids and marriage continue to grow.
Check out weekly episodes of The Parent Hack Podcast on Apple Podcast and Spotify. Also, on Instagram @the_parenthack.
Nancy A. Moore is a Public Relations Coordinator at Montreau, Adjunct Professor at Tulsa Community College, and has been writing for TulsaKids for almost 20 years.
---